UEscort Review
~ Pros ~
Lit site design
Quality and verified escorts
Advanced search supported
Regular updates
Male, trans, and female escort holes available for devoted cumming into
Escort reviews available
~ Cons ~
❌ Nada
UEscort
I've seen plenty of uptight Brits. But they sure can let their hair down when they choose to. Yeah, few people can party like the Brits and no jug of beer is safe when they get thirsty.
Funny and weird as it might seem, Brits do have sex and do it a lot more often than some of us suppose. When they aren't fucking their fists and the assholes of passersby, they are doing it with escorts of all stripes and milk bottles of all sizes. Escort agencies abound in the country and one of these the name of UEscort is up for review on this good morning.
Tune in to this UEscort review and make some cumming noise when you are done!
Chilling To The Bone With UK Escort Pussy By The Gallon!
So, UEscort.com says that it has the best escorts in the UK. Sure they are right, just like I am the last king of Scotland and need a British princess on my dick on the double, with her mama nicely seated on my face and about to watch me fuck her daughter till her cunt can't take it anymore and closes for business! That said, this UK escort site and its escorts are a definite cut above the rest and there are all kinds of premium escorts to choose from.
Guess what? UEscort like I previously said is not your run-of-the-mill escort site. This is a high-end place filled with classy sluts and their rates cannot be viewed unless you first log in or register. Weird, right? Anyway, registration is free and you can register either as an escort or a member.
Registration takes a while and instead of it being reserved for those who are in Britain at the moment, you can freely register regardless of where in the world you are at. Once you get a membership card, you can add escort profiles to your list of favorites, comment on any trending topic or review an escort, send private messages, and yes, view escort rates.
The bitches here are all high-end and this must be the thousand time I am mentioning that fact. The impression of top cunt quality is reinforced all the more when you grasp the fact that escorts on this escort UK site are not being paid with money to spread it. Instead, they are given gifts and yeah, that's a small but noticeable difference in the terminology used to talk about their remuneration.
Anyway, Priya is an Indian escort in Croydon who looks all demure and cute. She's averagely tall, fluent in both English and Spanish, bisexual, and has a coochie so shaved you could skate on it. Innocent as she might look, Priya will bend over and let you fuck her asshole, sit on your face, give you a BJ without a condom on, striptease, massage your prostate, let you cum on her body, and will even pee on you and indulge in whatever fantasies you might have.
You can book Priya for both incalls and outcalls. Since she is not a premium, diamond, or VIP escort, she charges a reasonable 40 roses for 15 minutes, 60 roses for 30 minutes, and 1,110 roses for a 24-hour fuckathon. Roses mean pounds of course and translated to dollars her rates are $47, $71, and $1,305 respectively. That's not too bad at all.
China Doll is a batter catch though. This bitch is both a VIP and Diamond escort and that combo gotta mean she pisses pink champagne and has a cunt that can tie your cock into a knot! This UK escort is of Asian ancestry and describes herself as a freak in bed. She's 6'5", 22 years old, and equipped with B cup knockers. Her body is a little bit plump but toned and you better believe you will tear a hole in your trousers when she bends over!
This doll is into ball licking and sucking, deep throating, 69, BJ without condoms, handjobs, and getting cum sprayed down her gullet and on her body. She charges 180 roses for an hour of incalls, with outcalls costing 230 roses, plus her taxi fee. That's $213, and $272.8 respectively, and cheap for a VIP escort.
Last but not least is another London escort called TaniaSweet. She's a very beautiful woman from Estonia and calling her a knockout would be a disservice to your eyeballs!
Tania is 5.6" but looks far taller and is the slim and curvy type, with perfect legs, a small but perfectly shaped booty, and B-cup tits I would give my right eyeball to play with for a minute! This hot blonde takes it in the ass too and sucking your junk in the 69 position while you return the favor is nothing to her. She's also willing to get your cock down her gullet, suck and lick your balls, give or receive golden showers, and perform a lot of BDSM-related activities.
There are two reviews on Tania's page and all are effusive in praising her to the skies. She charges only 250 roses for an hour of outcalls and that by the current exchange rate is $296.
Now, escort rates here are very variable, but there are a lot of very reasonable prices on show. Sure some chicks want you to fork over 500 roses for an hour of their time, but there are also babes willing to take half that and even less if you are paying for 15 to 30 minutes of their time. I would say that the rates here are very competitive with what's charged in the states.
High-End Fucks In The Mile-High Club!
UEscort.com has something for everyone. There are male, trans, and female escorts here, and that means there's a profusion of holes to finger and cum in. The female escorts have numbers on their side, with male escorts being more than them trans fuckers.
Getting escorts on this site is a very smooth and easy process. Right on the site homepage is a list of British cities and you are free to click any of these cities to see what escorts call those places home. Also atop the page are options to choose male, trans or female escorts and when you scroll down you will find that the page you are on is filled with escort profile thumbnails.
On these thumbnails are the name of the escort and her age, plus information related to her verification status and whether she falls into the gold, silver, or diamond category or is a VIP escort. Of course, there are some UK escorts here that do not fall into such categories and are not even verified. Hovering your cursor over any escort profile thumbnail brings up a detailed bio and more of that can be seen by clicking on these profiles.
Now, the escort profiles on UEscort are one of the cleanest, most thoughtfully arranged, and most detailed that I have seen. Each contains several hi-res images and a few have videos. You can upvote or report any profile, write a review of it and add it to your list of favorites if you are logged in. Contact details are provided too and the escorts here are in the main high-end as fuck and look like great quality lays fit for king with a boner he cab walk on!
Get Your Rocks Off On UEscorts!
UEscort has a homepage that screams quality loud enough to cook your balls in your nut juice! The design makes use of a white background, with a thick black header at the top of the homepage that contains the main tabs.
Around one-third of the site homepage is taken up with a list of British cities and the number of escorts UK that can be found in each, plus very colorful escort thumbnails. The rest of the page has sliding testimonials and a very well-written About Us that seeks to persuade you into becoming a proud and hardcore UEscort member. It just so happens that when you click on a British city, options atop the city page enable escort sorting by age, nationality, ethnicity, cup size, height, weight, eye color, pubic hair, and more. If the city is big and important enough, you can also have your pick of the escorts in the varied towns it contains.
Now, within the black tab I spoke of earlier is a search bar of the basic kind. Still, you can search for escorts of different sexes with it, as well as escorts near you. The main tabs here are New, Girls, Agencies, Male, Trans/TS, and Premium and if you are logged in, you will see other tabs at the top right that lets you use this site better.
There are no ads here and if there's spam, only the devil and his horny minions can see it!
What I Think Of UEscort
UEscort is hella impressive. Visit this escorts UK site too often and most other escort sites will start to look about as interesting and engaging as a plateful of donkey dung!
Methinks UEscort is good enough to be crowned the best British escort site and those uninterested in speedily bookmarking it need to be shot out of a cannonball and straight into gaped rhino pussy!
#1 UEscort Alternative
Check out Porn Guys full list of the 70+ hottest escort sites ranked
Vivastreet
Browse the latest FREE CLASSIFIED ADS in your area including used cars, properties to rent, free personals and much more! FREE, SIMPLE and LOCAL.
UkPunting
UKPunting – Escort and Massage Reviews and Forum. … UK Punting. General discussion of UK Escorts and Massage. Moderators: Ali Katt, CoolTiger, daviemac, …
AdultWork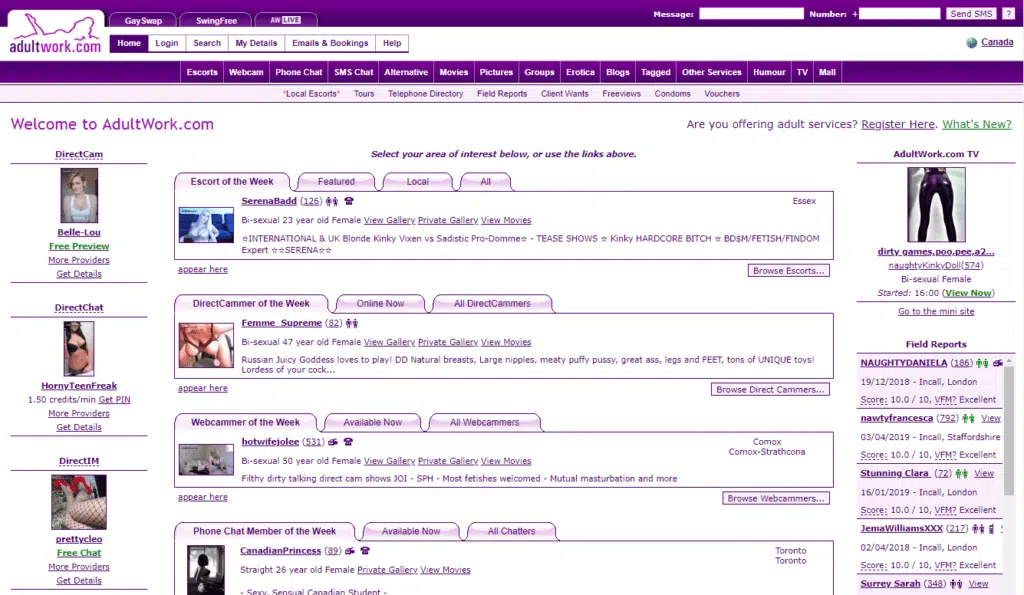 You are of legal adult age as defined by the country or state from where you are accessing this application to view pornographic material.
UkAdultZone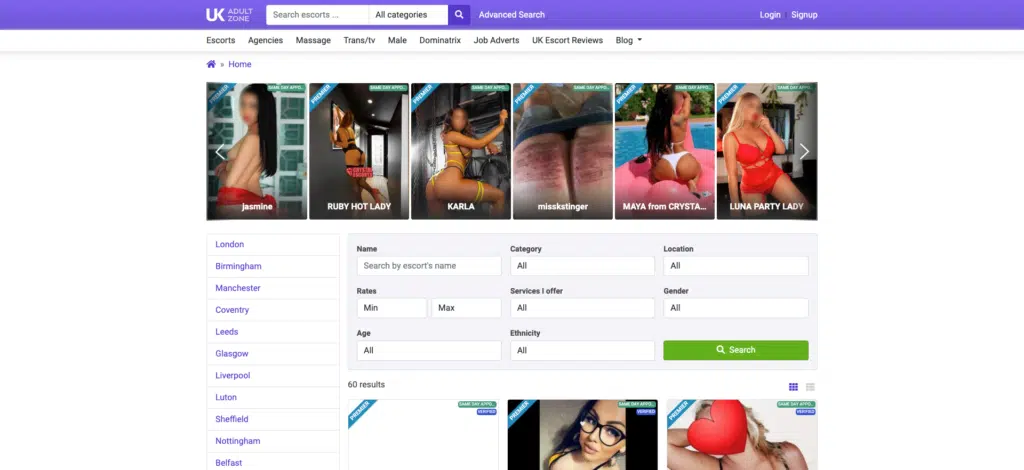 UK escorts and Dominatrix. Quickly see who is available today. Trans and Shemale escorts too. Find a fantasy companion today.
BirchPlace
Beautiful TS/TV Escorts who live in the United Kingdom, We have 2590 TS/TV Escorts in the United Kingdom who are waiting for you on BirchPlace.
EscortRankings
Escort Rankings helps you find and book real escorts avoiding scams and fake profiles. All profiles on Escort Rankings are legit and 100% owned by real escorts …
PunterNet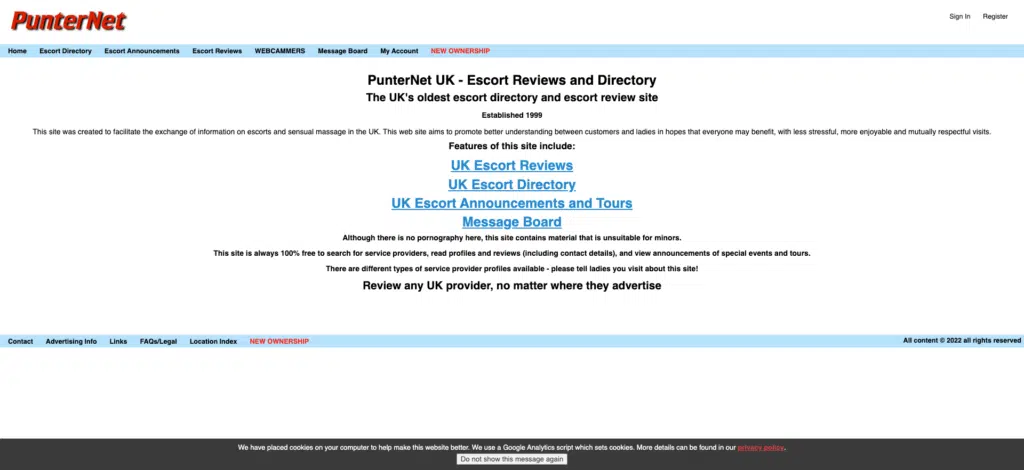 PunterNet UK – Escort Reviews and Directory. The UK's oldest escort directory and escort review site. Established 1999. This site was created to facilitate …