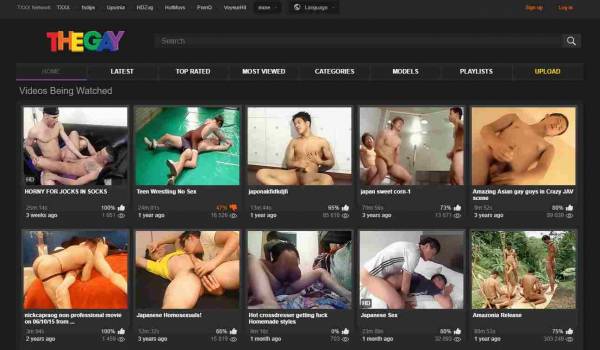 TheGay Review
~ Pros ~
Calm site background
Good search feature
The site does not redirect its visitors like other gay porn sites do
Offers lots of gay porn
Gay porn is added frequently
~ Cons ~
❌ Not so many categories
❌ The site needs some upgrade
❌ Needs better content organization
TheGay.com
TheGay.com sounds like a site that is unapologetic about being gay and we just love that. We are not members, but the site has been on our radar for a while. Today we get to review and examine its features.
Better tune in sharply or get arrested for laziness and breach of cumming duty!
The Gay Is Rad!
TheGay.com website is of standard design. Black is the default homepage background, and this lends it a moody air of sorts. A multicolored site logo floats atop the homepage and there's a search bar that stretches from nearly one side to the other. Login and registration options are available, but there's not really much need for that cos you can mostly look at what you want for free.
Available tabs include Home, Top Rated, Most Viewed, Latest, Categories, Models, Playlists and Upload. Only members can upload content and they enjoy a few other perks too.
The Categories tab is where to dive into if you are looking for something in particular, like your left ball! There's a vast range of categories here, like Redhead, Vintage, Bukkake, Doggystyle, Rimming, Public, Big Cock, Group Sex, Chinese, Japanese and Military. Each category has a tab that shows just how many videos it contains and that is helpful.
So Gay Is The Gay!
Like most porn sites, TheGay.com has a homepage that is filled with video clips. A look at any one of these displays their run time, when they were uploaded, number of views and approval rating. Scroll further down and you will see images of top gay models like Mike Lamas, Bryan Knight, and Jacob Taylor, plus tags that indicate how many videos featuring each model is available. The New Videos section is farther down the page, plus a fair slew of category tabs and ads.
We went scrolling through the Categories section on the homepage and found one that said Double Penetration. A click on this and we were faced with enough video content filled with cocks times two getting crammed in tiny buttholes to make our hearts race!
One had a title that said Horny Gay Guys on the Bathroom Floor, another was titled Power and Glory, with a third being called One Mouth and Two Hands. Videos here play smoothly, though quality is not always great. Lots of options come with each video, like sharing, reporting, commenting and more. Each video have tags that direct viewers to similar content.
We were pleased with video run times, with some being short, while others are full length. Video updates also appear to take place daily, with around a dozen being uplaoded on the day we were there.
What We Think
TheGay.com is filled with scenes of amateurs and pros having fun with any asshole they come across! There's some sweet XXX action here and it is varied enough to ensure that all tastes are fully covered. The site is filled with ads though, but that is the biggest area we can fault it.
Overall, TheGay.com is the gay-loving place to be!