Terb Review
~ Pros ~
Very active forum
Tons of escort reviews
~ Cons ~
❌ Ads
❌ Wack site features
❌ Meh sorting options
❌ Not the easiest site to use
Terb
Ever heard of the holy trinity? Well, in my book, the holy trinity is composed of Terb.cc, Merb.cc and Perb.cc. These three escort Canada sites are identical copies of each other, and the only difference is the cities they cater to. I dunno why all three sites cannot be integrated into one, just like the clit, vulva, and vagina are integrated into one sweet package that any hard cock is always pleased to see, explore, and frantically dig into!
Here is my Terb review. Y'all are enjoined to read it and weep, or there will be some sore assholes before the night is over!
Terb Has The Right Sort Of Cunt!
Say what you will about Terb.cc, Merb.cc, and Perb.cc, but no one is complaining that the cunts on the pages of these escort sites aren't quality pieces. Slits like that are not too plentiful these days, and there can never be too much of them.
Now, Terb deals in Toronto and Ontario escorts. So come along as I find out how much these sluts take for cunt excavations and all other perverted stuff they feel up to offering.
First up is Vanessa Jolie. The moment I saw her I fell in love and knew we were meant for each other, or to be more specific, my cock was meant to rest forever in the kind of soft snatch she has down there! Vanessa is delightfully thicc and there are enough curves on her to make many an S bend go over to the dark side! She's leggy, endowed with a big butt, and has 36J all-natural and 100% fabulous mammaries that are finer than a lot of things I have seen this year!
This 27-year-old French-Canadian who is currently visiting Toronto charges 500, 700, 900, 1,200, 1,500, 3,000, and 4,000 CAD for 1 hour, 90 minutes, 2 hours, 3 hours, 4 hours, 12 hours, and a full day with her respectively. That in greenbacks is $373.7, $523, $672, $896.9, $1,121, $2,242, and $2,990. Sure there are sky-high rates, but if I had a spare kidney I would sell it to be able to afford a week with this fab babe and her outstanding tits, and getting her to exhibit the typical bowlegged walk of the over-fucked is my ultimate goal! And oh, Vanessa has an OnlyFans page and you would never guess how fast I rushed to subscribe to the naughty stuff she posts there!
Up next is Dahlia Sage and just like Vanessa, she has multiple excellent reviews that let you know she's not a snowflake and can handle a BBC without running off in fear and calling animal control to cage that misbehaving snake! Vanessa looks like she's made of chocolate and for sure if I took a bite out of her she's gonna feel it in her soul!
This tall, curvy and beautiful ebony calls Toronto home and can perform the kind of Nuru massages that will get cum shooting out of your artillery pieces with enough force to knock the Burj Khalifa on its sharp ass! Her charges are 425, 650, 800, 1,150, and 1,500 for an hour, 90 minutes, 2 hours, 3 hours, and 4 hours of her time, respectively, with a Nuru massage costing extra. In dollars, that is $317, $485.7, $597.8, $859, and $1,120.8 respectively and it seems cheap considering the kind of pussy this slut wants to put on your mouth!
Yukino is next and unlike the other two above she is not that much of a knockout. This 26-year-old Asian chick in Toronto offers GFE and erotic massages and with a chick like that, the best way of having her teach you her native language is by throwing your cock up her ass hard enough to scare a tear from her rectum! Yukino is limited to incalls only and charges 160, 220, 260, 400, and 500 CAD for 30 minutes, 45 minutes, 1 hour, 90 minutes, and 2 hours of her time. That's $119, $164, $194, $298.9, and $373 respectively, and not too shabby.
Now, Terb just like its sister sites is packed with high-end escorts or escorts who consider themselves to be high-end. Because of that, the rates here are far above the average in the states. Just 30 minutes of fun with an escort from this escort Canada site will set you back $100 to $200 and money like that does not grow on trees or in freshly fucked pussies!
What Fucking Lookers They All Are
Terb looks a little prettier than its sister site and if it was a chick I would consider going out with her so I can get my dick sucked under the table during dessert! Yeah, what could be more fun than digging into a cake softer than a baby's bottom, while your date uses your cock to pick her teeth, wash out her gullet, and whistle a danceable tune!
So, as expected, cunts are easy to find here. Just click the gold Enter Forum on the homepage or the Toronto Escorts tab. Either option will take you to a page filled with lots of stuff and you gotta click on the Independent Escorts link to view them pussies you wanna nut in and hopefully fuck to the bone!
Worth noting is that the independent escorts here are divided into varied cities in Toronto and Montreal. You click on the applicable link to get to the city or town of your choice and then click on the escort profile that best suits your needs.
The escort profiles on Terb are typically not very detailed. Multiple images of good or high quality are provided and some profiles are far more detailed than others, which is disconcerting but understandable.
Over at the top right of the main escort pages is a filter option that lacks the exhaustiveness I was expecting. You cannot filter the sluts on this site by age, hair color, eye color, size, height, nationality, ethnicity, rate, services rendered, and that sort of thing. You can only filter by ascending or descending order, date, first message, last message, title, replies, views, and the like which is a crock of shit.
Anyway, the escorts on Terb.cc are in the main above average. They are also insanely expensive, which means you better go see about winning a lottery if you want to put these sluts on a bed and fuck an ovary out of their tight cunt holes!
It's Fingering Time!
Like I said, Terb.cc looks better and classier than its siblings. But it still has ads on its homepage and other pages and is not the easiest site to use.
Site features on the homepage consist of a quartet of tabs, plus the Enter Forum button. The tabs are Toronto Escorts, Toronto Escort Reviews, Sponsors, and Advertise and all do what they say on the tin.
As expected, the escort review section here is packed to the rafters and you could spend a couple of weeks wading through the reviews on show without making much headway. However, you need to sign up or log in to read any review here and that is a free thing. Registering gives you lots more options not available to non-members and yeah, one of these options is being able to send private messages.
Still, site features here are average at best and severely lacking at worst. There doesn't appear to be much spam, but flashing ads will wreck your eyeballs!
What I Think Of Terb!
This escorts Canada site might sound like an elderly fart, but its extremely active forum is impossible to ignore. While it has a lot of faults, Terb looks like the best out of the trinity and is therefore worth a cum-slick bookmark!
#1 Terb Alternative
Check out Porn Guys full list of the 70+ hottest escort sites ranked
LeoList
Visit LeoList to buy, sell, or trade almost anything! Personals, escorts, cars, real estate, jobs, services, vacation rentals and more virtually anywhere in …
Perb
Vancouver escort forum and review board bringing your the largest Escort escort and massage review community in Vancouver.
ShemaleCanada
Here you find the most Shemales in Canada. There is Shemale escorts from all over the Canadian Country. Escorts from all Provinces within Canada such as …
Sp411
EuroGirlsEscort is one of the largest escort galleries to find escorts in every country
Merb
This is an adult web site designed for information purposes and the exchange of ideas on sexual and numerous other venues. The thoughts and ideas are …
VogMTL
Agence Escortes VOG Best Montreal Escorts Agency. Meilleure Agence d'Escortes à Montréal ayant les plus hauts standards. Best GFE / PSE Escort in Montreal.
Humpchies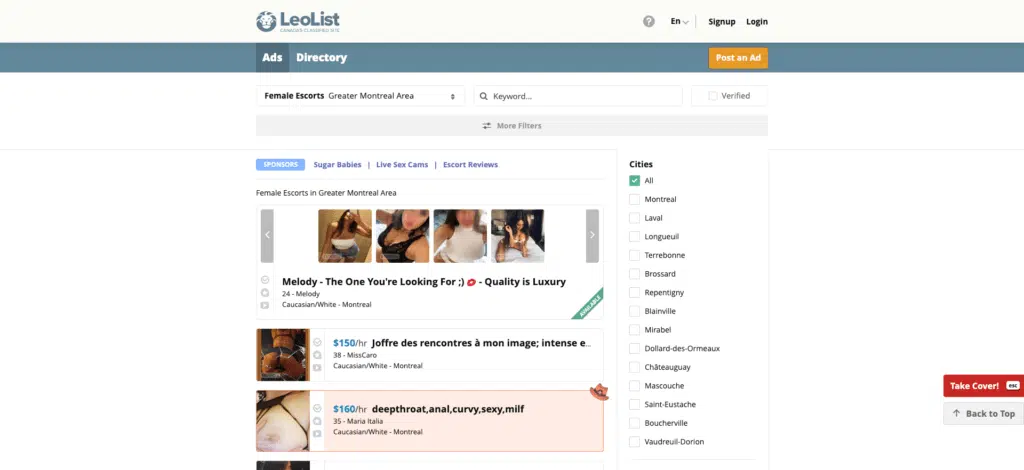 Female Escorts in Greater Montreal Area. Browse LeoList's Female Escorts classifieds in Greater Montreal Area.