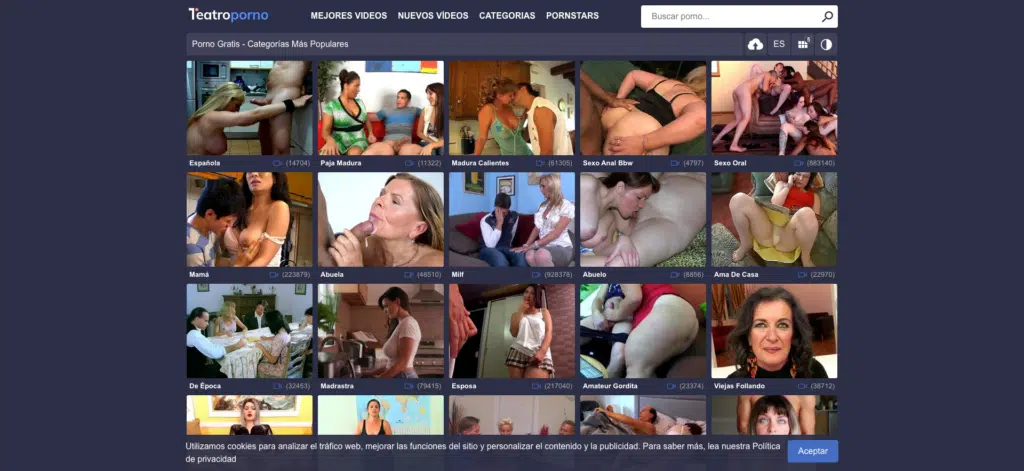 TeatroPorno Review
~ Pros ~
Simple and easy-to-navigate homepage
Good list of categories
Lots of good quality porn
High-definition videos
~ Cons ~
❌ The font size in the categories and pornstar pages are tiny
TeatroPorno.com
Fun time is porn time. Or maybe I should have said porn time is stroke your dick time. Either way, both of them are correct. Wàtching porn is fun but it's even more fun when you can stroke your hard rod alongside. Just like singing along to your favorite song, when the porn is good, and it hits you, you have no other choice but to fuck a bitch to it or fuck yourself. And if this doesn't happen with you, then maybe you have been watching tons of boring videos all over the net in the name of porn.
But for the love of what good porn is and to save you the unaccomplished feeling of getting to cum even when not loving the process to the top, I would rather you watch the best quality of porn there is. That's why today I am reviewing Teatroporno.com. An adult video website with lots of potentials, but would it live up to our boners' expectations? I will let you know if it does at the end of my Teatroporno review, so hang in there with your jerk-off lotion handy and your eyes set to pervert mode.
I Know You Want To Jerk Off
You are here strictly because you want to fuck yourself and not because you like how I write, and that's okay. I'm more interested in sending you to places you don't want anybody to find out about. Places like Teatroporno.com.
I should warn you, if you are the type that cums quickly, you might explode while still on the homepage. The photos on display here are very hot. Each represents a particular category, and the web designer has made sure to use very naughty pictures. But that's actually what he should be doing, this is a porn site and the thumbnail pictures should stir up every drop of lust in you and your sperm cells as well. I would also like to point out that I feel the thumbnails on the homepage are a bit too much. The dick or pussy behind the design could have listed a few categories and provided a button for us to click to see more. That way, the page would look less confusing. He's forgiven though, thanks to the supple asses and cum-inviting tits here.
I'm sure the designer recognized that this page wasn't tidy enough, that's why they provided an icon you can use to change the size of the thumbnails to what you prefer. The size adjustment icon is positioned on the top of the gallery under the search icon. Close to it is a round-shaped icon to change the theme from night to day or vice versa.
Above these icons are five icons for more specific sorting. Among these, you will find the categories and pornstar icons. Arranged in alphabetical order, a shit load of categories is listed here. Now, this screams options, and options are always welcome when it comes to porn. This website is definitely rich in content. The question now is, how rich is your appetite for watching others fuck the shit out of themselves?
Another testicle-tingling feature here is the long list of pornstars. If you thought the list of categories was long, wait till you check out the list of pornstars. Almost every model who has ever acted in mainstream porn is listed here. However, the font size used for the list is small, so you want to be careful as you scroll so you don't miss out on your intended target. Not only are a lot of names mentioned, but pornstars here also have a good number of their videos on their profiles. For example, Cathy Heaven has 1044 videos on her profile, Brandi Love, 4053, Ariella Ferrera, 2353 and many other popular pornstars with impressive catalogs to lose your senses in.
Lots Of Contents To Jerk Off To
After scrolling through an endless list of content, I decided to settle with the busty ebony Alia Star, thanks to her fat ass too. She looks exactly like the kind of girl I'll love to fuck. So I selected a video but was redirected to another website. I went ahead to choose another option, and the same thing happened. So Teatroporno is essentially a tube that showcases content hosted on other websites linked to it. The quality of porn on all the websites I was led to was HD, so who am I to complain? As long as the porn is good and the picture quality is clear, then you have no excuse not to stroke your boner to dissolution.
If after watching a video, you decide to return back to Teatroporno, that's cool, but if you don't, you could hang around the new website and find new interesting content. Besides, variety is the spice of life.
What I Think
Here is a website where you can see all the kinds of porn that will definitely get you excited. The site is also consistent in providing HD-quality porn. Even though the videos are not hosted on the Teatroporno server, all the other websites, you will be directed to play the videos in the best possible quality. In some, you will have to watch a short ad but that shouldn't be a problem since you are about to watch good high-quality shit. So back to where I asked if this site was going to live up to expectations, here's my answer. Teatroporno does live up to expectations, and it does so comfortably. Bury your boners here.
More Sites Like TeatroPorno!