StrangerCam Review
~ Pros ~
Free video chats
Easy to use
~ Cons ~
❌ Boring
❌ Lame site design
❌ Best experiences require a paid membership
❌ Lousy user options
StrangerCam.com
Our parents typically told us not to talk to strangers. But they never said anything about helping out strange thots and sluts whenever they complain about their twats being empty and in need of hard bits of cervix-thrashing meat! I know most of y'all have been furiously engaged in the kind of helping out I just articulated and indeed, some of you here can fuck holes in the most stubborn cunts, be it made of titanium or adamantium!
Now, today is a good day to introduce y'all to an adult chat site that goes by the slightly spooky name of StrangerCam. Here is my StrangerCam.com review. Read it and weep, for strange are the ways I will drive your sisters crazy!
A Tender Bite Of A Strange Dick!
Well, StrangerCam is a multicolored piece of sweetness. The top of the homepage is a blue so deep it is almost black. But if you scroll down, the blue universe gives way to a more cheerful white background color.
The top right of the homepage has a number that indicates how many fuckers were online at the time of this review and this was a not insignificant 5,449. Next to this is a Light mode option that switches the deep blue color at the top of the homepage for a blindingly white one.
Other user options at the top right include a Login tab, plus Upgrade and Join Now buttons. Beneath these are options that let you choose from 2 genders and many countries and that doesn't sound right because no provision is made for couples and LGBTQ folks with multiple dicks and the like! Unfortunately, the sex and country options are only available to premium members.
Now, StrangerCam.com has a big ass homepage and it will take some time to scroll through what's there. The page is crammed with text explaining what this site does to make the world a better place by connecting horny and needy fellas and sluts all around the world and letting them see if they have cocks and cunts that look made for each other, in which case a genital meet and greet should be arranged!
Site features are carefully explained on the homepage and I suggest that y'all check these out, especially since the FAQ farther down the homepage is not as expansive as it should have been. The text on the homepage also tries to persuade you into signing up for a premium experience by illustrating how it makes chatting with specific genders and nationalities as easy as licking cum globules from a cock that had just shot its wad into an accommodating MILF snatch!
Near the bottom of the site are links you can use to connect with StrangerCam on a variety of social media. There's also a big cam site list to browse through, some popular search terms, a language option with 8 supported languages, a short list of the latest blogs, and more. Talking about blogs, there is a blog link near the bottom of the homepage. The blogs it hosts are well written but not exceptional and there are only 7 blogs to browse through.
Sample blog titles are as follows: How Video Chat Dating Can Work During A Pandemic, The Best Video Chat Apps For Socializing and Blind Dating, and 5 Omegle Alternatives To Try. Blog titles like these do not make sense and it would have been better for this chat site to focus its blogs on titillating topics that have to do with sex and the cock-gobbling abilities of the female snatch! And by the way, the oldest blog in the Blog section is from 2020, while the newest was penned in November 2021. You could say the blog section is as abandoned as a slut with the pox and a bad case of herpes who's so pissed off that she's about to slice and dice the next dick that tries to nose its way into her privates!
Sexy Strangers Wanted For Face-Sitting Duties!
The way things work here, you can click the Join Up button to get a free membership card, or click the Upgrade button and get your fine ass upgraded. Account upgrades will set you back $5.99 weekly, $14.99 monthly, and $89.99 yearly. Upgraded accounts get everything members on basic accounts do, plus plenty that they do not, like gender and country filters, no ads, and 24/7 support.
Once I joined up for free here and got a membership card, I was able to click the video option near the top of the homepage and video chat with folks. You will be prompted to allow your PC camera and mike to be turned on and thereafter will be connected to random people. If you don't like who you are connected with, you can click the Next button and be connected to someone new who hopefully has a little more sense than the former wanker you were chatting with. Plus there's a Stop button that lets you pause the video stream at any time.
Damn! See, adult chat sites like StrangerCam invariably have far more men than women. And if you are on the free membership plan, you cannot choose the sex of who you are connected. What that means is that you will in nearly all cases be matched with your fellow men, who also do not want to talk to men like you and would rather spend the next minutes or hours clicking the Next button in hopes of getting connected to the women of their dreams. That sucks for sure.
Now, I experienced no connectivity issues during this review. It did take a few seconds to disconnect from one video stream and connect to another. That shit is probably the fault of my WiFi, which on some days is so lethargic you would think it had been tied up on top of a stony hill so that the guts could be fucked out of it!
What I Think Of StrangerCam
Honestly, this site is all shades of lame. It is too easily forgettable, has no standout feature, and just feels like a total waste of time. StrangerCam functions well enough, but the lack of a wow factor makes it about as alluring as the ass end of a pig that's busy farting a dirge!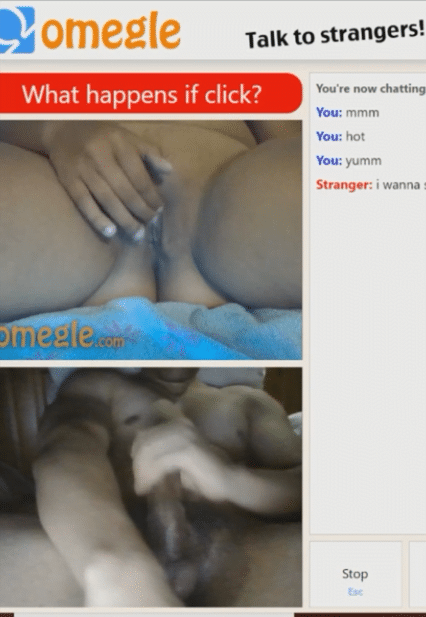 More Sites Like StrangerCam!