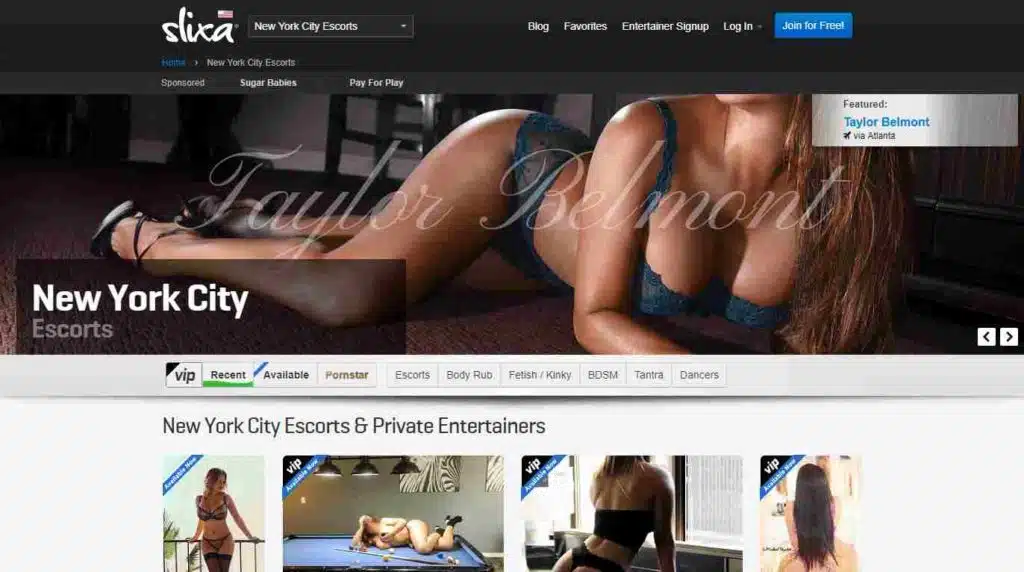 Slixa Review
~ Pros ~
Really slick website design
Has like the hottest escorts I've ever seen
Really detailed profiles
Most of these women will fly to your city
Hardly no ad's
~ Cons ~
❌ The escorts are pricey
❌ The site can be a little confusing for newbies
Slixa.com
Due to varied reasons, getting quality and discrete adult entertainment is becoming harder these days. However, if you have money and want to spend it like there's no tomorrow on some of the most ravishing and discrete escorts and professional XXX stars the world has ever known, then Slixa could be the answer to every prayer you ever said!
The girls on the site are all verified and vetted. Even better, they are of the best quality, and as expected your wallet will suffer for it!
Well, here's a review of the site that bears reading.
Class And More Class
The Slixa homepage is a classy affair, though it does look a little bit crowded. At the top of the page is an option to choose which city in the US and its escorts you want to look at and drool over. Look at the top right and find the usual login and registration options, plus a discrete mode for a more discrete browsing experience.
Beneath the provided search bar at the top of the page lies more options. These take you off-site where you can see live cam girls, pay for play and get in touch with sugar babies. The rest of the homepage has escort profiles and we are talking about the most classy and expensive escorts of them all.
Cumming Escorts Of Class!
Near the top one-third of the Slixa homepage is a slideshow showing a slew of handpicked girls. Lili Pearl is one of these and I can easily imagine her as a Victoria's Secret model. I clicked on the slideshow to access her profile, which came with some very detailed information. She's available every day, on 4 hours notice no less, and is often on tour to varied cities across the US.
The section where the slideshow is also has a search bar and clicking on this brings up a long list of cities in the US that you can jump into. Farther down the page are profile thumbnails of escorts in a range of cities, with some national escorts available who can fly to you and jump on your cock as hard as you want.
Pornstar escorts can be found near the bottom of the homepage. Book these if you can pony up the money and feel an urge to try out your tricks on XXX stars who have probably seen and done it all!
Worth noting and reiterating is that Slixa only has the best and classiest girls. These are top-class and their prices reflect that fact. Book them for the companionship they provide and hope your cock doesn't run away from you once they get naked and bend over your face! Also, you can opt to book an escort right now and have her appear at your door either today or at a future date, say for your birthday this October.
More, suppose you see an escort profile showing a lass you want but don't yet have the funds to bone, you can put the profile in your Favorite list and go back to it when you are ready to have your fun. That is the kind of feature most escort sites lack.
What I Think
First, the escort on the site can be pretty expensive. But then quality doesn't come cheap. Second, Slixa is not yet available in every American city, but that could change as it expands its operations. And anyway, you can always opt to have the escort of your choice fly to whatever city you are in and open up her pussy just how you like it!
Overall, considering its range of features and the type of girls on the site, I think it is fair to say that Slixa has no peer. Go there for the best experience with the best girls whose rate might make your bank account balance faint with shock!
#1 Slixa Alternative