ShemaleCanada Review
~ Pros ~
Lit site
Jacked with user options
Some verified escorts
VIP escorts available
Advanced search provided
~ Cons ~
❌ Not everyone is verified
ShemaleCanada
There are some among us who are overly equipped for the task of getting pee and cum out of fellows! They are distinguished by pretty faces, tits that are usually big and hard, long legs and boners the size of fire trucks!
Yes, I am talking about shemales, and there are shemales all over the planet and on the International Space Station too, I am told. A site known as ShemaleCanada has some of these chicks with dicks and you can go there, take your pick of them and fuck their cocks in the eye!
Here is my ShemaleCanada.com review. Read it and weep if you want your females with a cock you can row a log boat in a monsoon with!
Cocky Girls Wanna Feel You Up!
I don't know what I was expecting, but ShemaleCanada.com is a high-end beauty that must have been put together by someone who's been getting his cock sucked by babes with the most perfect rosebud lips in the business! Yeah, stuff like that must have made him so happy and content he was able to sit his bony ass down and knock together a slick site like this!
Anyway, unless your cock is at least 8 inches erect, you might wish to stay off a shemale site like this. Yeah, the babes here have the kind of anacondas that National Geographic usually films strangling goats in the jingle and the like! These are corps-level howitzers and may the almighty have mercy on the soul of the fella or bitch who thinks his/her cunt or asshole is the best place to host parties for monster cocks like these!
Okay, let's talk about money, fellas. Up first is TS Pink and if you think she's so named because she has a pink twat, then you need to go see a head doctor and feel up a nun! This ebony babe is pre-op and beautiful. She has a BBC whose size could trigger an epileptic attack on a museum-mounted dinosaur and is 5'11" tall. TS Pink lives in Toronto and has loads of stamina, which means her ten-inch uncut artillery piece can spend all day beating your asshole and waist so out of shape you might need to get treated for scoliosis!
This VIP escort is also on OnlyFans and charges 240, 340, 400, 600, and 3K for 30 minutes, an hour, GFE, VIP, and an overnight stay. That Canadian money translated into USD becomes $178, $253, $298, $446, and $2,233 respectively. I would have said that's a lot of moolah, but this is a VIP escort we are talking about here, in which case the listed rates seem very reasonable.
Tia Malone is next and she calls herself a hung princess. And boy, is she hung! For sure this chick could get locked up in a tower by her wicker stepmom and rather than letting her hair down so that a prince could climb up and rescue her, Tia could just shove her cock out of the window for the prince to use as a ladder!
Sweet Tia is lithe, and sexy. She lives in Toronto, and has a big dick that could serve as a slave master's whip! Tia can rim you, and let you dig through her asshole with your cock, plus do practically everything else, so long as safe sex rules are obeyed.
This tall, slutty and flirty European says she's a foreplay pro and charges 300 per hour for incalls, with outcalls costing a hundred CAD more. That's $223 and $298 and a little steep given that she's not a VIP or premium escort. Oh well, I guess she has a verified ability to gift her sexual partners and clients an enhanced version of the bowlegged walk!
Wanna pee in your shorts? Well, there's a photo of Talia Rose right at the top of her profile page that shows this trans squatting on a chair while topless and holding a cock that seems ten feet tall and twenty inches wide! Sights like that can make your anal muscles clench so tightly you feel it in your teeth!
Massive cock matters apart, Talia Rose has titties and they are possibly the most natural set of medium-sized knockers I have seen on a trans. Of course, those hard knobs are surgically enhanced creations, and biting them to shreds in the throes of passion could get you in a lot of trouble!
This 28-year-old brunette lives in Montreal, is 5'8'' tall, and has 36D tits, plus an 8.5-inch cock. Despite being a VIP escort, Talia Rose charges 300 for a half hour and 400 for a full hour, and that according to the current exchange rates translates to $225 and $298 in American money.
Now, hourly rates here are from 300 to 400 CAD, with half an hour of fun costing from 200 to 300 CAD. After due consideration, I would say that the escort rates on this site are a little above what trans sluts in the US charge. You gotta hold like $300 plus to have fun for an hour with a ShemaleCanada trans escort and that does not make much sense, when half that amount can get you an hour with a teen thot who's tight all over, shy as hell, and well in the mood to accommodate every inch of your oak tree woody!
Shemale To The Stops!
Now, there are premium, VIP, and normal escorts on this escort Canada site, and their profile thumbnails, plus the profile themselves tell you which is which. The thumbnails here are like twice the normal size and I love that. They also add to ShemaleCanada's stylish and classy look.
So, the first main tab on the left lets you check out new escorts. Other options in that single tab allow escort sorting by location, penis size, gender, orientation, username, and others. You can also click that particular tab to view the roster of visiting escorts and read the latest comments left on escort profile pages.
Further down the homepage are a selection of the newest escort profile thumbnails, with VIP escort thumbnails coming next, followed by premium and standard escorts. There is however just a single premium escort at the moment and she does not look all that extraordinary and her pictures aren't even verified.
Escort profiles here are as clean and slick as the site homepage. A video and multiple hi-res images are typically provided and the arrangement is premium. There's a map and a comment option on all profile pages and near the top of each profile page is information related to when it was last updated and last visited by the escort it belongs to.
Quality-wise, the trans babes here are mostly above average. Beauties abound and some of these sweet-faced angels have cocks they wanna wage Armageddon with on your asshole. So beware of them or else!
We Got Dick, We Got Boobs!
ShemaleCanada.com is up there with the best when it comes to site design. The homepage and other pages are colorful, well-arranged, and easy to use and there are no ads or spam. There's even a slideshow at the top of the homepage and that's more attention-grabbing than a recording of Ariana Grande saying she likes drinking BBC juice early every morning!
A basic search bar, plus login and signup tabs options are on the top right of the homepage, but you can only sign up here if you are a professional shemale escort who wanna fuck and be fucked for a fee. Most of the main tabs are links to other sites and that plus the fact that there's no easy and speedy way of getting an accurate count of all the shemale escorts on this escorts Canada site does not put me in a good mood.
What I Think of ShemaleCanada
If you are in Canada and have set your sight on fucking and being fucked by shemales with heavy howitzer pieces, then ShemaleCanada seems like a very good place to begin your asshole-shredding journey! This site and its chicks with upstanding pricks represent the best of class and quality and there's every reason to add ShemaleCanada to the top of your bookmark list.
#1 ShemaleCanada Alternative
More Sites Like ShemaleCanada!
Check out Porn Guys full list of the 70+ hottest escort sites ranked
LeoList
Visit LeoList to buy, sell, or trade almost anything! Personals, escorts, cars, real estate, jobs, services, vacation rentals and more virtually anywhere in …
Terb
TORONTO & ONTARIO ESCORTS & MASSAGE REVIEWS. Toronto Escorts & Massage Forums. Toronto escorts & Massage review board serving both independent's and agencies …
Perb
Vancouver escort forum and review board bringing your the largest Escort escort and massage review community in Vancouver.
Sp411
EuroGirlsEscort is one of the largest escort galleries to find escorts in every country
Merb
This is an adult web site designed for information purposes and the exchange of ideas on sexual and numerous other venues. The thoughts and ideas are …
VogMTL
Agence Escortes VOG Best Montreal Escorts Agency. Meilleure Agence d'Escortes à Montréal ayant les plus hauts standards. Best GFE / PSE Escort in Montreal.
Humpchies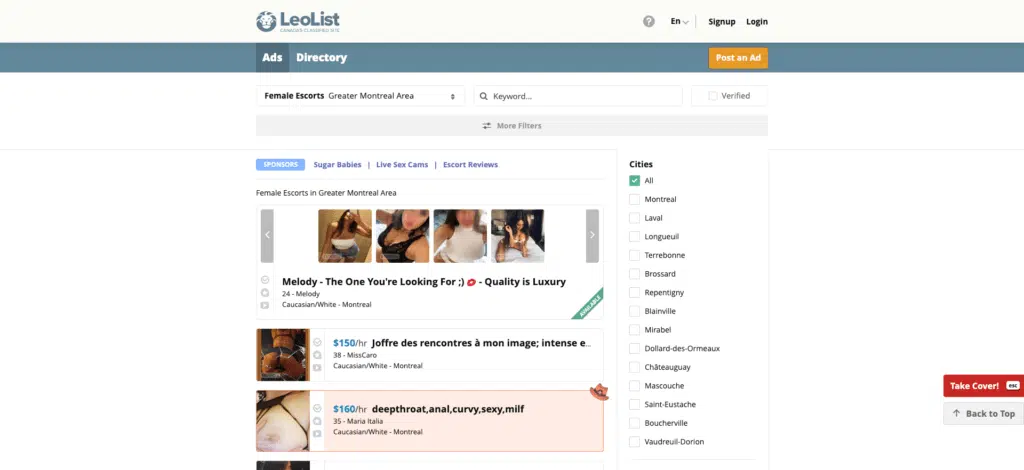 Female Escorts in Greater Montreal Area. Browse LeoList's Female Escorts classifieds in Greater Montreal Area.