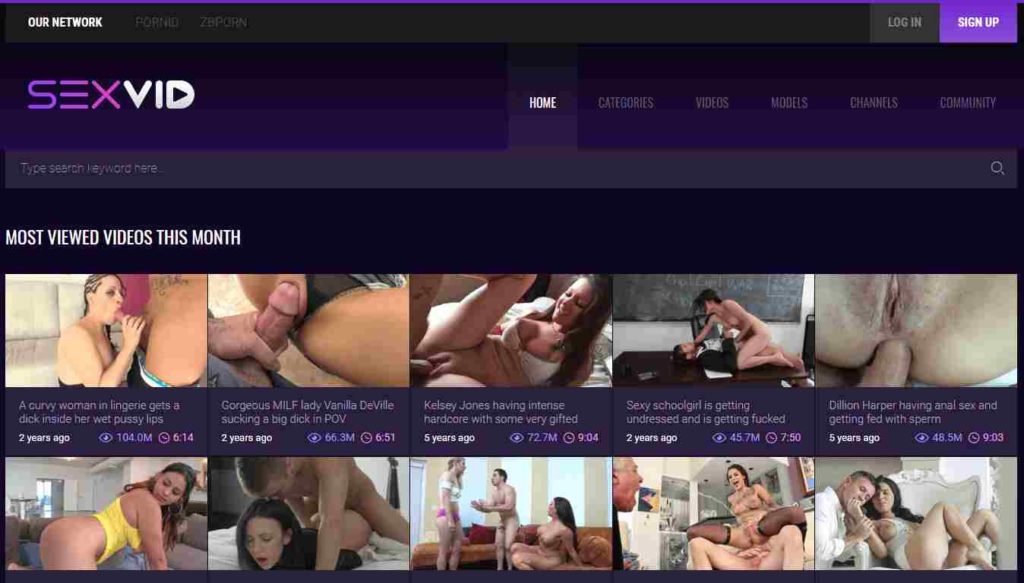 SexVid Review
~ Pros ~
Free
Rad site color
Content crammed
Pornstar and XXX studio bio pages
User intuitive
~ Cons ~
❌ No advanced search
❌ Nothing better than 720p
SexVid.XXX
Subtlety is not the strong suit of this XXX site. Like they want you to hear their name and from that form a very clear image of what they do and how they make their money. I like that kind of shameless directness mixed with lusty and attention-seeking bravado.
Sexvid.XXX deserves a review and that's what I'm serving up right now, So, here's my Sexvid.XXX review and it's pretty enough to have raw sex with!
Dude, It's A Blue Cunt
There might be blue cunts out there, but I sure have never seen or poked into them. Just like there well could be pussies with teeth out there, but I haven't been fortunate enough to run into these! Does it sound like I suddenly became obsessed with the color blue? Actually not. But Sexvid.XXX uses an amazing blue color on all its pages that sure might be something a fella might wake up to and decide to be obsessed with, just because it's been long since his cock saw the inside of a slit with a blue tint to it!
Now, like I said up there, Sexvid has a charming blue color and that is not something you run across too often. Sites like these either use black or white as the default background color and I am happy that Sexvid opted to be different. Kudos to them and the admin with the blue-tinged boner running the site!
Apart from its obsession with blue, this smut palace looks conventional and has a wide but average set of site features. There are extremely cock-arousing video image thumbnails of the most viewed category atop the homepage, and varied content thumbnails, pictures, and category pages lower down.
At the top, left are links to the four sites in the Sexvid network, while at the opposite corner is a language option, plus sign-in and login buttons. Only English and German are supported here, so the language option is essentially big for nothing, just like a BBC that can't last a single round of hardcore action! Signing up costs nothing and as a member, some privileges will be made available.
The top part of the homepage here also hosts a fancy site logo and a slew of tabs. These are Home, Videos, Photos, Categories, Pornstars, Channels, Community and Live Sex, and each does what they promise. But that does not mean I ain't gonna dive into them. First under dissection is the Live Sex tab, ignore this if you don't want to see what Stripchat.com looks like. Up next is the Community tab and page where members gather. With the options there, you can seek out male and female members, as well as couples, and decide what age the members you are searching for should be. There's a variety of members, from a lot of countries, with America, Spain, Japan, India, and even Nigeria being represented. You can't directly message members though, or I would have asked the Nigerian prince I found there for my share of the loot he had to be enjoying!
And then we come to the Channel tab. For real the Channels page is one colorful fucker. It's got 7 and a half pages of XXX channels and all of these can be sorted alphabetically, by popularity, or by the number of content. Each channel has its page, with a detailed description made available. Evil Angel, Brazzers, Family Stroke, Digital Playground, Monsters of Cock, Team Skeet, and more are represented here. Given the caliber of channels and studios like these, it is only proper to stand and clap whenever they are mentioned. Otherwise, I will pray for your sister to get signed up by them!
Just like the Channels page, the pornstars found on the Pornstars page usually have detailed bios and these often include links to their social media handles. That's hella impressive because the majority of smut sites only see pornstars as sluts that need to be cracked wide open, rather than artists that deserve appreciation and a bio page where wanking folks can learn more about them! Anyway, like I was saying, the bio pages of the chicks on Sexvid.XXX is one of the most detailed I have yet seen. And of course, the stars here are known names like Abella Danger, Kendra Lust, Elsa Jean, Alexis White, Bonnie Rotten, Diamond Jackson, and Riley Reid.
Whew! So, over a hundred categories are listed on the Category page and that's more than enough to accommodate all sexual desires and fetishes in the book! The Photos page is also content-crammed and individual images can be zoomed in. Downloads are not enabled by default, but feel free to right-click and save any wallpaper-worthy piece of cunt you like! Tapping the Video tab will take you to the video page, with options that enable content sorting according to the most viewed, most commented, top-rated, longest, latest, and most favorited. That's sick.
Here's Your Cunt Impaler Of The Month Award!
When I logged into Sexvid.XXX for this review, there was a video image thumbnail on the homepage that immediately caught my roving eye. It was uploaded 4 years ago, is 6:15 minutes long, and has been viewed over 305 million times. The title was After School Hardcore Fuck With A Lusty Latina Teen and this particular thumbnail had an image of a hottie with her shirt over her waist and a beautifully curved cock within an inch of her snatch. I hovered my cursor on the thumbnail to preview this video, before clicking on it and ended up watching it like 5 times!
The video is in HD and opens with a very shapely chic standing by a window dressed in a mini skirt and shirt. She wasn't wearing panties and kept flicking up the skirt to show off her very fab bubble butt. Her partner puts her on the windowsill and sticks that curvy pipe into her and then proceeds to fuck her so hard I am still surprised that she's in one piece! The scene then moves to the two on a bed, with the girl riding in a reverse cowgirl, before she's put on her back and fucked from the side. That was one hella watch!
Now, videos on this site are consistently under 10 minutes long and even the longest videos only run to 13 minutes. But at least there are multiple daily updates. Quality is user adjustable and usually ranges from 480p to HD and there are no playback issues to worry about. Videos all have descriptions too, and I like that level of attention to detail. Sample video titles include Tyler Cruise Earned Right to Fuck The Black Maid Osa Lovely, Two Couples Enjoy Intense Swinger Foursome on the Couch, Kuraki Mio Is Stimulated By A Sex Toy Before Being Fucked and Blonde Gives Trimmed Twat To Partner Through Torn Pantyhose.
What I Think of SexVid
I am not sure why exactly, but I like this smut palace. It doesn't look like most other sites and while content quality maxes out at 720p, you quickly learn to ignore that since videos are invariably clear as a bell. So yeah, Sexvid is dope and a site I have already bookmarked.