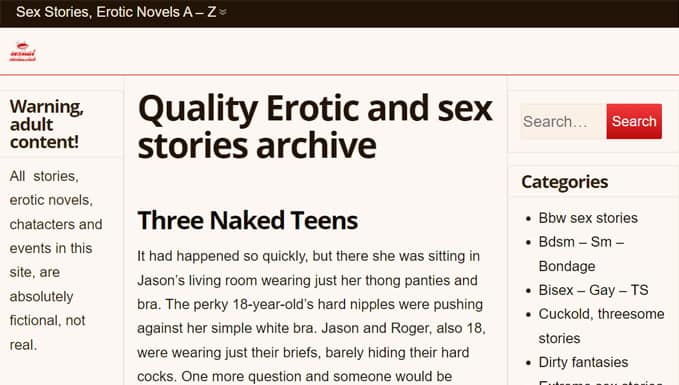 SexualStories Review
~ Pros ~
A clean website
Different categories available
Combination of original and made-up stories
~ Cons ~
SexualStories.club
As I lay down on the hardwood floor with nothing but my pants on, I looked out of the window and there was nothing but whistling and singing birds flying around in the woods. I looked around and there was nothing but a black plump and soft-bodied chick riding me like the horse from the Rapunzel movie… loving my little sex story?
I would have loved to go more into the details with you but sadly, the highlight of the day is not me but a resource to read more sex stories. Is it good? Or bad? I don't know, but we are going through that together to see what we got. This is my sexualstories review.
Big Tittied Fantasy Bitch
When you close your eyes to imagine the best-looking bitch riding you at full speed without showing a need to stop—what are the qualities you imagine? But for real, I felt like I need to say this, those who enjoy reading erotic and sexual stories are those horny members of society that have imaginations bigger than that of Galileo.
Okay enough of the pep talk, let's get into the sexualstories review. Sexualstories.club is one of those famous and mildly used sites for sex stories. We are taking this from the homepage and ending things on the contents—yea, as usual. The sexual stories homepage is like some of those nice-looking blogs out there.
I'm sure by now, you have gotten tired of me going on and on about homepages of different sites but the sad truth is, I have to, I'm sorry—we just can't do anything about it. That said, what does the sexualstories homepage look like? It looks good, fucking good. The sexualstories.club front page lists out the different stories that were recently uploaded on the platform, with some snippets shown along with it.
Now what I do love about sexualstories homepage is the use of colors. The admins or the web designers did well to combine a white background with red fonts and a cream-ish background to go along with it. I'm not sure I am putting that in a proper way but when you check it out, you see what I'm talking about.
And generally, the fonts are huge, making it super easy for you to read and digest some pound stories. And the navigation? top-notch and well done I think. The right-hand side of the homepage lists the different categories of stories available on sexual stories. Not many categories are available but some which are available include BBW sex stories, BDSM and bondages, erotic stories, dirty fantasies, and so on.
And scrolling down on the homepage brings you to different information windows like the latest stories, popular sex stories, and ads. You can even go through the archives to see some of the old stories posted on sexualstories.
Speaking of ads, there are actually ads on sexualstories, but unlike those type of ads that jumps in your face or those types that make you wanna flip the laptop and say fuck it I'm done with this, the ads on sexualstories are mild. You won't even know they are ads, they are just there sitting pretty with some texts and looking like a menu on its own. If this was intentional, then kudos to the admin for doing shits like this.
If Romeo and Juliet were pornstars
Imagine if our good old buddy, William Shakespeare wrote his romance masterpiece, Romeo and Juliet in a different way. In a more erotic way to be exact—"and Romeo walked to the room and yanked the clothes off Juliet to reveal her white and sexy-looking undergarment, he pulled her close and inserted a finger in her like he was trying to rewind her like a VHS tape"… he'd have ended up on sexualstories.
The stories on this site are fun to read but sometimes, they run off top, and to be very honest—I get lost trying to read these shits. The feelings and vibes you get from reading the stories on sexualstories feel more of a novel than a sexual story—therefore it is safe to assume that most of the stories on sexualstories are made up shits and none of them are real. At least the authors did well to have a "fiction" tag on the stories so you know where you are and dont feel lost in what you are reading.
But what do the non-fiction stories feel like? They feel real. As previously discussed, the one thing separating fiction and non-fiction is the tags but a more reliable way of judging it can be in the content. While the fictional ones are well written and evenly spaced, the non-fictional stories are packed together with a paragraph bigger than Johnny sins' career in the porn industry. Looking like a submission to the admins of sexualstories.
What do I think about Sexualstories?
I get paid for this little advice and this is the part I feel like I shine the most. What do I think about sexualstories? Not much honestly but I think this is a good place to read up on some good fuck and suck stories. Not just on the contents itself, but thanks to the web design, how easy it is to use the site and how smooth it is, like hell, they even show you ads without you realizing you are being shown ads.
Just get on it, but the way the stories are clustered together might or might not be an issue for you. If it isn't an issue, this will be a great spot to read erotics contents, but if it is an issue for you—check out some other sex stories sites I have reviewed and you might just happen to find your cunt story lullaby lying there.
More Sites Like SexualStories!