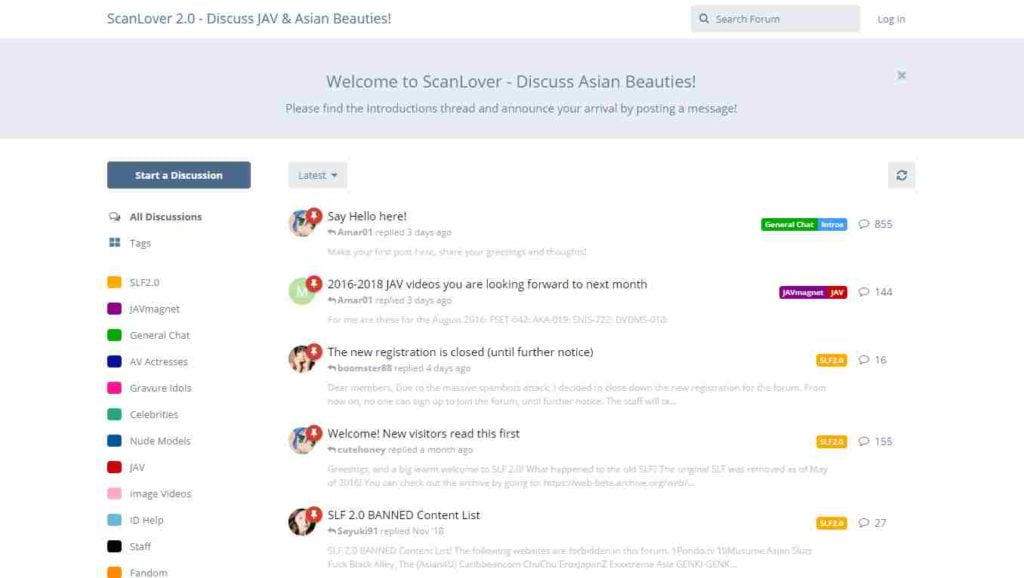 ScanLover Review
~ Pros ~
This site specializes in asian women
It has lots of categories all about asian chicks
It has a pretty decent search and sort function
Allows you share content with horny friends you meet on the site
The site is secured
~ Cons ~
❌ The site developers still have to do more work
❌ The site is pretty slow at times
ScanLover.com
How many porn forums are there on the net? Go ahead and count them all. We will buy you some lemonade, and give you a massage when you are done!
There are so many porn fora out there it can be a tiring affair sifting the wheat from the chaff so to speak and focusing on those that deserve all your cumming attention. As good citizens, we have been helping out by reviewing a few forums and letting you know where they fall short.
Today, we will be checking out an adult forum called ScanLover.com. The name itself is catchy and the site, unlike most other forums, focuses on the Asian babe niche. And we are talking of the impossibly cute and sexy kind that makes your cock grow at the speed of light and throb like a jackhammer that madly needs a hole to drill!
Read on for our ScanLover review.
Scanned, Sealed and Delivered!
The ScanLover homepage differs from other forum sites. It is still recognizably a forum page, but there are subtle and not so subtle differences. For starters, there are no boxes and sections into which the content is slotted, as the link to all content discussions, tags, and threads are posted at the left of the page.
The homepage by default has a selection of the latest threads, with sample titles like Coronovirus Information, Discussion of All Recent JAV Leaks and Attention SLF Staff! A pull-down menu makes it possible to get the top, most recent, newest or oldest threads on the homepage. A search bar is provided at the top right and is kept company by the sign in and login tabs. Signing up is free too.
Scanning Lovers Made Easy
While the homepage is uncluttered, figuring out where to go for this and that will take some time. Sure, the search bar can be used for this purpose, but that is not really what we want to do.
Thankfully, some of the homepage content have clickable tags, like Femdom, Gravure Idols, and Celebrities, with these tags being highlighted. After thinking things over we decided to see what the Tags tab posted at the left could do. Clicking this proved to be the right move. It brought us to a page filled with tags like General Chat, Celebrities, Nude Models, JAV, Image/Videos, ID Help, and more.
The Celebrities tag leads to a long list of threads about Asian celebrities, almost of whom we have not heard of. There's a brief bio of these babes, plus plenty of non-nude images. Sample titles include Kasumi Arimura, CyberJapan Dancers and Yume Shinjo.
We found slightly more erotic content in the Gravure idols category. There are lots of nude photos in the Nude Models category, all of which could make the most amazing screensavers.
What We Think
This is the first Asian-focused forum we have reviewed and we can't say we are very impressed. There's not enough content and off the top of our head we can reel out lots of forums with far bigger stuff.
What's here is high quality though, especially the pictures, though you will find pussy pics blurred out, which can be highly annoying. More, we couldn't find any manga or hentai no matter how hard we searched and that is disturbing for a site that focuses on an Asian audience. And the site design is not the easiest to comprehend and use.
Overall, we will pass. If we do want to see Asian cuties, we know of other forums that let us see them fully nude and lets us watch for free as cocks tear apart their small Asian cunts!
More Sites Like ScanLover!