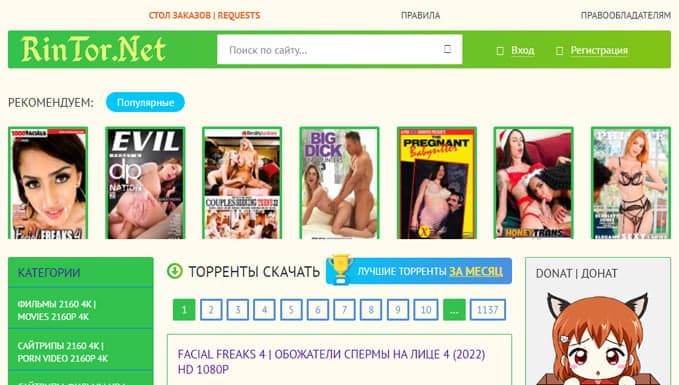 RinTor Review
~ Pros ~
Free
Attractive site design
Lots of content
~ Cons ~
❌ Endless ads
❌ Overcrowded and overwhelming pages
❌ Requires a steep learning curve
❌ Basic search bar
❌ Bleh site features and user options
❌ Wack language support
RinTor.net
The Rintor name reminds me too much of rim jobs and that means I really should stop watching too much hardcore porn in the early mornings! Either that or hire someone to suck my asshole several times daily, just like Snoop hires someone whose only job is to roll blunts and kiss his dick!
Heard of the Rintor name before? Well, these guys are in the porn torrent business and that means they have all the free scoop of the most exclusive XXX out there. Here's my Rintor.net review. Come along and let's go see if this is the kind of porn torrent site that's better than a rim job from a "cultured" sweetheart like Bhad Bhabie!
Run From Toothy Rim Jobs!
First impressions matter and here's me saying that at first sight Rintor does not impress yours truly. For one, it is a mostly Russian-focused site and I speak that language about as well as I do my job as a cosmonaut who eats alien cunts that have been fried and buttered by eunuchs! It is also ad-filled. Any click here can potentially trigger pop-up ads and that's so annoying and time-wasting. It is not all that bad though, because there are user options, explanations and the like in English, but it would have been better to just have multiple language options in place that users can choose from as they wish.
At least this porn torrent site nails it in the looks department and is colorful, and attractive, with white and lime green being the 2 primary colors in view. User options include a basic search bar, and you can sort content by popularity and site recommendation. Login and registration options exist at the top right of the homepage too. And by the way, since y'all don't speak Russian, I would recommend enlisting the help of sites and apps like Yandex Translate if you plan on staying long on a porn torrent site like this that is as Russian-oriented as a loaf of black bread shoved into an unshaved asshole!
Now, Russian-oriented or not, Rintor.net is still easy to figure out, so chill out y'all. Just below the user options atop the homepage is a slideshow containing video image thumbnails of varied porn productions like Menage A Trans 8, Mommy's Boys, Cream Filled College Girls, and Cougars With Big Breasts. There are even forward and backward arrows to let you browse through these movies in slideshow format. Wanna download these movies? Just click on them and a new page will show up with information about the movie in question like the file size, plus a download link.
Anyway, the middle section of the Rintor.net homepage is filled with thumbnails containing images and descriptions of varied porn movies in torrent format. These descriptions are thankfully in English. There are 1,159 pages of these porn torrents to browse through here, and this goes all the way back to 2019. If only I had bought masses of Bitcoin early that year, plus like a billion Solana coins!
The left and right sides of the site homepage have links to varied movies, XXX review sites, and XXX categories. A category tab hosting all these categories would have been more sensible and I gotta say that Rintor is grossly deficient in site features and user options, but gets easy to navigate once you get the hang of it.
Rimming It And Jerking It!
Rintor.net is a literal ad paradise. Sites like it that prioritize ad revenue so much are unlikely to care a lot if you are downloading malware or viruses. Yeah, I am saying that it is best to exercise judgment when downloading XXX torrents on this site, or you might download the kind of malware or virus that will give you the kind of rim job you absolutely do not want!
So, this site is filled with a little over a thousand pages of porn torrents, with around 10 movies per page. To download these though, you need to have at least a passing familiarity with how torrents work, and it is nice that each video has a How To Download Torrents link that teaches you all you gotta know on the topic. The explainer text that details how to download stuff here is in both Russian and English, and there are plenty of accompanying images. Awesome!
And oh, movies on the site are usually over 2 GB in size. So, if you are here to download porn torrents rather than to sight-see, then better make sure you have plenty of space to store the stuff you're gonna download. Plus about the only way to get movies around the 2GB mark here is to aim for 720p videos.
I tried to download the Busty Wives Next Door torrent, only to take a closer look and see that it was over 12GB in size. And that is because it is in 4K. Stretch My Teen Ass was also in 4K and over 12GB in size. I finally settled for Big Naturals 60, which is a 720p video that has already been downloaded over 300 times. I downloaded it using BitTorrent and got it to work without issues. For sure, this is one video my right hand seemed glad to see this weekend!
What I Think Of Rintor
On one hand, I find the lack of wide language support here incomprehensible, but on the other hand, this site sure is packed to the gills with sweet stuff and has enough 4K porn to make a porcupine shed its quills! Sure, explanations and other stuff are translated into English on Rintor, but having a language option where you can choose from varied languages would have been the easier thing to do. And then there's the endless ads that delight in popping out of nowhere at the most inconvenient times.
I like this torrent site. But browsing through and using it is made so much more difficult than it should be and I can't understand why.
Rintor is worth visiting, but I would rather get a rim job from my dead grandma than bookmark it!