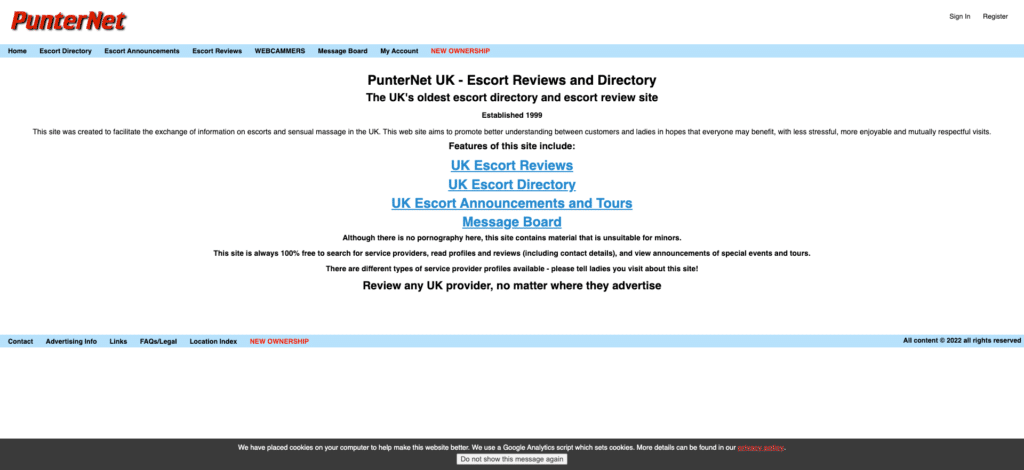 Punternet Review
~ Pros ~
Regular updates
Advanced search features
Jacked with user options
Lit opportunity to read and write escort reviews
~ Cons ~
❌ Site looks wack
❌ No verified escorts
Punternet
Punternet is like an adult club where members gather to reminisce and talk about the features of this and that UK escort. Reviews are available too and if you wanna learn about escorts that will take your money and run without first sucking your cock dry and sitting on your face till it bleeds, then this is the place for that. Yeah, this is an escort review site, escort directory and escort site combined into one delightful but rather colorless package and there's stuff available that can change your life for the better, or make your wallet regret ever having been made!
Here is my Punternet.com review. Read it and weep after a jackhammer fuckathon that makes your mother-in-law the newest member of the bow-legged slut class!
Winning Punters Never Run Out Of Snatch!
Got money burning holes in your pocket? Well then, let me help you spend it on snatch of the British kind. Better pray one of these snatches doesn't start leaking tea and scones when you wanna poke into it raw with your oak tree woody!
Now, there are a lot of agency and independent escorts on this site and while my math skills aren't the best, I would say that the agency escorts outnumber the independents. Gina Brown is one of the aforementioned independent escorts and for some reason she likes her face blurred. She's a 30-year-old ebony who rocks a slim, tall, and curvy body, plus 34G knockers that look fake. Gina offers refined experiences, but that does not mean you cannot spread her legs and put your cock so far in her that when you cum, you pump enough jism into her aorta to get it distributed all over her body!
Gina even has her website and charges 100 to 160 pounds for incalls, with outcalls starting at 180 pounds. That's $118, $189, and $213 respectively, which is not all that bad for a top-class cunt like this. In case you were wondering, Gina is into face-sitting, oral XXX, rimming, domination, role-playing, and stripteasing and God knows I could do with a face-sitting this weekend! There are 9 reviews on her profile, and all but one praise her to the skies and say she has the kind of cunt and cock-sucking gullet needed to assure permanent world peace!
Wanna go with a girl named Lola? She's a Brazilian in central London who while slim has enough curves on her to lead all the angels, the saints, and even God's adopted son astray! Lola has very small titties that don't need a bra to make them stand up, plus nipples you just know will be stretchier than India rubber! Her booty is of the very soft, rounded, and curvy kind and a 10-second lick of it would make my day! Lola describes herself as sexy, fun, and spontaneous and doesn't forget to mention that she loves dancing. Just know that you are gonna lose what's left of your sanity when you see this big booty chick shaking all that her momma gave her in your face!
200 pounds is Lola's basic hourly rate and for that, you get erotic massages, face sitting, role-playing, vaginal intercourse, lunch/dinner dates, and other hardcore stuff. I don't think she takes it in the ass though, but if you want to subject her to an anal excavation, then you are welcome to tip her big and see if the money will loosen her sphincter muscles! 200 pounds for those of you asking is $237 and that's a lot of money to pay for an hour of any slut's time.
So, you gotta pay at least $100 for an hour with any escort here and that's pretty high. Of course, the money will be less if you can find an escort UK on this site who's willing to let you fuck her for 15 to 20 minutes rather than an hour. Still, the sluts on Punternet charge more than the average in the states.
Punt It You Fucker!
To get at the escorts on this site, you gotta head to the Escort Directory tab. There are advanced search options at the far left of that page. With these options, you can sort for escorts by likes, location, age, size, ethnicity, national origin, text, availability, and keywords. The location search feature for instance makes it possible to look for escorts within a certain distance of a specific locale. That means you can lodge in a London hotel and go searching for escorts within 5, 10, 25, 50, 75, and 100 miles of the city of London.
Now, I better note that this is a free site and all are welcome. The downside to that though is that everyone and anyone is free to pen an escort ad and then forget all about it. What I mean by that is that there are a lot of what's classified as expired ads on this UK escort site. There should have been a mechanism in place for automatically deleting these expired ads and the number of them on this site sure is concerning.
Anyway, escort profiles on this site are reasonably detailed, with the ads from escort agencies typically packing more stuff than those from independents. Contact details are usually provided and that usually includes a QR code and a website link. Services rendered are detailed too, as are multiple images that can be browsed in a slideshow format. And I almost forgot to mention that most escort profiles here have reviews that you and anyone else are free to check out.
London elite switch Linda for instance has nearly 20 reviews on her profile page and all of them gives her two solid thumbs up. She is a leggy 45-year-old MILF who is neck-deep in BDSM and roleplay. Linda will sit on your face, kiss you, fist you, stay overnight and rim you. About the only thing she will not do is let you jam your hand into her privates and pull her guts out!
Escort Alexandra is only 2 years younger than Linda. This London babe has 36D tits and while pretty and curvy, has pretty poor English. That is because she's an Eastern European babe who focuses more on improving her cum swallowing skills than on her language skills. She's not cheap too and you gotta cough up 2,500 pounds for a 2-day overnight stay and 1,000 pounds for a single-day overnight stay. Just like Linda, Alexandra does not seem to have limits and you can fuck her six ways to Sunday and 3 ways to oblivion!
Quality-wise, the escorts on this site are the slightest bit above average and it looks like the best chicks are with the escort agencies. While escort profiles as I have previously stated are quite detailed, they are not very sensibly arranged. Plus they lack class and pizzazz and are too minimalist for my liking. And there's the fact that the sluts and dudes here are not verified, with that being a security concern.
Do A Good Deed, Suck A Punter!
Punter.net is a very colorless site that wouldn't have been out of place in the last decade of the previous century. The homepage is bare, save for an About US and some tabs and at the top right are Sign In and Register tabs.
The main tabs are Home, Escort Directory, Escort Announcements, Escort Reviews, Webcammers, Message Board, My Account, and New Ownership, with the latter tab acquainting you with the fact that after 18 years in charge, the previous site owner sold Punternet.com to another wanker and the new owners are not out for any major changes, with the exception that male and trans escorts can now solicit for clients here. That said, I failed to see any male or trans escort ads during this review and there's no specific way to search for them.
The My Account tab is for those with accounts here, while the Message Board is okay and regularly updated, but not as exhaustive as I thought it might be. Reviews are available in Escort Reviews, and there's an advanced search for getting at the reviews of each particular escort with an account here. Kindly ignore the Webcammers tab because it is a direct ad link, and you can find the latest news of this and that escort on the Escort Announcement page, with this including their tour dates. And yeah, that's also where the newest escort profiles can be found. As for the rest of the tabs, they do what they say and there's no use digging into their buttholes!
Now, there's an excellent range of features on Punternet.com, with ads and spam being very minimal. Of course, the minimalism on display takes getting used to. Methinks that's a necessary sacrifice to make this site as sleek and speedy as possible.
What I Think Of Punternet
Punternet is not the slickest or most revolutionary site, but it meets its stated purpose of existence without much fuss and does good work as an escort directory, escort review, and escort advertising site. Yeah, this escorts UK site is worth a look, but I hate the fact that it is so colorless and minimalist.
#1 Punternet Alternative
More Sites Like Punternet!
Check out Porn Guys full list of the 61+ hottest escort sites ranked
Vivastreet
Browse the latest FREE CLASSIFIED ADS in your area including used cars, properties to rent, free personals and much more! FREE, SIMPLE and LOCAL.
UkPunting
UKPunting – Escort and Massage Reviews and Forum. … UK Punting. General discussion of UK Escorts and Massage. Moderators: Ali Katt, CoolTiger, daviemac, …
AdultWork
You are of legal adult age as defined by the country or state from where you are accessing this application to view pornographic material.
UkAdultZone
UK escorts and Dominatrix. Quickly see who is available today. Trans and Shemale escorts too. Find a fantasy companion today.
BirchPlace
Beautiful TS/TV Escorts who live in the United Kingdom, We have 2590 TS/TV Escorts in the United Kingdom who are waiting for you on BirchPlace.
EscortRankings
Escort Rankings helps you find and book real escorts avoiding scams and fake profiles. All profiles on Escort Rankings are legit and 100% owned by real escorts …
uEscort
See what Escorts in the UK are online ✓ Real photos of escort girls, male escorts and ts escorts. It has never been so easy to find an escort in England.