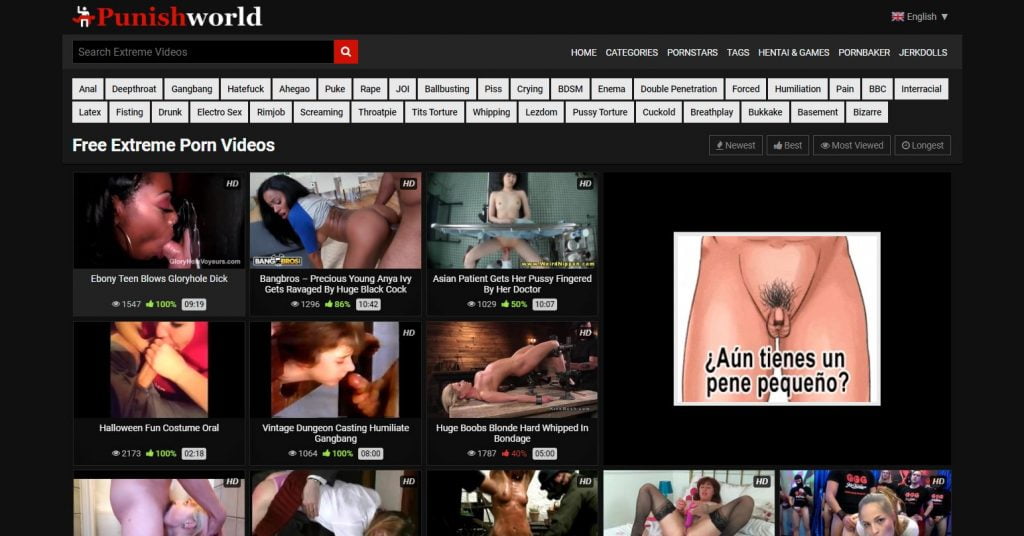 PunishWorld Review
~ Pros ~
Very free
Loads of videos
Lots of tags and categories
Decent array of user options
~ Cons ~
❌ Ad's
❌ Mostly dated and low-quality videos
PunishWorld.com
Pain and pleasure are so related they are practically kissing cousins. And that, ladies and gents of this cumming planet is why some folks get off on causing pain to themselves or others. Yeah, some fellas go through a mighty cum explosion just from whipping the behind of a nude fat lady, while others get off on pretend rape, BDSM, enemas, and everything else but a chainsaw fuck!
So, why is all this relevant? Precisely because I am reviewing PunishWorld.com today. This is an extreme porn site loaded with the kind of stuff that will get you shunned in the locality forever if it ever came out you have been watching such content while strangling your boner like an organ thief! Here's my PunishWorld.com review and the name sure does make me feel like punishing the first asshole I come across with all the dick I have!
Punish And Cum Fast!
This extreme XXX site has a standard homepage and if not for the numerous tags advertising what's on show plus image thumbnails of nude chicks in varied poses, you could easily mistake it for a standard XXX site. Not that there's anything much like a "standard" XXX site these days!
Now, the default homepage background color is black and it makes the whole place look as sinister as a dungeon. The site logo can be seen at the top left of the homepage and it shows a fella holding a lady on his knees and thwacking her fat ass with his palm. Lucky him!
A pull-down menu colonizes the far right of the Punish World page. This has like 20 languages you can pick and choose from, English included. Beneath the site logo and language option is a search bar that can be used to look for specific search terms. And near this are the Home, Categories, Pornstars, Tags, Hentai & Games, Pornbaker, and Jerkdolls tabs. The last three are essentially useless and clicking them triggers the opening of new pages where you can watch anime, porn, and play XXX games. Tags come next after all these main tabs and more of them, plus pornstar names are at the bottom of the page.
So, let's go for a deeper dive here, okay? Put on your condom just in case you slip and fall further inside! Now, when you click the Tags tab you get an alphabetical listing of every tag in existence here, plus a list of the top trending tags. The latter include Piss Drinking, Throat Bulge, Brutal, Hogtied, Prolapse, and First Anal. There are at least a thousand tags in the Tags section and checking them all out is quite the education!
The Pornstars tab on the other hand has content that spills over to 79 pages. Shown are images of pornstars that do extreme stuff, from Adriana Malao and Michelle Can to Lena Paul and Mia Khalifa. The great and mighty Jason Luv is ably represented and has nearly 70 videos to his name, with titles like Black Teen Secretly Fucks Big Black Cock When Her Friends Are Gone, Blacked Flight Attendant Squeezes In Some BBC Between Flights, They Took Turns In My Girlfriend's Ass and Hot Wife Picks Up BBC And Can't Wait For More.
There's a lot of stuff here, to be honest. But a pet peeve of mine is that you can't know how many videos the pornstars shown in the Pornstar tab are featured in, unless you click on their profile images in the Pornstar section and manually do a count of the videos you see. It would have been better to list the number of videos each pornstar has been in right on their profile image. Also, pornstars in this section cannot be sorted alphabetically. And seeing that there are 79 pornstar pages to browse through, it might take a while to find your favorite pornstar if you go searching. But then I might just be nitpicking.
There's still one more tab, right? That is the Categories tab. The extreme XXX categories here are alphabetically arranged as they should be and run from Aheago, Amateur, and Anal to Wax Torture, Whipping, Young and Young & Old.
Freely Punish My World!
Did I mention that there are plenty of video thumbnails on the homepage? Putting your mouse cursor over these gets them playing and while there are a few an hour or two long, most average 10 minutes in length. These thumbnails have a rating, runtime, and title listed, plus the number of accumulated views and the quality, with HD being the norm.
Options just above the video section and to the right of this extreme XXX site homepage permit content sorting by the newest, latest, longest, and the most viewed. Videos lack dates though, so you cannot tell when they were uploaded. The provided video player is a very simple one and has few options. You can opt to watch High and Low-quality videos, but cannot otherwise dial up or reduce video quality. Videos can be rated, flagged, and reported and you can comment on them by scrolling to the bottom, inputting your email, and saying whatever you want to say.
Do you know my work involves research? So with that in mind, I am sure you will understand if in the course of this research I watch more than a few videos that get my cock dripping so badly with jism that I have to shove a bucket under my seat!
One of these videos came with a title that said Extreme Girl Fist Fucked In Her Ruined Cunt and was 6:02 minutes long. The girl here was shown on her back with one fella holding her legs over her head, while the other fella first put one hand into her snatch, before eventually shoving both hands into this cavernous slit. It would please me a great deal if someone were to locate this girl for me and convince her of my need to rent a loft or a basement space in the factory warehouse that is her pussy!
Anyway, videos on the site load reasonably fast, but are not the smoothest playing. Pop-up ads are present and are easily triggered on every click on any page and that is a crying shame.
What I Think of PunishWorld
Punish World feels like a work in progress and could use some serious prettying up and optimization. It is overall a solid affair that should excellently cater to your extreme XXX cumming needs, but keep your expectations modest or else!
More Sites Like PunishWorld!