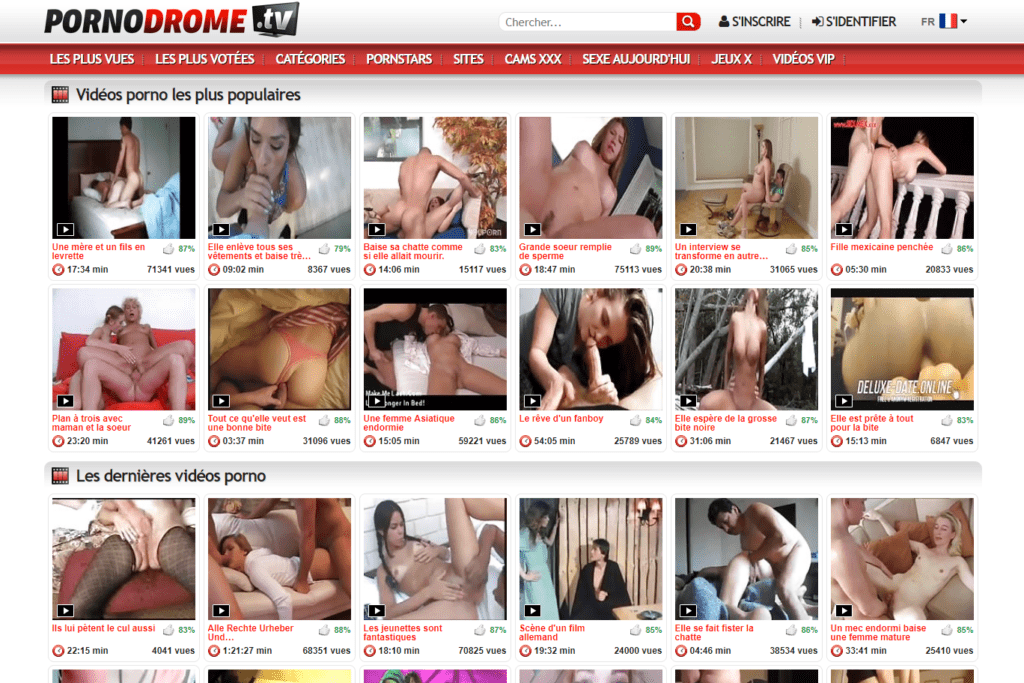 PornoDrome Review
~ Pros ~
Lots of French porn
Has web cam feature
Has good rating system
Has porn stars section
Moderately long videos
No distracting ads
~ Cons ~
❌ Site needs an upgrade
❌ No download feature
PornoDrome.tv
You might have noticed that we have been lately reviewing some European porn sites. Such smut cathedrals often have content you might not be lucky to see elsewhere and can provide a welcome break from the usual sort of porn sites we are all used to here in North America.
The latest such site we are determined to review for your fapping advantage is Pornodrome.tv. Read on and make your willy so glad!
Frenchie Fuck Porn
We usually begin any review by telling you all about the homepage and today we are not making an exception. So, the Pornodrome.tv homepage will look quite familiar to all you cunts who spend most of your spare time dragging your poor cock from one porn site to the other!
There's a site logo, and a search bar, plus login and registration options. Below this is a header painted in red that houses the main tabs. These tabs like everything else on this site is written in French.
There were no language options available here, so we had to use a translating software to find out what words mean. We did that and found out that the aforementioned main tabs comprise the Most Voted, Most Viewed, Categories, Pornstars, Sites, XXX Cams, Snap Sex, and Sex Chat tabs. The last three tabs when clicked direct you to sites like Pornmd and Cams.TodayPorn.
The Pornstars tab is the bomb! Here you can see profiles of hotties like Henessy, Mason Moore, Ava Taylor, Zoey Monroe, and Little Caprice. Each pornstar has a short bio you might want to read up on, plus links to her social media accounts. Also provided are all their content hosted on Pornodrome.
Next, we took a little trip to the Categories tab. This had a page full of category thumbnails, with most of these in English. On each category thumbnail, you can see how many contents there are. The Amateur category, for example, has more than 15,000 content, the Trans category has almost 250 content, the Hentai category has nearly 600 content, while the Orgy and MILF categories have 3731 and 5138 videos respectively.
Sexy Frenchy Action!
Yeah, video thumbnails abound on the Pornodrome.tv homepage. They come in sections, with the most popular videos being presented first, followed by the latest. You can't, however, preview a video with a mouse cursor and this has us disappointed. Approval ratings, playtime and number of views are attached to each video.
By this time we were getting a little bored and our pricks were demanding to be let out to play. So, we clicked a video in the Latest category section that looked promising. It had an approval rating of 87% and was titled She Loves Masturbating And Shows It. Seen was a very pretty lady with sinfully perky tits and a sex toy protruding from her snatch. She proceeded to rub her pussy like she is competing for a gold medal! This bitch was quite good and by the time she was through, our cocks were frothing at the mouth like the good little boys they were!
Other video titles we came to during this review had titles like He Spreads Her Legs, She Fucks Herself and Shows Herself and the Exclusive Latina. There were no video playback issues and sharing videos on social media is possible. The embedded video player is basic however and video quality tends to be average.
What We Think
Ads, restricted language options and some poor quality content mean this is a porn site we are not all that happy about recommending. Still, we praise the site design and the fact that you can see whatever you want for free and jerk off like you mean to drown something!
Overall, we will recommend Pornodrome on those weekend nights when you are so bored you could tap dance on the ceiling!
More Sites Like PornoDrome!