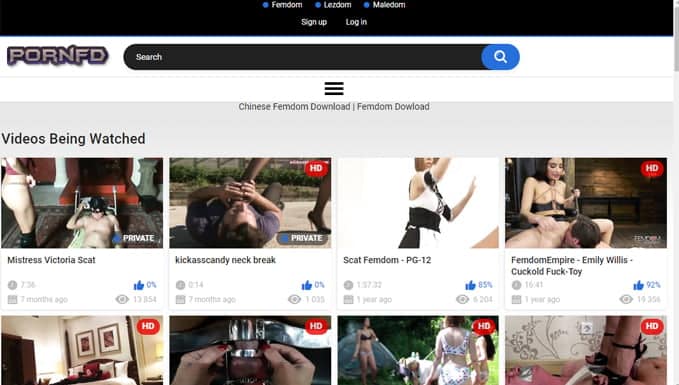 PornFD Review
~ Pros ~
Good homepage
Loads and different Categories Available
~ Cons ~
❌ An account might be needed
❌ Annoying ads
PornFD.com
I know you love yourself some BDSM porn video and will do anything to get it on your screen, watch some, do some, or even act some in the future, that's on you. But what is on me today is the basic Pornfd review I'll be bringing to your tables—well, I'm sure you dont need this introduction but Pornfd.com is another or one of those porn sites out there that focuses on BDSM.
So how are we going to do this? Not much, all you gotta do is just sit there and let me do my thing to you… wait scrap that, my thing is basically reading this to you like a lullaby, song of tunes, and those things you might enjoy. Well, before this get's more awkward, sit with me and enjoy this Pornfd review.
Kegel Balls for Soccer
Enjoy the beauty of life with the numerous enjoyments present in it, some of it includes the cars, gadgets, mobile phones, and shits in that line, but for you, today, right now, it is all about the BDSM going through your mind like blood sent from the pipe down below to the brain above, needing the eyes to see some pleasures for external pleasures. Might as well start calling me the professor from now on because what the heck did you just read right?
Well back to the Pornfd review, let's take it nice and slow from the front page. The front page is clean, although it is basic, it is clean. It's basic because every other porn site out there has the same design, but instead of using a dark background as these other guys, the Pornfd web designers decided to opt for white background—not bad if you ask me. It makes things clear and options are easier to read, love how there are clear buttons, and the videos are not tightly stacked like the holes between the two thighs of a BBW pornstar.
Just like every other BDSM site out there, Pornfd's front page is full of different types of videos like fisting, femdom, maledom, face sitting, and things like that. And trust me, these shits look messy as fuck! I mean, there is a whole ass hand in a guy's ass and his girlfriend is sucking his manhood at the same time? Bruh how flexible is she lmao. Well, this is not for me, and if it is for you, I think you might enjoy these, but let's move on.
Having the options and categories listed out and shown boldly is always a plus and Porn fd took that plus and made it double because their method is even better and cleaner than most of the porn sites I've seen out there. The categories are boldly shown on the left-hand side of the screen, to the left of the videos. The categories include solo, oiled, small tits, funny, HD porn, anime, and so on.
If you want a bigger list, then use the "category" option at the top of the page. Speaking of the top of the page, remember I said something about the navigation? It's not bad, you have options to sort for the latest videos, top rated, most viewed, albums, models, and lots more. You can even upload your own videos on Pornfd if you end up creating a crazy-ass BDSM, but you know you have to create an account before you are able to upload a video.
Assholes out for sightseeing
Is there a way to review a porn site without checking out the quality of the videos on the site? Impossible, because the porn never skips shit, especially when it comes to shit that gets your groove on. But before talking about the qualities of the videos, I must spit out something that got on my nerves every now and then like a pornstar about to ride a 9inch black dick.
The private videos on Pornfd—so basically private videos are those porn videos available to just the premium and registered members of the Porn fd porn site. Which is fine, it's cool honestly, I can just chill with the free ones and bust a nut to the ones I find comfortable but the thing is, there are loads of private videos among the results. It's like Pornfd is trying to force you to create an account with their platform, gaslighting a horny individual is manipulative as heck! We will not be having that lmao.
Back to the video qualities, the videos are super clear, clear enough for you to see the actions and the important parts of the movie or porn video you are watching. There are some setbacks actually, there are no options to change the quality of the video. This is important because think about our brothers and sisters with a bad connection and they also want to get in the groove and feel some movement. But if you can get past that, this might not be an issue for you.
There are other options and functionalities like the video details, video rating, and comment section—nice, not bad honestly. It's good to know what the community is saying, join in or ignore it, that is up to you. Although the videos are clear, but some of these videos, if not most, don't belong to Pornfd. They are taken from top porn sites where people post their work and get paid for it.
I mean, this is a usual practice but it just feels sad knowing that the contents and videos on Pornfd don't belong to them and they don't link back to the original owners. But no one cares yea? I mean, all you are doing is watching a video and not buying it. Oh not forgetting the ads, shit I almost threw my mac across the room because I was pissed!
Tried opening one video and twice—not once but twice—I got sent to a different website, ads. Freaking annoying, an on-page ad is good enough, the ones that redirect you are the epitome of frustrations.
What do I think about Pornfd?
It might not be as big as the other big players but you are not doing much over here anyways. I believe Pornfd can be used to watch BDSM porn videos without any issue. And luckily, there are some soft BDSM on the sites as well, so if choking is your limit, you should be fine. Anyways, welcome to the end of the day, I'm out and about, go get yourself relaxed with the chick or whoever it is!