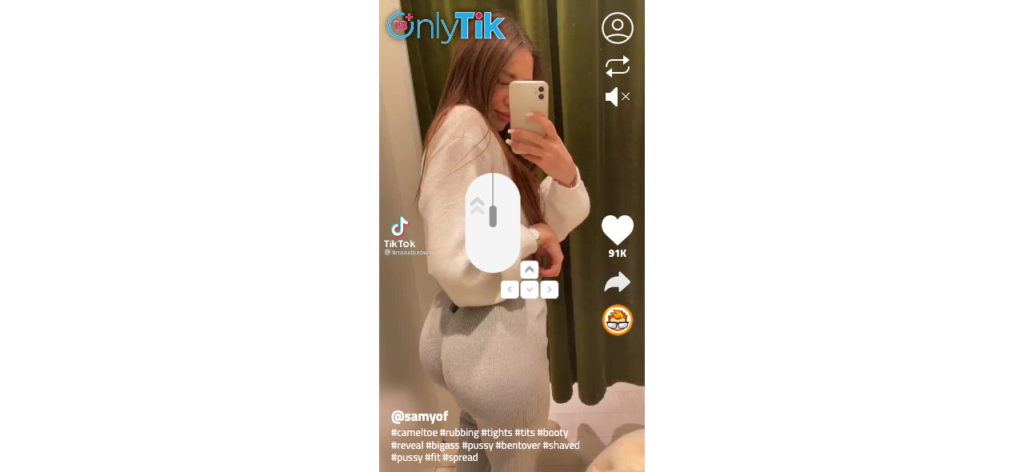 OnlyTik Review
~ Pros ~
Lots of content
Good assortment of user options
Content is easily shareable
No ads
~ Cons ~
❌ Too mobile optimized
❌ Not much content variety
OnlyTik.com
Well lads, OnlyTik only makes sense as a porn site name if the focus is on thicc bitches whose booties are bigger than Alaska and fancier than a 5-star room at the Ritz! You can stand on booties like that and recite the Pledge of Allegiance, or bend them over, and hit them with the hammer of the gods that take up room in your shorts!
OnlyTik is so named because the smut in it is presented in a manner most of you TikTok addicts will find very familiar. That's right, there's a bounty of very short videos on the site and bountiful opportunities for beating your meat to the bone too!
Here is my OnlyTik.com review. And y'all better read it and weep or I will have your hides for breakfast and lunch both!
Simple Madness
See, OnlyTik.com seems to have been optimized for mobile. That means accessing the site on a PC will present some problems with immersiveness.
On mobile, the site looks and feels a lot like a very x-rated version of TikTok, with boobs, ass, cunts, and sex on full display. You can swipe up and down to see new stuff and there are options on the screen to let you add videos to your favorites, share videos on Reddit, Whatsapp, Facebook, and Twitter, or via SMS or simple link copying. The whole mobile thing just feels more natural and immersive than the PC copy.
Other options on the mobile version let you install the app on your device, but very discreetly. You can hide it as a YouTube, Gmail, or Photos copy or show how much you are an alpha male by installing the app without concealing its origin and purpose. That's rad. Plus there's an option that looks like it loops video. But what it does is load the next video once the current one is done playing. That way, you don't have to keep scrolling down on your mobile.
But it bears noting that all the above-detailed user options are fully replicated in the PC version of OnlyTik and that includes login and registration options. The only difference is that in the PC version, the site only occupies a small portion of the screen, with acres of space at your left and right being as empty as your sex life! And that ladies and gents is anything but immersive and that's a fact that I will keep shouting to the rooftops till the gods send Harley Dean to sit her fine ass on my face and get my balls in a chokehold to remember!
Only Thicc Chicks Wanted!
Just like on TikTok, OnlyTik.com deals only in short videos and GIFs. Sure these videos are sexy as hell and some can be incredibly erotic, but they are short as sin too and there are bound to be difficulties if you are the type who needs reasonably long videos for a proper wank.
Most of the content shows solo women getting all naughty, but there's some couple action. And almost none of the chicks I saw on the site look like pornstars. They are in the main, girl-next-door types who are too horny and naughty for their own good and as punishment should have their ovaries fried over a campfire! And these chicks appear to be chiefly white and pretty and if there are black and ebony babes, they must have been on an evasion course while I was on the site!
One of the first videos I saw on OnlyTik was of a chick with Emmanuelly-Raquel as a handle. In the video, she wore a gown that she later took off, revealing yellow undies that were thrown away seconds later. Sure she's the pretty type, but what kept me engrossed was her fine rack and yeah, she had one of the shapeliest and all-natural medium-sized pairs I have seen. Clicking on the Emanuelly-Raquel name led me to two more of her videos in which she stripteases and puts her fab tits and even more fab butt on show.
The next video I took an interest in was of a dancing girl. Sure there's nothing spectacular about that kind of thing, right? Well, this dancing girl was dancing in her birthday suit, and watching her fine tits jumping around and her booty shaking inches from your face sure will do a lot to put a good length of steel in your pecker!
This particular chick has 9 videos on OnlyTik.com and in one of them she's in the middle of an MMF threesome. And if you have any humanity left in you, then you would kneel right now and pray that her cunt and asshole did not suffer permanent damage from oak tree woodies that were doing their best to expand and excavate her holes!
Another video has a chick walking into a bedroom and getting it on with the guy there. The two fuck like rabbits and I gotta tell y'all that it's a travesty of justice that I was not invited to the festivities to contribute my fucking share! Anyway, the two fuckers have an OnlyFans account by the name of KevandCeli and it sounds like the kind of place to learn some fucking stuff that will get the thots in your street creaming themselves all day long!
Now, it does seem like regardless of if you are a site member and logged in, OnlyTik will bless your screen with random videos. I definitely felt like I had no control over the types of videos I could watch and while some videos come with what could be taken for tags, clicking on these doesn't work.
What I Think
OnlyTik mostly feels like a gimmick, one that's entertaining for the first hour or so, and then gets annoying soon after. It's gonna be good for you if you like your porn TikTok-flavored, but it is not something I am up for recommending. And that's on God save the King with a trident up his ass!