NZDating Review
~ Pros ~
Lots of profiles
Regular updates
Active community
User options galore
Advanced search
No Ads
~ Cons ~
❌ Gotta pay for the best experience
NZDating
Dating is just an excuse to get all serious with a single pussy and dedicate your days and nights to shoving your cock into it hard enough to make your partner's mom light a candle and say a novena on behalf of her daughter's badly abused abused snatch Fuck away fellas, but better not break anything in that coochie till you put a ring on it!
Now, there's a site by the name of NZDating that I have been meaning to go over. But that has been impossible, with one blonde MILF on my street holding me by the balls and making sure there's always a good bit of my cock in her fat cunt! Gotta tell y'all that I escaped for a few hours and that's the only reason I was able to crank out this review. So, check out my NZDating.com review fellas, and prosper in every fat coochie that wants you in it!
Let's Fuck For A Date!
So, the idea behind NZDating is to have a website where folks can make friends and date if they find themselves compatible, or come together to arrange a genital meet and greet. As far as I know, this is not an escort site, but I do not doubt that a lot of folks on the platform have seen other members nude and done very nasty things with each other that I wanna watch on a TV screen while holding my Vaseline-slick boner!
NZDating.com has a slick and modern homepage, with an image of a loving couple dominating most of it. Scroll down and you will find success stories and site links, plus invitations to join up and be a part of the winning and fucking team. There is no About Us on the homepage, but there are links near the bottom of the page that will answer most questions you might have.
You can join up here by clicking the Join For Free button at the top right of the homepage to get started. Or you can just enter stuff in the boxes that are next to the lovey-dovey couple on the homepage and get returns that match your search terms. For this review, I posed as a man looking for women of 25-35 years and got 96 results. More couldn't be shown till I had signed up and gotten a membership card and that's okay.
Of the 96 results I got, options on the left of the page allowed sorting by passion, region, age, and sexuality. More advanced options let you sort them babes based on the kind of relationship you want, religion, ethnicity, the presence or absence of kids, marital status, height, education, weight, hair/eye color, and more. That's rad, but these search options can change when you register and log in. Still, just imagine being able to put all these advanced options to work so you can find a non-smoking blonde with blue eyes and a Ph.D. in anthropology, who instead of a serious relationship just wants a cock she can sit on unbothered every day after work!
Anyway, profile thumbnails here are tiny, and anything but alluring. On them are ages, locations, and usernames, plus a short text and a list of stuff the owner of the profile is interested in. Needless to say, they do not have the glossy look that makes you think you are at a high-end online magazine or porn site. And by the way, you can't view a profile here till you get a membership card. Yep, that sucks Zeus' balls and you can tell him I said so!
Go On A Date, and Snag A Spare Coochie Soon!
Registering here takes a while. I would say the entire registration process takes like a minute and yeah, you can register regardless of where in the world you might be and don't need a VPN.
There's both free and Gold membership, with the latter option boosting the visibility of your profile, and getting you more features and options, like the ability to have up to 40 photos in your profile and access to improved customer support. Of course, that shit isn't free and you gotta cough up 14.95 NZD for a month, 27.95 NZD for three months, 39.95 NZD for six months, and 59.95 NZD for a year if you are set on being a Gold member.
There's no big push to make everyone sign up for Gold membership, but there's text everywhere reminding you that you only get the best deal when you shell out for that plan and that's the honest truth too. Plus there are photos only Gold members can see and you can bet your sweet potatooie that those are as X-rated as fuck!
Profiles here are much more detailed and well laid out than I expected. One was of Jessie, a 31-year-old BBW in Hawkes Bay who loves to travel, bake and garden. She's bi, got a waist that looks bigger than my future and her full titties are some marvelous works of art! Jessie is single and looking for a funny fella with a beard. If only there was a way to tell her that I would dearly love to pull the beard between her legs and breakfast on those bazoongas on her chest!
Another profile was of a 62-year-old widowed mom of two from the Philippines called Lovelybeng and hers was among the three ads from the Philippines I noticed on NZDating.com. She's pretty enough, loves to dance, cook and walk and says she's not that picky about who answers her ad. If you think that a 62-year-old coochie like hers is worth it, then go for it!
Don't wanna date or look for sexual partners on this dating site? Well, there's a Community page that's not all that big but is very much active. On the forum there, folks talk about all kinds of stuff, from tech and pets-related to sports, sex, and music. That place is not big enough to get lost in, but it can be entertaining.
What I Think Of NZDating
NZDating seems like a perfectly okay dating and sex meet site. It is more polished than most and more classy and option-packed too and that means it's good enough for a recommendation from yours truly.
#1 NZDating Alternative
More Sites Like NZDating!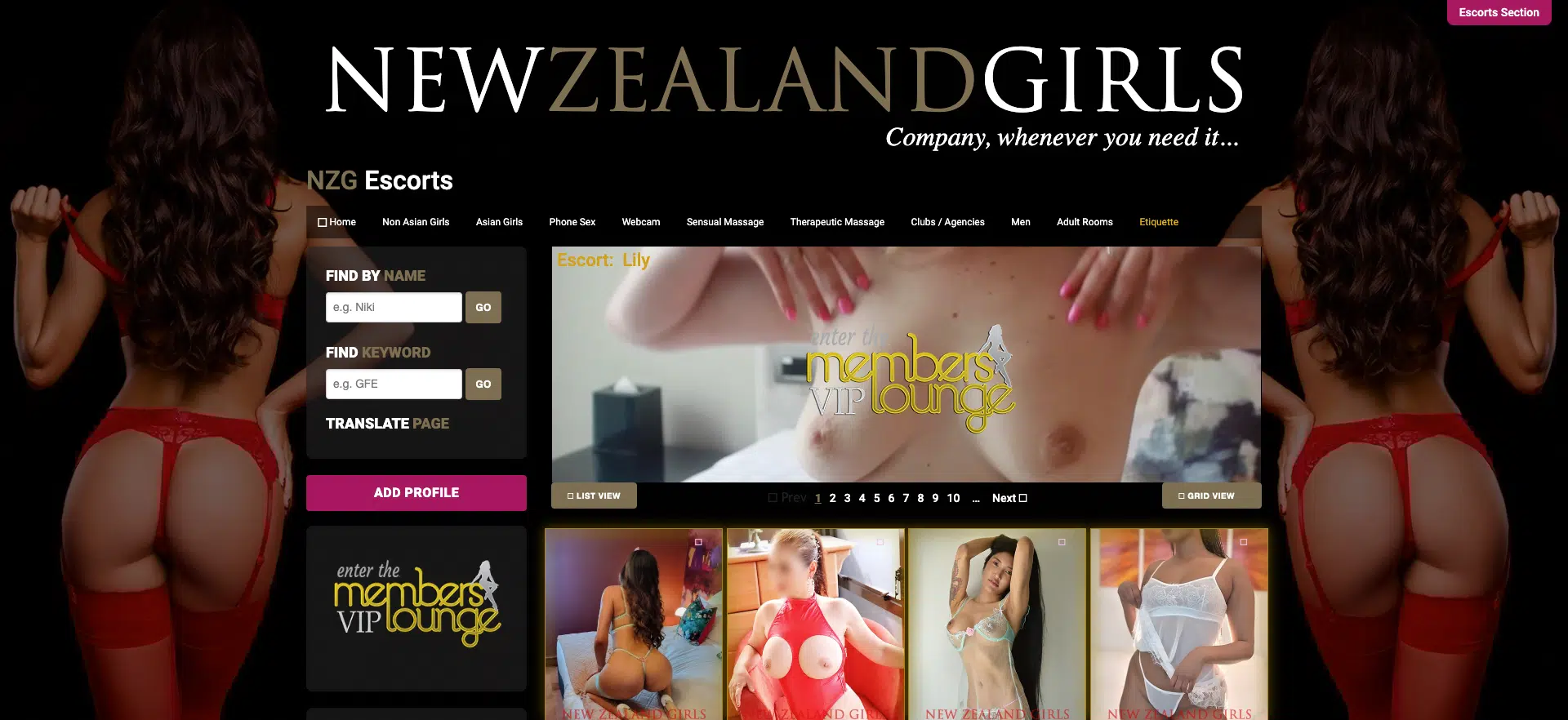 Escorts in New Zealand, find the best nz escorts, cam girls & phone sex Operators on the Official NZ Girls escort directory. NZGirls, company whenever you …
Escortify
NZ escorts, erotic massage and adult services directory in New Zealand. Find sexy elite independent and agency escorts from all over New Zealand. So sexy.
LocantoNewZealand
Locanto offers free user-to-user classified ads in all major cities in New Zealand. You can post an ad at no cost and browse through the huge selection of free …
NZPersonals
This is fastest growing escort site this year, Now its the 4th most popular in America
Adult Forum. @adultforum. Adult Forum – New Zealands #1 Escorts and Adult Discussion. New Zealand adultforum.co.nz