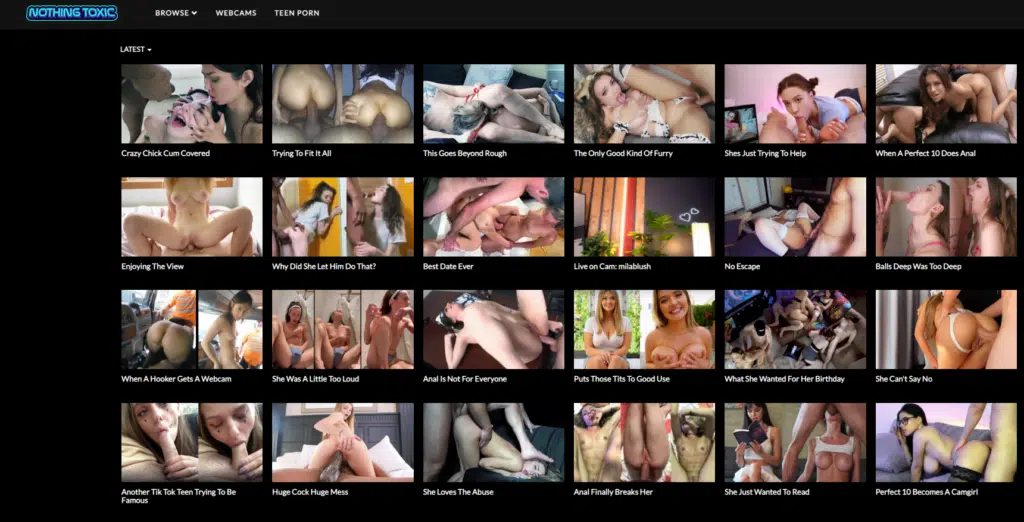 NothingToxic Review
~ Pros ~
Easy to navigate the site
Simple site design
Good user interface
Efficient video player
Not too many distractions in the form of spam and ads
~ Cons ~
❌ More categories can be added to the site
❌ There is no section showing available pornstars or channels
❌ More content needs to be uploaded on the site and more frequently
NothingToxic.com
There is absolutely nothing toxic about sex. As long as you are of legal age, you are free to enjoy all the hidden pleasures of sex permitted by law. That includes watching people fuck on screen while you engage in lube-enhanced jerking off. I shouldn't be telling you how important lube is when you masturbate. You are already a pro, and I would expect you wouldn't do anything toxic to your cock.
This is my Nothingtoxic review. The name of the website skillfully conceals the crazy things it contains. But just how crazy are the contents of the seemingly innocent site. I'm pretty aware of the fact that you aren't looking for decent, and neither am I. Nothingtoxic.com should help unveil the inner freak inside of you, your testicles, and your lusty soul.
Simple Enough For The Horny Mind
You will agree with me that thinking straight can be pretty difficult when you are horny. Your mind is focused solely on one thing, and that is draining your balls. While on a porn website, you don't want to have to search for everything. The site should be user-friendly with everything placed in the easiest-to-notice positions. I feel that's exactly what Nothingtoxic.com seeks to achieve and in their own peculiar way. The site is in no way perfect but it is user-friendly and easy to navigate.
As expected, the homepage is filled with video thumbnails, but the number isn't so much it becomes a mess. Nothingtoxic.com is all about avoiding anything that will cause harm and that includes giving you a headache as you look through their homepage gallery. The plan is to tempt you enough you desire more and not to confuse you to the extent you quit the page. Like most porn sites, I like how neat the site looks on mobile. I have learnt from experience that visiting a porn site on mobile looks so much better than on desktop. The messiness of the homepage that appears on your desktop interface is usually not a problem on mobile.
For mobile users, you will find a menu icon that when clicked on, reveals four icons inside. Desktop users do not have a menu bar. The four icons are displayed by default on the homepage. The icons are browse, webcams, live sex, and teen porn. Clicking on the teen porn icon takes you to exploitedteens.com. You just moved from Nothingtoxic to Exploitedteens. Considering the names of the two websites, that's an unusual transition.
Pussy Spreading Content
Nothingtoxic is filled with all kinds of straight porn. Pussy is a common theme in all its content. There are a few anal scenes with men pounding women's assholes but I couldn't find any gay or shemale porn here. Ultimately straight porn lovers will enjoy this website more. The traffic to the website isn't too high. Unlike Xvideos, the number of regular visitors here does not run into millions. One of the videos I watched while on the site titled how she pays her rent only has about 3314 views with no comments four days after it was uploaded. For a video this hot, you would expect more views, but Nothingtoxic isn't the most popular porn site out there.
Underneath every video you play are a list of recommend videos automatically generated based on your site activity. Put it like this, if you watch an anal video, other similar anal videos will be recommended for you. That way the site keeps feeding you with what you like to masturbate to.
You can download videos right from the website. The video player is also decent but in some cases, a short ad plays first. I would be surprised if I ever visit a porn website and I don't watch a short ad before my porn plays. Maybe sites with premium paid options wouldn't display ads first but as a free user, you have to endure these ads, and that's some time you could use to rest your dick, pervert brethren.
To choose the category of porn you like, mobile users can click on the browse icon that appears on their menu icon. Desktop visitors already have the browse icon displayed on the homepage. Click on it, and the categories will appear. There are not too many categories on this site but the few are quite naughty.
What I think
This is a pretty decent porn website. The content on display is of top quality, although many of the videos are not all that recent. I also believe that content can be uploaded more often to provide more options for visitors. Overall, Nothingtoxic is worth your time, but it might not convince you enough to be a regular visitor.
More Sites Like NothingToxic!