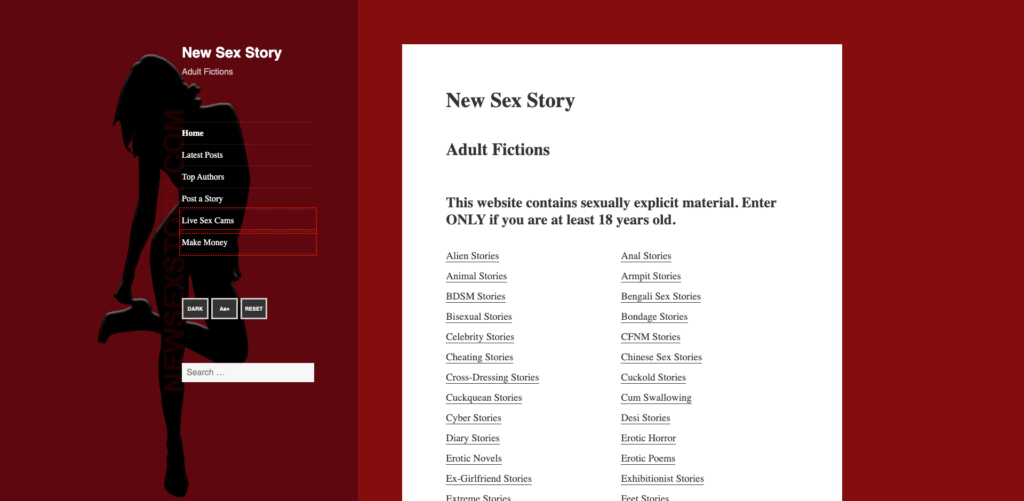 NewSexStory Review
~ Pros ~
Tons of categories
Tons of stories in varied languages available
Social media sharing enabled
~ Cons ~
❌ Bleh site design
❌ Wack user options
❌ Undated content
NewSexStory.com
Well, it turns out that some think books and the written medium are the most sublime art form and they sneer at us roughnecks who love to sack out before TVs and PC screens. If books are your favorite art form, then no doubt you would rather read about sex and the fucking porn industry than watch a porn video, right? In that case, there are sites around that only deal in very cock-engorging content of the like you definitely would not find in Harlequin romance novels. And yeah, NewSexStory is one of them sites, and it rocks more erotic fiction than you can shake a freshly-milked BBC at!
Here is my NewSexStory.com review. Read it, weep and kindly spare me any stories of you molesting the toilet plumbing!
Come To Zaddy And Tell Me Your Fuck Story!
I was expecting quite a bit of lushness and creativity on the NewSexStory.com homepage, but none of that kind of thing was available. The site admin or owner appears to be a card-carrying member of the minimalist gang and that is fully reflected in the design language here. Hate or love the bare-bones site design, but you better get used to it right quick.
Most of the homepage is the color of days-old blood and on this section are pasted the varied sex story categories. The other section on the left is a much darker red and has the silhouetted image of a leggy lass who appears to boast the kind of small but sweet cunt I love wrapped tight around my face! In this section are the user options and these comprise Home, Latest Posts, Top Authors, Post A Story, Live Sex Cams, and Make Money.
Also provided are buttons that switch the site color from its morbid shade of red to black, plus Aa+ and Reset buttons. The Aa+ lets you adjust the intensity of the colors on the screen, but not by much, while the Reset option lets you get back to the default mode. A search bar with basic search functionalities is provided as well.
Now, the Latest Post option works as intended, but only 5 stories on the first 3 pages of the latest stuff that's been uploaded to this sex story site are in English. I guess that's a good motivation to learn a new language and a new way of fucking cunts in that language! The Top Authors option here has a list of 100 authors, with the number of stuff they've written and uploaded on this site being pasted right next to their names. These names are incidentally not familiar to me, nor would they be to most of you and while famous authors may come here to practice their skills and get some thrills anonymously, I doubt they do that up to once a year.
The Post A Story option does exactly what it says. The only caveat is that there are rules and regs as to the kind and length of story you can write and the age of the characters. Plus you have to be logged in or register for free on NewSexStory.com before you can upload a story.
Unsurprisingly, the Live Sex Cams and Make Money options are just direct ad links and very useless ones at that. Ignore them both my storied fuckers!
Fuck Your Way Into A Story My Lads!
Now, you might have noticed that there's no category tab or option on NewSexStory. That is because all stories are divided into varied categories and pasted on the blood-red section of the homepage that I previously talked about.
These categories are diverse and alphabetically arranged, and it sucks there's no option for ranking them by viewership numbers, popularity, or rating. There are Alien Stories, Armpit Stories, Anal Stories, Celebrity Stories, Erotic Poems, Erotic Horror, Foursome Stories, Incest Stories, Prostitution Stories, and everything else but Thot-Splitting and MILF Shagging Stories!
The Toilet Slave Story section was one of the first to catch my attention and stimulate my toilet humor receptacles. It had titles like My Sexy Teacher Made Me Her Toilet Slave, Toilet Slave Of My Nasty Maid, Piss Addict and Toilet Fun. The Piss Addict story was about a chick named Julia visiting her doctor to find a cure for her piss addiction. The good doc prescribed some medication for Julia's affliction, but a week later she was back and complained that while the medication worked, something was still missing. So, the doc hypnotizes her, before sending her on her way.
She was back a year later though, this time complaining about her boyfriend leaving her. So, the doc takes her to a house filled with nude people, puts her in a tub, and along with others pisses a deluge of golden liquid on her till the tub was nearly filled with the stuff. After that, she's taken out of the tub and all her holes are fucked till endless orgasms have transformed her into a gibbering idiot. She is then cleaned up, examined, fed, banged, pissed on, and humiliated in no particular order, and loves it so much she plans on coming back every chance she gets!
The Anal Stories section had titles like Fuck Session With Patricia, A Hot Steamy Shower, Masturbation Addict Pt8, My Ex Gone Wild Pt4, Perverted Thereza, and Ghazal First Anal. The first of these is about a girl named Patricia who liked sex perhaps more than she should and was perfectly able to have sex all day and every day too for weeks. So, she's in a long-distance relationship with the author, and one day, they meet up for a sexual extravaganza. Sometime later she returned home from a trip and went to visit him and they watched porn and fucked, with the fella cumming in her asshole and plugging up that hole with an ass plug. The two went at it a lot during her days-long visit and this was the first sex story I read on NewSexStory that made me hard enough to stress the stitches on my boxers!
Now, content quality varies a lot here and there are loads of unpolished stories. Still, you can perfectly understand what's being said or implied and that's all that counts. Stories can be shared on Facebook, Twitter, and Whatsapp and for some reason, dates are not in evidence anywhere, with this making calculation of the content update frequency all but impossible. As to how much content there is on this sex story site, I really cannot say, but it seems like a lot, especially because NewSexStory has been active since 2009.
What I Think Of NewSexStory
See, if you are a porn actor, director, and the like, the stories over at NewSexStory can be a great source of inspiration. If you are like me and just want to be entertained and also need suggestions on what to try out during your next sexual escapade, then yes, this site fits the bill to a cuntified and bootified T!
There's every reason to recommend NewSexStory.com. So hang a bookmark on it and bend over so I can see the Christmas gift you got for me!
More Sites Like NewSexStory!