NaughtyHentai Review
~ Pros ~
Regular updates
Both videos and photos are available
~ Cons ~
❌ Ad's
❌ Wack site features
❌ Bleh site design and layout
❌ Totally shitty content sorting options
NaughtyHentai.com
Hentai is assuredly one of the naughtiest things humanity ever got around to creating. But don't make the trip to NaughtyHentai.com expecting to be entertained with a special kind of naughty porn that will get your balls all swollen! What's on this site is what's on other sites and the only special thing to your experience will happen by your own hand if you were brave enough to dip your wick in a bottle of menthol before grabbing and throttling it while watching an XXX video on this site!
Here is my NaughtyHentai review and yeah, it is naughty in ways that your ex was never able to close her legs to!
A Naughty Tang To That Bang!
On first look, NaughtyHentai deeply fails to impress. I could swear there are a million and one copies of this site out there and they are so alike it is hard to remember which is which and which admin has been busted for boning his pet iguana with a BBC, or a lily-white horse dick with a pronounced curve to it!
The site design language is lackluster. I can forgive the white background color, but the green and black headers at the top look positively disgusting. A more attractive color would have done a bit of magic and made this site a little more memorable.
Plus the content thumbnails here do not have enough pizzazz on them to add extra color and style to the whole ambiance. These thumbnails are square and tiny, but not as tiny as the cock of your BFF who tries to make up for his lack of wood by asking ladies to stick baseball bats up his backside, with the handle going in first, of course! That said, the site does look a bit better when accessed on mobile.
Now, the top right of the NaughtyHentai.com homepage has Hentai, Anime, Cartoon, and PornXXX tabs. These though are direct ad links and are too easily mistaken for what they are not. Beneath these tabs is a basic search bar and I gotta tell you that these days, finding a search bar with advanced functions on a hentai porn site is harder than persuading an airline stewardess to suck you off in your economy seat while most passengers are sleeping!
Over at the left is the site logo, and it is a very basic piece of shit that excites about as much as a cow patty would. Beneath it are Home, Photos, Manga, Categories, and More tabs. The More tab is a direct ad link and you never know the porn site or porn review it will take you to.
Looking for XXX categories? Well, for sure they are not in the Categories tab and they are nowhere else. What's in the tab though is what seems like an alphabetical listing of every hentai XXX on NaughtyHentai. I guess that NaughtyHentai is all out of categories, or the admin does not have the time to list out those categories the site does have. And that shit makes zero sense for sure.
Anyway, two pages of manga await when you click the Manga tab, while the Photos tab has seven pages of wallpaper-worthy images of hentai babes posing and getting fucked by everything and anything. And that brings the site features to a hasty and inconsequential end.
Stay Real, Be Naughty!
The content on NaughtyHentai fills up 137 pages, with some of the stuff here dating back to 7 years ago. There's a Recently Added section on the homepage that lets you crudely sort content by recentness. But it still bears noting that this site is very lacking in user features and that the admin needs to be thrown into the gorilla enclosure at the local zoo to scare him into working harder at prettying up and more fully equipping his site like he's supposed to.
Daily updates are a thing here, with 3 to 4 new content added on the daily. Yeah, that's a shitty number, but it is something at least. Sample titles are as follows: Japanese Horny Babe, Birei Okami Mie, Harem Camp Part 3, Mahou Shoujo Elena, and Lovely Heart Trailer 1.
The Lovely Heart trailer had a runtime of nearly 6 minutes and featured a shy teacher who's a virgin and a bold teen slut of a student who's eager to pop his cherry. She teases and flirts with him, before taking his cock out and licking it like the lollipop that was in her mouth minutes ago. Rather than bending her over his knee and disciplining her soft bottom, he fondled her tits, put her on a desk, and impaled her horny teen twat like she had been begging him to. I do wish I had chicks like these at school back when I was a student and it would have been interesting to have been responsible for many of my schoolmates walking home bowlegged everyday!
Sadly though, I didn't watch as many videos as I planned on and you can blame the menace of pop-up ads for that. These ads make it hard to enjoy what you are watching and often make it hard to get videos playing.
There's usually little in the way of playback issues on this site, and stuff is all captioned. And of course, there are both censored and uncensored stuff, but no way to sort between the two. The average hentai video runtime is very much under 20 minutes and there's no download option. Ratings and comments are not allowed either, so you can't tell what others think of the video you just watched and fapped to.
What I Think Of NaughtyHentai
Using NaughtyHentai should only be the lot of those condemned to purgatory to learn patience and tolerance! Yeah, this site is an incoherent mess and you are better off hitting yourself on the balls with a claw hammer than even looking it up!
More Sites Like NaughtyHentai!
G6Hentai
HentaiTV
AnimeidHentai
HentaiVideos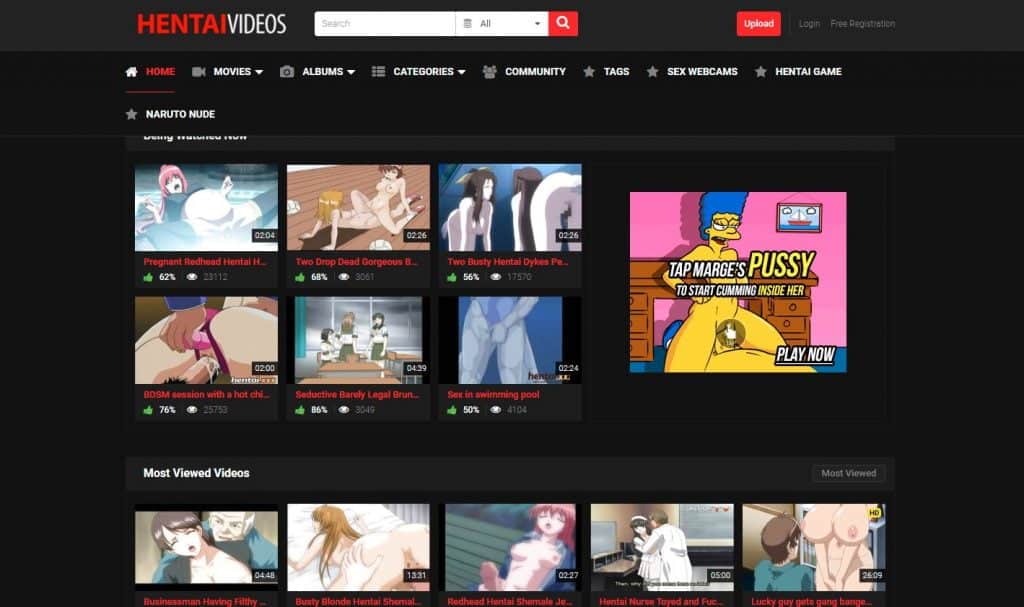 OHentai
E-Hentai
NHentai