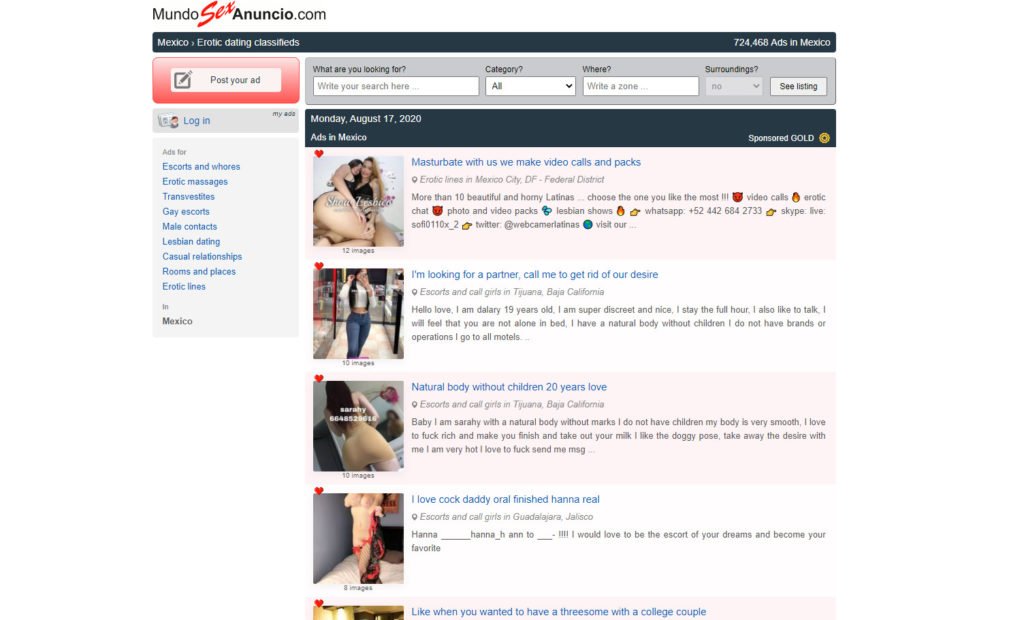 Mundosexanuncio Review
~ Pros ~
Site design is a simple masterpiece
No ads
Free
Very easy to use
~ Cons ~
❌ Language options not supported
❌ Escorts only available in Mexico
Mx.mundosexanuncio.com
For some reason, I can't seem to pronounce Mx.Mundosexanuncio without biting my tongue in half and swallowing the pieces. Try it and see that I am not exaggerating in the least.
Anyway, Mx.Mundosexanuncio is a no-frills Mexican escort site where hot chicks abound. And I am talking of girls so hot you need to wear oven mitts when lifting their juicy ass and sliding the pussy down the length of your throbbing shaft of destiny!….Here's my Mx.Mundosexanuncio review.
No Frills And Sexy Chicks
This site has a no-frills homepage that is in Spanish. Language options are not available, which is a bummer on an epic scale. The homepage background is white as snow and there are multiple search bars right atop the homepage that lets you filter search results all you want. You can search for escorts, erotic masseurs, trans, lesbians, gays, casual relationships in various Mexican states and cities.
Around 95% of the homepage itself is filled with female escort profiles. If you don't want to see this you can always use the search function to fill the homepage with exactly what you are looking for!
Login or registration does not appear to be required on the site. I don't know if I should feel happy or sad about that!
Hot Mexican Chicas!
As you know, you can't review an escort site without at least checking out a few of the profiles you find there and leaving some drool on as many erotic pics as you can see! Anyway, the first escort profile I clicked on the homepage showed a group of lesbian chicks who performed together or singly as the customer prefers. Their Whatsapp, Skype, and Twitter details were listed, plus their preferred payment method. There seemed to be at least half a dozen of these girls, with plenty of soft booties and plush pussies to be seen.
The next profile I checked out was for a luxury escort who called herself Esmeralda. She looked hot enough to make a nuclear stockpile go critical, but blurred her face so you can't be sure it is not your sister you are looking at! She says she's as clean as a whistle, can pay you a visit in your hotel, works the Monterrey area, accepts cash and credit card payment.
Her services include kissing, caressing, and relationships. This does not seem to be the kind of escort you can fuck to jellied bits, which is a shame! At least her Whatsapp number is listed on her profile and you can call her up and send her your dick pics till she blocks you!
The last profile I got to check out was of a very booty-blessed beauty named Sarahy…Exactly how you pronounce that remains a mystery!
Sarahy says she's active in Tijuana, loves to fuck, and pose naked so that the beauty of her fanny can be exhibited in all its glory. As a good girl, she shows up for appointments with enough condoms to last her a lifetime of pussy thrashing and has her Whatsapp number listed. I don't know why, but the sight of her pics have given me a hard-on that won't go down no matter how many packs of ice I apply down there!
And lest I forget, apart from contacting each escort directly, you have the option of contacting the advertiser and getting her to hook you up with your chosen poison. The detail in each escort profile varies, but most have pictures aplenty, plus more than enough details to let you make your choice.
And there are plenty of escorts on-site, with Mx.Mundosexanuncio.com being so good as to let you know that it hosts almost 750k escort ads covering all of Mexico. If there are fake escort profiles I didn't see them, with everything looking fully legit.
What I Think
While the site might have a pretty much unpronounceable name and no language options, it is still a pretty potent fella whose shortcomings you learn to accommodate. Overall, yes I would recommend it if you got a trip to Mexico planned.
#1 Mundosexanuncio Alternative
More Sites Like Mundosexanuncio!