MatureTube Review
~ Pros ~
Site design looks sweet
Free with no registration options
Very diverse array of porn categories
No ads
Very extensive filtering options
~ Cons ~
❌ Porn content not actually hosted in-house
❌ Can be a little overwhelming to use
MatureTube.com
Mature ladies have seen and done it all and want juicy extras too! They include MILFs, cougars, and grannies and there are so many of these with a fiery itch in their cunts that you could never satisfy them all even if you had as many hard cocks as there are hairs on your head!
Anyway, there are a few mature-focused XXX sites around and one of these is Maturetube.com. This could be a feature-laden monster from what I have seen so far. Tune in to my Maturetube review and get to know what I think of this site and horny mature chicks making love with the kind of penises that could easily rupture their bladder!
Thoroughly Mature And Horny!
I often got told that if you see one porn site you have seen them all. I thought that was an exaggeration at best and a gross simplification at the worst. And then I came upon Maturetube. Boy, it sure did look a lot like more than a few other porn sites my eyeballs have made love to so far this year!
Yeah, the site design follows a standard format, but that doesn't mean it is not eye-catching cos it is. There's a big search bar at the far right, plus extensive language options. The search bar says nearly 45 million XXX videos are available here and I am not in a position to doubt their calculation since I failed maths and algebra in high school!
Options at the top right of the page also let you choose from Gay, Straight, and Trans porn and all you have to do to make your choice is to click on any of 3 boxes. You can even click on all the boxes if you like and get to see all the trans, gay, and straight porn your brain matter is prepared to handle without melting down and leaking through your boner! Click on all the boxes though and the available porn videos reach to almost 60 million.
There are no login options that I can see, but then perhaps I need to look better! Featured tabs are comprehensive enough. These include Categories, Pornstars, Popular Videos, New Videos, Top Rated Videos, and Our Network. The last lets you check out other sites in the Maturetube network and there sure are a lot of them. ForHerTube, TransGirlTube, GayMaleTube, TubeGalore, iXXX, FUQ, and FUQPremium are the pornsites in the network, and just about any of these will make your cock rue the day it flopped into your hand and got bathed in lube!
The Pornstars tab has what could well be the most extensive collection of pornstars who ever walked the earth. There must be thousands of cock-gobbling cunts on show and they are all arranged and searchable alphabetically. More, all the other tabs have thorough filtering options and stuff like that is always welcome.
While we are still on the matter of the homepage, you need to know that image thumbnails of the most popular XXX categories fill up half of the homepage. The other half has an alphabetical listing of just about every porn category you could ever imagine. Featured are listings for 10+ inch cocks, 18-year-old, 3D, 69, Japanese Orgasm, Hairy Pussy, Hairy Lesbian, Squirt, Squirt Compilation, Tamil, and Young Japanese.
The bottom has a listing of some of the most popular XXX stars like Ai Haneda, Alura Jackson, Amber Lynn Bach, Sadie Swede, and Yui Hatano. The exact number of videos that can be attributed to each category and pornstar is also shown.
Getting A Deeper And More Mature Look
I love to roll on the straight and narrow path. So I began this review by clicking on the Straight option box at the top right of the page and making sure that my lube was of the right temperature and consistency.
I then looked over the category thumbnails on the homepage. The African niche was the first, since all category thumbnails are listed alphabetically. And so, the African category was what I clicked on. This and other XXX categories had extensive filtering options that let you search for content by quality, popularity, date, duration, and more. Sample titles here include Massage in Kenya, Man Enjoys Thick Black Teen, African Sex Safari Threesome Orgy, Slammed Ebony Ho Facial, and Amateur Slut Gets Cunt Filled in Doggy Style.
All videos in the African section and every other section have the run time, approval rating, title, approximate date, and the site it came from listed. That's right. MatureTube is a porn aggregator website and does not appear to actually host any content. That has both pros and cons.
What I Think
Well, MatureTube.com seems to be doing well for itself and is a well-arranged site where you can find just about every kind of porn, mature XXX included. However, it does not actually host any porn and that is the biggest bummer I have ever gone through since a bull gored me in the ass and gifted me an extra asshole I have no need of!
Overall, I would recommend the site only if you don't know the XVideos or Pornhub address. Sites like that host their own porn and you get everything in-house rather than taking a road trip for that as MatureTube makes you do.
More Sites Like MatureTube!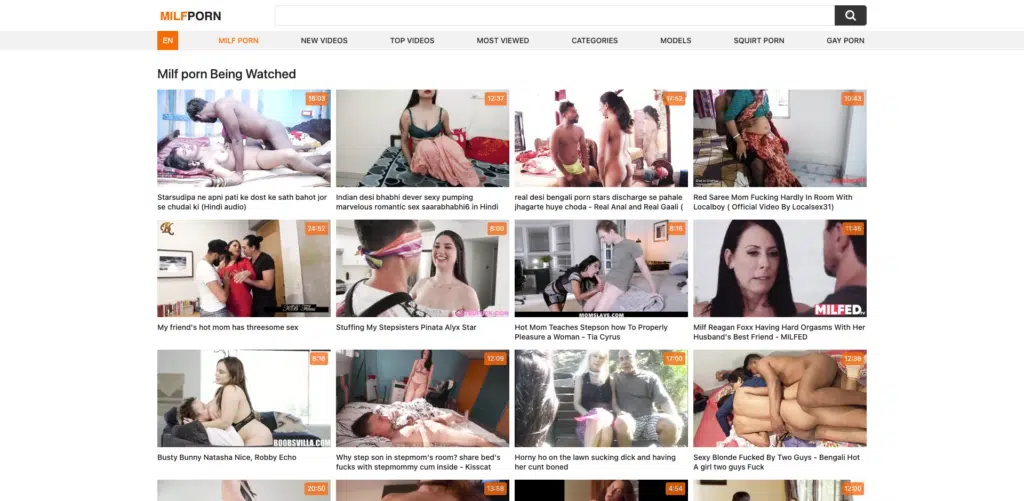 MILF300