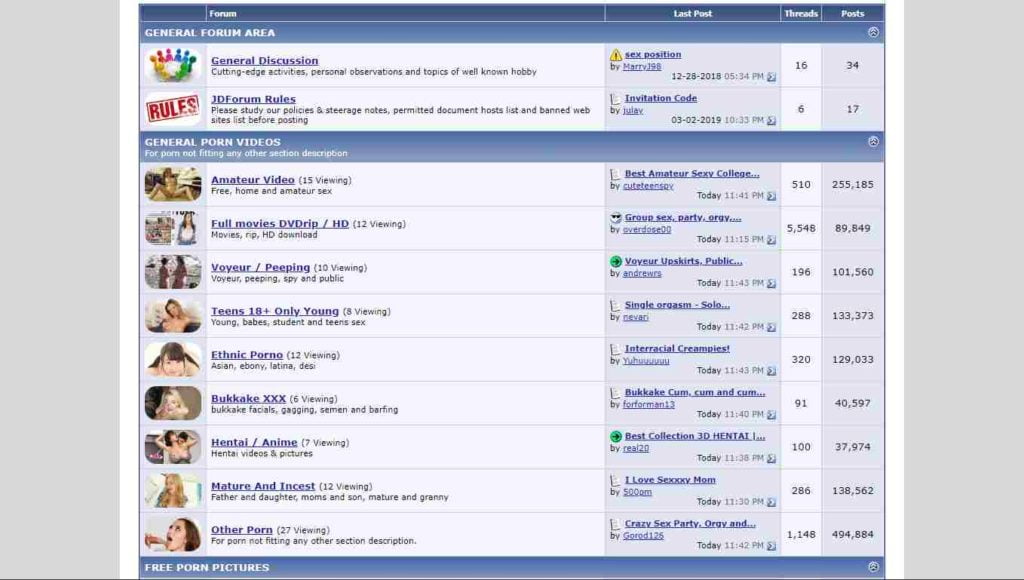 JDForum Review
~ Pros ~
Has close to 10 million posts and tens of thousand posts
Lots of amateur porn content available here
Categories like retro, fisting, xxx games, full movies, bukkake etc
It is quite active
~ Cons ~
❌ It has some distracting ad's
❌ The site design is basic and typical of forums
❌ You gotta pay for the downloads and uploads of videos, fucking BS
JDForum.net
JDForum is an adult forum site of more than 10,000 thousand members who keep themselves busy making and posting out content that the very heavens could cum to with thunder and lightning! There are over 19k threads here, almost 6 million posts and a little less than 3,000 members of which around 553 are active and ready for trouble!
So, how well does this forum measure up to our lofty expectations? Keep reading and find the answer to that.
JD And His Forum
JDForum.net actually seems to be run by a single individual who we presume is named John Doe, or Johnny Dick. The clue to this can be seen in the plea on the site homepage to follow him on Twitter. We did and discovered that he has a substantial Twitter presence, with around 5,588 followers. However, his latest Twitter update was in August 2019. We can only hope a turkey didn't attack and gobble him up.
Now, the JDForum homepage could have been copied in toto from other related forums. That means if you have visited a few forums in your lifetime, you will easily understand how to make use of this site to the fullest extent.
Login and registration options are provided here and membership might be the highlight of your week. There are Register, FAQ, Community, Today's Post and Search tabs, plus links to porn review sites and porn sites. Why JD though to put porn links in the main tabs on his own page is beyond us, since his forum has enough porn content to blow most porn sites clean out of the water. Oh well, a guy gotta eat.
A couple of ads are active on the homepage itself. Once you scroll past these, the forum section caresses your eyeballs. The forum has main sections like General Forum Area, General Porn Videos, Free Porn Pictures, Retro Vintage Porn, Popular Pornstars and Celebrities, Fetish Extreme Porn, Gomosexual, and others.
Active users are all mentioned on the bottom of the page, with the site statistics being provided too.
Poor Little JD!
All sections here have sub-sections. For example, the General Porn Videos section has sub-sections that cover amateur, mature, ethnic, bukkake, hentai, incest, teen, and voyeur porn videos. The last posts made on these sub-sections, the total number of threads and posts are presented on the homepage where they cannot be missed.
If all you want to do here it yak away, a trip to the General Forum section and its General Discussion sub-section would be nice. We weren't in the mood to talk and did not feel like jerking our sore cocks even more. So, we took ourselves to the Teens Picture sub-section in the Free Porn Pictures section.
This has 128 threads and nearly 54,000 posts. Sample topics include My Sweet Teenagers, Hot Beauties With Huge Tits, Beautiful Girls With Big Tits Fuck and Erotic Moments With Slutty Girls. The latter ran to 34 pages, all of which had images of beautiful teen babes showing all that their mama blessed them with and spreading their legs like it could stop global warming!
Most of these babes have small and perky tits that do not require a bra to stand up and dare you to suck them if you can. Sluts all, but what wouldn't we give to spend a night with them!
Now, all content here is hosted on third-party sites. That means while you can screenshot content, downloads are only possible off-site. There are no manga or comics here, but there's a lot of fisting, with tools the size of a telegraph pole if that's your thing.
What We Think
Our biggest issue here is ads. Next is the site design and this should be speedily prettied up. The collection while large as fuck is not as extensive as other adult forum sites and being forced to download content on third party sites makes us irritable all day long.
There are pluses though, with active users keeping the site running and free access to everything whether you are a member or not. Overall, we think your time would be well spent if you headed over to JDForum.net, signed in and asked JD to suck your cock!