HentaiWorld Review
~ Pros ~
HD and Full HD content
Classy site design
Free downloads
Some content reviews
~ Cons ~
❌ Ad's
❌ Irregular upload pace
❌ Uninspiring site features
HentaiWorld.tv
The world can be a bit of a crazy place. But a little bit of hentai action always has a way of making things temporarily better! Unlike conventional porn from studios like Tiny4K and BangBros, hentai is a lot more carefree about its plot, setting, characters and storyline. Like most aspects of human creation, there can be no limit to hentai and that makes it the perfect platform for seeing your needs and wants to be met to the fullest, no matter how disgustingly far-out they might be.
Well, gotta fire off a hentai XXX site review today. So here is my HentaiWorld review and y'all are welcome to the world of sweetness it comes packed with!
The World Belongs To Those With Horse Dicks!
First of all, my impressions of the HentaiWorld.tv homepage were very favorable. The site has a black background and looks quite classy. The homepage is mostly empty and that creates the impression of limitless space. One of the few stuff on the homepage is the site logo at the top left and it looks a lot like a swastika. Over at the top right are the main tabs and a basic search bar. The middle of the homepage has a brief About Us, plus a Discord link where you can join up and get notified of new releases.
Like I said, the homepage here looks very empty and you need to click the down arrow button to access the rest of it and see the varied content thumbnails that are not visible otherwise. These thumbnails are divided into the most recent, most liked, most viewed, 3D short media, censored, reviews, random, previews, and special offers section – the latter are just direct ad links though- and the bottom of the homepage hosts another About Us that is a bit more detailed than the first one.
Given the facts on the ground, I would say that HentaiWorld.tv is stupidly and amateurishly designed. The site admin and the site designer both need to be jailed in Pakistan and given 100 lashes of cane daily for a week. For goodness sake, what's the use of a homepage if users have to tap the down button to access most of it? Some fellas do not even have the patience for that kind of thing and if they go to a site on which nothing apart from the site logo and main tabs are visible, they will just move to another site and do their business. So, while HentaiWorld does have an alluring site design, that design is also deeply flawed and needs to be tweaked soonest.
And by the way, sweet as this site looks, there are varied ads on it that cannot be removed even if your ad blocker is on. Plus pop-up ads are a frequent menace. Stuff like that pisses me off, as I am sure it does every fella with more than one full jar of Vaseline!
Now, the main tabs on this hentai porn site are Home, All Episodes, Uncensored, 3D Hentai, and Tags. There are Free Sex and ThePornDude links beneath these tabs, but kindly ignore the two if you wanna live long and prosper inside the fattest cunt in your neck of the woods!
The Tags tab has perhaps a hundred tags and that's a very average number. 11 pages of 3D hentai are available when you click the right tab for it, with the uncensored tab doing what it says on the tin. The stuff in the All Episodes tab runs to 37 pages and they are not arranged alphabetically, by the number of views, according to rating or popularity. That sucks. But remember me saying something about the content on the homepage being divided into sections, like the newest and most viewed. So, all is not lost, chum!
A Messy Bit Of Tentacle Fuck!
HentaiWorld practices regular but not daily updates. Sure, that is not enough to recommend forcing the site admin to bend over while a firing squad takes potshots at his posterior, but daily updates are just sexier and more indicative of a serious site.
So, if you are kinda new to the hentai world, I would suggest making the trip to the Review section of the homepage. Click the Show All button to access the single page of reviews and you are bound to be hella impressed. While there are just 12 hentai series in this section, each has been meticulously reviewed, with their pros and cons being detailed at the end. I sure would love to see the review action expanded soonest and it will help a lot of fellas appreciate what hentai is all about and what distinguishes each series.
Anyway, the 3D short media section had titles like Dear or Alive- Marie Rose, Genshin Impact- Ganyu, Overwatch- Tracer, and Nier Automata- 2B, but a click on the Show All button brings up a blank page. The stuff in this section max out at 2 minutes and a few are 10 seconds long.
The top 5 most viewed content on HentaiWorld.tv is as follows: Imaizumin Chi wa Douyara Ga no with 2 million views, Uchi no Otouto Maji de Dekain dakedo Mi with 1.7 million views, Gishi wa Yan Mama Junyuu Chuu with 1.5 million views, Ijirare Fukushuu Saimin Episode 1 with 1.3 million views and Torokase Orgasm The Animation Episode 1 with 904K views. Isekai Harem Monogatari – Episode 1 was one of the first videos I had some fun with. Like just about every video here, it was captioned in English, with the plot being about a young lad who's transported to a strange land where 3 young and pretty ladies are in his harem. These sluts do nothing but incubate his cock in their gullets till he spills his magic seed. The guy's semen supposedly has some special power that he has to use to defeat a demon king and that means he has to fuck these cunts near to a coma every day.
In another video titled Hontou ni Atta- Episode 2, a chick named Suzuki Asuka sucks dick in a bathroom, with her partner later returning the favor and fingering her squirting snatch. He later bent her over and made her cunt regret some life choices!
Now, the average video runtime here is 19 minutes or so and one-click downloads are enabled by default. Playback options are not that varied, but most videos are HD or better. Comments are supported on content too, but almost no viewer seems to have taken advantage of that feature. As for the content count, there are 38 pages of hentai XXX here and that is not the kind of number to crow about.
What I Think Of HentaiWorld
HentaiWorld has quality content, with ads being what I hate most about it. Still, this is a good site where you can download loads of good stuff and yeah, that makes it worth bookmarking and activating your howitzer piece for!
More Sites Like HentaiWorld!
G6Hentai
HentaiTV
AnimeidHentai
HentaiVideos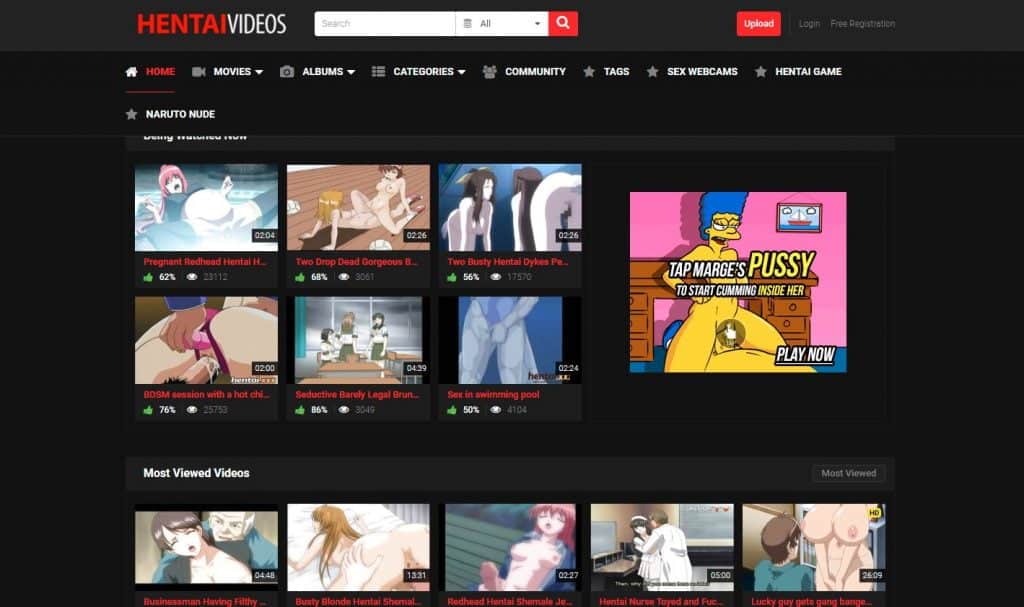 OHentai
E-Hentai
NHentai