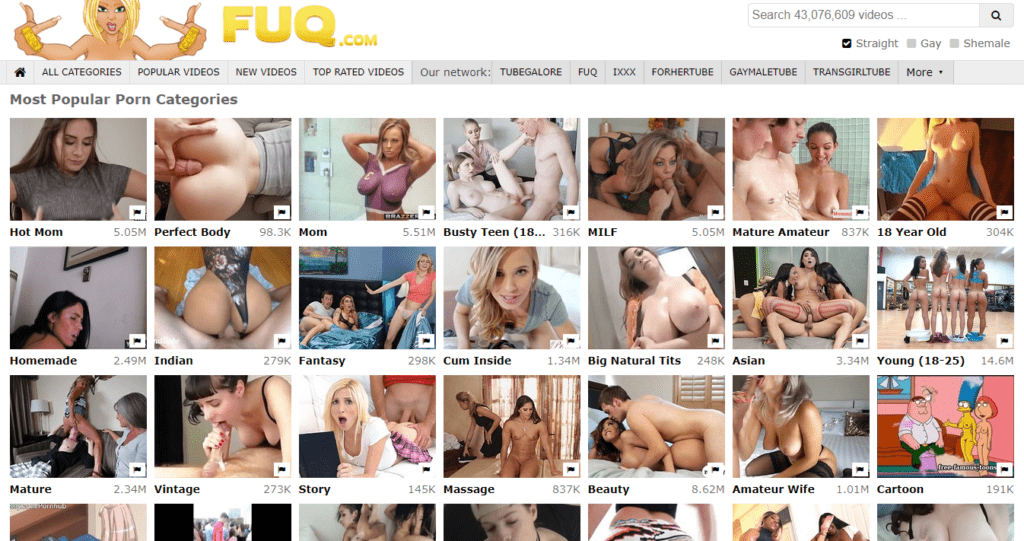 FUQ Review
~ Pros ~
A really nice and clean layout
Navigating through the site is safe
The pages are totally ad free
Pretty awesome filters
~ Cons ~
❌ Not much of a community following
❌ Videos you click links you to another site
Fuq.com
Fuck this life and the sluts that make it extra hard by not happily giving up a piece of their snatch anytime we want to suck them lollipop slits or dig into them with our throbbing cocks! Am I mad at something? Not really. But I sure could use more cunt than I am getting at the moment and the bitches offering this better smile and tell me how honored they are to have me pound their holes with every amount of serious disrespect my penis can manage!
Anyway, I will be going through a porn search site today and its name is what triggered the diatribe you are seeing above. Called FUQ.com and pronounced much the same way as that special word relating to sexual intercourse that we know, love, and use every day, this site has some chops and is laying claim to being the best out there. Let's go see if it's talking outta its ass or not!
The FUQ You Doing, Wanker?
The site design on this porn search engine is standard, though the site logo is a little too outrageous. I actually like how the site looks and it is clean, well designed, and user-intuitive. But it does seem like a faithful copy of TubeGalore, down to the number of videos being searched. All that's different is some slight tweaks of the design.
The site logo is a topless blonde chick with a sneer on her face who's wearing bling on her hands and giving a 2-fingered salute to everyone. That mouth of hers does look like a perfect fit for my cock and she better keep out of my way if walking bowlegged forever is not in her destiny!
A white background color is provided by default here, but there's a Dark Mode option to change it to black. User options at the right are diverse but standard and include a language mode with around 30 languages to choose from, a search bar with predictive text input, options to change the thumbnail size or opt for free video results only, as well as options for getting search results focused on straight, gay or trans porn, or a mix of the three genres, as well as all at the same time. These options like I have said before are standard fare at porn search sites and not amazing enough for me to call for a general holiday on the morrow!
The rest of the site features include main tabs and multiple category image thumbnails. Near the bottom of the page, you will find a more exhaustive collection of XXX categories without image thumbnails, as well as the clickable names of popular XXX stars of both sexes. FAQ, DMCA and Contact Us links are at the very bottom of the page and you better rush and click the DMCA link if your ex uploaded revenge porn of you fucking her grandma in the ass on the tea table at a Sunday dinner that you do not want your homies to see!
Holy FUQ!
Gave a holy fuck lately? Then peace and goodness be unto you my son till the end of your days!
So, like I said, this fucking porn search engine has a homepage that's chockful with image category thumbnails like African, Ebony Big Ass, Mom, Hentai, Missionary, and Booty. There are only videos available in each of these thumbnails and the number of videos each has is always indicated.
Sorting through the wheat and chaff here is an action best performed by the main tabs. They are Home, Categories, Pornstars, Popular Videos, New Videos, Top Rated Videos, and Our Network. You didn't know that FUQ.com is part of a network? Shame on you! Its network partners include sites like ForHerTube, TransGirlTube, and TubeGalore, and there 8 sites in the network, which is assuredly not an insignificant number.
Now, the Top Rated, New, and Most Popular video pages all have filter options. Thus, sorting by source, quality, duration, date added, and VR is allowed. Pornstar pages have these same sorting options too, but what they do not have is a bio where things like the full name, career, and rank of these stars are listed. There are no channels or studio pages either. As for the Categories and Home tab, them fuckers do what they promise and they can go fuck themselves during their break period!
Over 52 million videos are what FUQ.com wants to help you search through. All are rated and dated and each rocks the name of the particular site on which it can be watched. Clicking any video thumbnail will load it on a new page and you can then watch that video on the site on which it is hosted.
Take the Latina category for example. It has titles like Beauty Three Way With Lusty Hispanic Mom that's hosted at CrazyPorn, Chubby Ass Mom Roughly Fucked In Bed that's watchable on SunPorno, Horny Cougar Nina Elle Wants Gangbang With Black Mover Guys that's viewable on XVideosRed and Blonde MILF Is Horny and Thicc on PornWhite.
Most of these hosting sites are okay, but FUQ.com is not in the business of reviewing them for you. That means you still gotta keep an eye out when clicking on video thumbnails here, lest they take you to an ad and malware-filled site that opened for business yesterday and is laser-focused on stealing your data and privacy. Yeah, just because your cock is out of your pants and about to dump its load on the earth does not mean you shouldn't keep a sharp lookout for stuff that can bite you in the ass in ways that are decidedly not enjoyable!
What I Think of FUQ
FUQ sounds rad, but the site design and layout appear to have been borrowed from other sites on its network and it has nothing I haven't seen before. Plus it lacks features that are commonly seen on other porn search engines.
I like the site and its ethos, but it is about as impressive as a 1-inch cock on a 45-year old fella who's talking about smashing Skin Diamond in his dreams!