EscortsandBabes Review
~ Pros ~
Lit site design
Quality babes
Advanced content sorting
No ads
Very regular updates
Male, female and trans escorts
~ Cons ~
❌ None really
EscortsandBabes
Got a babe? Then she is either a current or future escort! Think I am exaggerating? Then wait till a fella pulls up next to her in a Bugatti, hands over his card, and tells her to bring her big booty to his penthouse in the evening. Stuff like that can make you so angry no teen thot cunt will ever again be safe around you!
Anyway, I am here to talk about Escort&Babes and it is an Australian escort site that has lately been making sure lots of stuff comes out of your pee-pee and merrily flows into the snatches of some of the prettiest Australian cunts in the market! Ain't that something!
Here is my Escorts&Babes review. Read it and weep if your love for overnight marinated coochie is as strong as it has ever been!
Bitch, Pay Me What You Owe Me!
Escorts&Babes.com.au gets one thing right out of the gate and that's the listing of escort rates on just about every escort profile page. You don't have to go looking for such information like you are trying to find the holy grail or your crush's worn panties on eBay and that's such a relief!
Let's start with the rate detailing by mentioning Sasha Sinns. She is a thicc and tattooed Canadian MILF who calls South Perth home and from that, you can guess that perhaps Canadian pricks are not something her holes have been comfortable with! Sasha Sinns is 33 years old, bisexual, petite, and only has DD cup bras in her closet. Her booty is big enough to host a frat party and she provides her services to men, ladies, trans, couples, and even groups.
Sasha loves good whiskey and her sexual services include but are not limited to the following: role-playing, fisting, fetishes, doggy style fucks, rimming, prostate massages, squirting, toy play, anal play, ball-busting, strap-on fucks, and full body massages. She charges $100, $200, $350, $550, and $700 for 15 minutes, 30 minutes, an hour, 1.5 hours, and 2 hours of incall fun respectively, with outcalls costing more and other services, costing extra. When converted from Australian to US dollars, her rates are as follows: $66, $132.8, $232, $365, and $464.9 respectively.
Next up is Emmy Paris, an astounding beauty who lives in Melbourne. This bitch has the kind of eyes you wanna undress and drown in and far as I can see, there are more curves behind her than any group of circles were ever credited for! Emmy is in her twenties, is 5'7", wears DD cup bras, and retains all her goodness and sweetness for men alone. She's one naughty babe and is willing to provide pornstar experiences, striptease, get fucked in any position you can get it up in, engage in an FFM threesome, and indulge in practically every fetish known to man, as long as it does not involve your taking a crap on her of course!
Emmy is not cheap though and you gotta cough up $550 and $900 for 30 minutes and an hour of her time respectively. Outcalls cost more, of course. In USD, those numbers translate to $365 and $597 and her cunt gotta be prime like a consecrated church bell if she's asking for almost 600 smackeroos just so you can be in it for an hour!
Love girls with cocks? Then Trans Girls Dee is here to meet that need. Better hope she goes gently when she decides to stick her woody up your fanny, or you might be needing the services of a tailor to stitch it up!
Trans Girl Dee is 24 years old, tall, oval-faced, and beautiful. There are DD cup mountains on her chest and her booty is nicer than that seen on all your exes put together! Her services include kissing, overnight stays, cuddling, and full service, but nothing hardcore was detailed on her profile. But best believe this bitch will fuck you into the ground and then fuck tears out of your ghost! She charges $300, $350, and $450 for a half hour, 45 minutes, and an hour of her time, with that translating to $199, $232, and $298.7 respectively.
Now, 30 minutes with an escort on this escort Australia site will set you back at least AUD 100. Prices here are on average above what's charged in the states and that can be excused by the quality of the escorts on a high-end site like this. Yeah, the babes here are not your typical slut and you can expect to fork over iPhone 13 prices just to drill them for an hour or so.
Babes Know What Dick They Want!
Some escort sites hide away their girls and make your search for them. The profile thumbnail of these sluts are not posted on the homepage where they should be and you gotta spend calories finding them bitches like you are doing a treasure hunt, with a handjob from Beyonce being the prize! Thankfully, Escorts&Babes.com.au is not like that at all and you will find enough escort profile thumbnails on the homepage to render you speechless. Plus there are enough pictures and videos in the varied escort profiles to make your Vaseline jar considerably lighter than when you logged into this site!
Now, atop the site homepage is a list of Australian cities and you can use that to sort the escorts on this site, and you can also look for them by name. Also provided is something that's advertised as an advanced search feature, but is not so. With this feature, you can sort for escorts by gender, suburb, mode of employment, and type of services rendered. If you are unsure which Australian city has the best escorts, there's a Popular Locations tab that has a comprehensive list of cities and takes you to the escorts in these cities.
Anyway, there IS a very advanced search feature here, but access to it is not possible right from the homepage. To get to this, you have to pick a city, and atop the city page will be some basic filtering options, plus a Show All Filters link that lets you sort by rate, body type, ethnicity, bust size, hair color, and more. Making these options accessible from the get-go would have been the best move.
So, escort profile thumbnails here are colorful and detail-laden. The profiles themselves are a thing of beauty and one of the best-arranged, and most info-packed profiles I have seen on any escort site. The level of detail and forethought is very good and profiles are typically a joy to read, while the hi-res photos and occasional videos they contain should be sweet treats to all wankers!
As expected, the escorts on this Australian escort site are top-class and above-average in quality. These chicks are elite grade in the main and that means you gotta treat them like princesses, while fucking them like the only reason they have a coochie is to have it ground to dust with oak tree fuckathons conducted at jackhammer speed and with brutal intent!
Plus to ensure ease of mind among escort clients, all the escorts here are photo verified and are who they say they are. So, you aren't going to book a hot chick and have a 50-year-old tranny show up at your doorstep!
Escorts Feed On Riches And Dick!
Escorts&Babes.com.au has a homepage that is all about class. There are no ads here, but there is a moving slideshow at the top that no one with eyeballs can ignore.
Most of the homepage is filled with escort profile thumbnails and near the bottom is an About Us that seeks to convince you into shelling out for VIP membership. And oh, the only way you can register on this site is by forking over the cash for VIP membership or becoming an advertiser.
The main tabs are Home, Blog, Login, Advertise on EB, Popular Locations, and Live Cams, with the latter being a direct ad link. In the mood to read and learn? Well, the Blog section is regularly updated and goes back to 2014, with sample topics being stuff like How To Squirt Like A Pro, Vital Health Benefits of Having Regular Sex, The A-Spot And How To Pleasure It, and Male Erogenous Zones You May Not Know About.
Spam is absent on Escorts&Babes. The site features and options are as many as the hairs around your butthole and are more useful too.
What I Think About Escorts&Babes
For real, a site like this will put a smile on your face that will make people wonder if your woman promised you another extended face-sitting session right after you finish the platter of chicken-fried steak she whipped up for you! Escorts&Babes ticks all of the boxes and is a solid bookmark candidate.
#1 EscortsandBabes Alternative
More Sites Like EscortsandBabes!
ScarletBlue
Private escorts and intimate companions. Beautiful independent escorts to fulfil your erotic fantasies. A seductive adult services and escort directory.
NaughtyAds
Find your nearest private escort, agency or brothel in Australia with Escorts and Babes.
RealBabes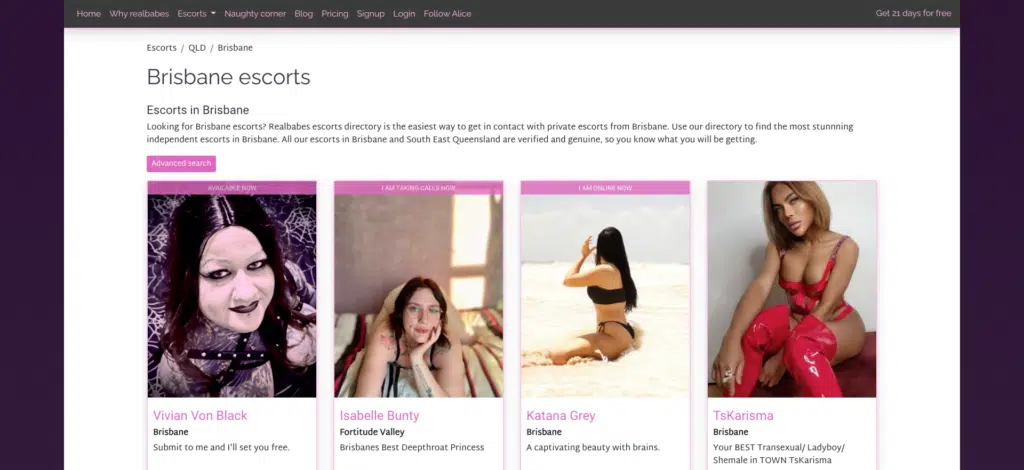 Find escorts and babes in your area, no fake profiles all our escorts and babes are real. Realbabes Australia's newest escort directory!
EscortsNearby
Hire hot sexy babes and escorts near You from escortsnearby.com.au Adult service directory & get erotic fun with male/female independent private escorts in …
Escortify
Escortify is the newest and sexiest Australian private escorts directory. Find high class escorts and adult entertainers across Australia.
Kommons
You will find the best escorts AU in. KOMMONS. It's time to live your life fully. The best portal to meet girls from all over the world. Easy to use.
AustraliaCracker
Australia's favourite adult classifieds website. We have the largest selection of escorts in the country. Search our massive database and find your fantasy …
LocantoAustralia
Locanto offers free user-to-user classified ads in all major cities in Australia. You can post an ad at no cost and browse through the huge selection of free …