EscortRankings Review
~ Pros ~
Jacked with quality escorts
User options and filtering options by the shipload
Verified babes
Advanced search
Escort reviews
~ Cons ~
❌ The site is not a polished masterpiece
EscortRankings
Escorts for sure aren't all the same. That makes it important that all escorts be ranked so that you will know the motivations of the babe you are putting the sharp end of your genitals into! Once the aforesaid motivations become clear, you can then opt to gently fuck those escorts who are in business just to make money, while reserving merciless jackhammer bangings for those escorts who were born for the role, born to fuck, and born to have their snatches filled, stretched, and messily ground to dust by penises and digits that have been sanctified by the cumming angels for that purpose!
Anyway, here is my EscortRankings.uk review. Read it and weep, you slick cock wringers!
Great Girls & Their Sweet Butts!
There are 1,648 ½ pages of escorts on this escorts UK site. But not all of these escorts are active. Some are on holiday, atop a scaly crocodile dick I would bet and some are inactive. The active ones and those on holiday are all verified and EscortRankings.uk justifiably prides itself on offering only genuine and photo-verified escorts who wanna fuck you silly till you get the kind of limp dick that only a shipload of fresh Viagra and a bucket of imported dates can fix!
Since escorts are never in the business of offering free sex, I better start talking about their prices. Imperium is the first escort to be detailed here. She's 18 to 24 years old and easily one of the most beautiful girls I have ever seen. Accounting for that is the fact that she's Brazilian and that Latina blood clearly shows!
Imperium has clear and faultless skin, C-cup tits that have never needed the aid of a bra to point at your mouth, a shaved kitty I assuredly wouldn't mind a spoonful of, a slim and curvy body, blonde locks, and a small but peachy behind. Better disregard her innocent face, because this UK escort is bad to the bone and almost without limits when it comes to bedroom matters. 69, OWO, COF, DFK, PSE, GFE, rimming, COB, BDSM, golden showers, and more are part of the services offered. This fab-to-a-perfect-T UK escort charges 200, 250, 350, 450, and 1,700 pounds for 30 minutes, 60 minutes, 1 hour, 2 hours, and an overnight stay respectively, with outcalls costing more. That's $246, $307, $430, $553, and $2,090.
It just so happens that while Imperium is the perfect definition of a goddess, so is Eva and she has the kind of smile that can bring rain to a parched continent! Eva is another blonde, and is slim, curvy, fab all over, and penis-awakening to the ninth mile! Her B-cup tits are a perfect match for her body type, with her long legs alerting you to the possibility of the pain and pleasures that might come with her towering on heels over you while you cower and whipping your back and groin area, before squatting over your face and seeing how far she can wriggle her little clitoris into your nose!
Eva has a few reviews on her profile page and all praise her to the skies and beyond. Her services include classic sex, CIM, COF, sex toy play, swinging, role play, erotic massages, and BDSM. She charges 200 pounds for 60 minutes, 150 pounds for any additional hour, and 1,200 pounds for an overnight stay. The stated rates in USD are as follows: $246, $187, and $1,475.
Malvina is next and just like the two above and practically every other escort on this site is a goddess several times over! Rumors has it that she's Russian. If that is true, I would advise Putin to go breed with her till her prime cunt has made him so mellow about the situation in Ukraine that he agrees to an unconditional ceasefire and an exhibition boxing match with Biden!
The Malvina babe also has no limits worth talking about. She will suck your boner without a condom on, let you cum on her body and down her gullet, lick your asshole, dance for you, arrange an FFM threesome, pretend to be your girlfriend, and more.
But Malvina is not cheap, and no goddess is. Incalls with this babe are 600 pounds for an hour, 800 pounds for 90 minutes, 1,000 pounds for 2 hours, 400 pounds for each extra hour, and 3,000 pounds for an overnight stay. That's $737, 4983, $1,229, $491, and $3,687 respectively and yeah, that's very serious money right there.
So, the escorts on EscortRankings range from the little expensive to the greatly expensive. An hour with almost every escort here will cost you at least $200 and that's high as fuck. Still, the babes on EscortRankings are all prime cunts with equally prime booties, assholes, faces, gullets, and tits. Quality is expensive these days and so, I would say that their prices are a bit reasonable.
Ride Her Hard If She's A UK Escort!
EscortRankings.uk has babes in all UK cities, from Aberdeen to Manchester and almost all are quality fucks with quality assets. Loads of escort profile thumbnails are on the homepage and there's a comprehensive list of cities, as well as a smaller selection of popular cities at the left of the homepage that lets you sort these chicks by location. Profile thumbnails are a little too small for my liking, but usually have a single review, plus the name, age range, verification status, and info as to the number of photos or videos to be found in each escort profile.
At the top middle of the site homepage is a search bar and with this, you can search for escorts by name, phone number, and city. Other options atop the homepage let you check out male, female, trans, independent, or agency escorts and you can sort profiles by the newest, oldest, best ranked, last seen online, newest reviewed, most reviewed and videos featured.
Think that's all? Noppity nope! At the top right of the site homepage is an option that when clicked allows escort sorting by price, ethnicity, body type, hair color, and service information. Plus there's an advanced search tab with an even more diverse range of filtering options. Filtering escorts by their agency is also supported. What this means is that EscortRankings.uk has all the tools you need to find the exact kind of escort you wanna get freaky with. In fact, this escort site has possibly the greatest collection of filtering options I have ever seen on an escort site.
Now, escort profiles on this site are very detailed but too crowded for my taste. Like there's a long list of profile thumbnails of other UK escorts on every profile and that's distracting and in bad taste. Plus it gives off amateurish vibes and that can be the kiss of death to a high-end escort site like this.
First You Rank Them, Then You Fuck 'Em!
EscortRankings.uk advertises itself as a high-end escorts UK site and that it is. Still, its homepage and overall site design do not show many signs of high class and deep style. The design is too understated and colorless and the pages seem a little overly packed with information. Honestly, I ain't very impressed.
The site admin got a very comprehensive About Us near the bottom of the site homepage and it sure is illuminating. I have already covered most of the site features and user options and they are very extensive and useful and do not bear repeating here. That said, there are Safe Browsing and Dark Mode switches at the top left of all pages that work as advertised, plus an active escort forum that's not the biggest. There's even a blog section that's accessed when you click the Forum tab and that section has some punchy articles on a wide range of topics.
No spam was sighted during this review, but I did see a few non-intrusive ads left by EscortRankings themselves.
What I Think Of EscortRankings
You know, there are more options and filters on this solitary escorts UK site than a bunch of other escort sites put together. And no, I am neither joking nor exaggerating.
EscortRankings gets all As from me and is a top 3 escort XXX site for real.
#1 EscortRankings Alternative
More Sites Like EscortRankings!
Check out Porn Guys full list of the 61+ hottest escort sites ranked
Vivastreet
Browse the latest FREE CLASSIFIED ADS in your area including used cars, properties to rent, free personals and much more! FREE, SIMPLE and LOCAL.
UkPunting
UKPunting – Escort and Massage Reviews and Forum. … UK Punting. General discussion of UK Escorts and Massage. Moderators: Ali Katt, CoolTiger, daviemac, …
AdultWork
You are of legal adult age as defined by the country or state from where you are accessing this application to view pornographic material.
UkAdultZone
UK escorts and Dominatrix. Quickly see who is available today. Trans and Shemale escorts too. Find a fantasy companion today.
BirchPlace
Beautiful TS/TV Escorts who live in the United Kingdom, We have 2590 TS/TV Escorts in the United Kingdom who are waiting for you on BirchPlace.
PunterNet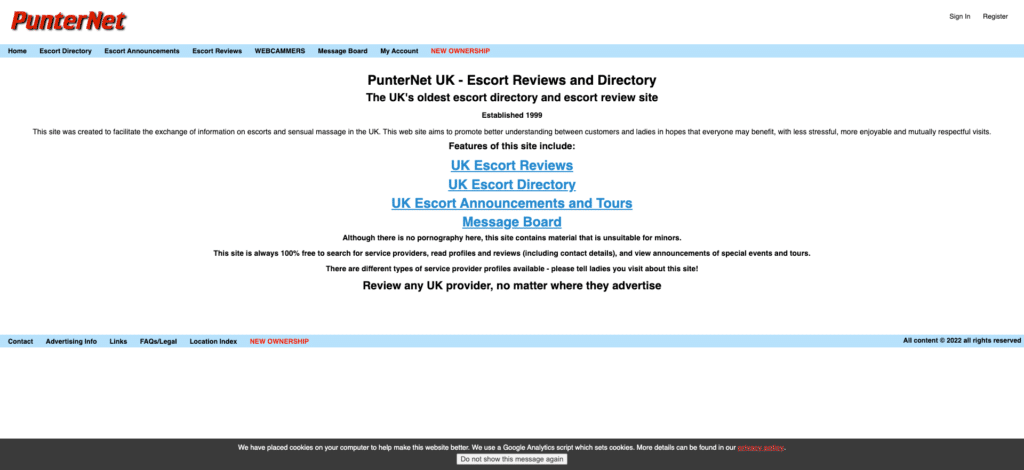 PunterNet UK – Escort Reviews and Directory. The UK's oldest escort directory and escort review site. Established 1999. This site was created to facilitate …
uEscort
See what Escorts in the UK are online ✓ Real photos of escort girls, male escorts and ts escorts. It has never been so easy to find an escort in England.