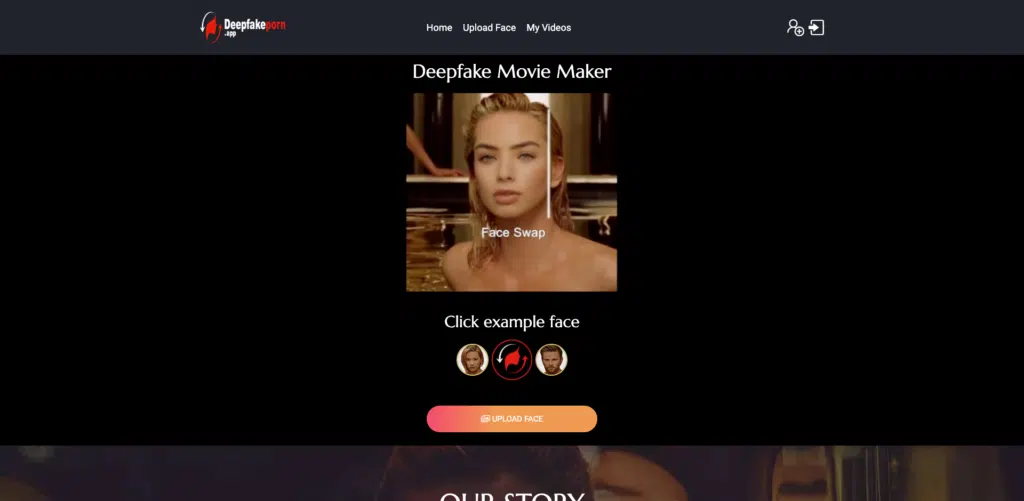 DeepFakePornApp Review
~ Pros ~
Lit site design
No ads
Exhaustive FAQ
~ Cons ~
❌ User options are bleh
❌ Not free
❌ Only 42 videos can be deepfaked
❌ Some legal concerns
DeepFakePorn.App
They call deepfake revolutionary tech and yeah, it is about as revolutionary as a cowgirl fuck with a giant squid! Deepfake leverages the advances of the last few years and is a double-edged sword that can ruin lives or deliver premium fapping content. With this kind of tech, you can easily turn the shyest or widest celeb into a porn star like no other, or make it look like your ex is the biggest leg spreader on your side of the continent! So yeah, deepfake can both fuck up lives and fuck you into cumming kingdoms like no other and should be used with some care.
Long speech over, let's go have fun with this Depefakeporn.app review. Read it and weep before going for your teabagging duties!
Fake It Till You Fuck It, Suck It and Milk It!
Deepfakeporn.app has a very stylish and minimalist design. For sure it does not look like it was put together in a rush or for a dare and that is a welcome departure from the majority of deepfake XXX sites that appear to have been put together by organisms with a single brain cell.
This place boasts more than a stylish look. It is particularly uncluttered too. There are some user options at the top of the page, and some explanatory text can be seen when you scroll down. At the bottom of the page are some quick links, plus links to an exhaustive About Us that details what's on offer here.
Home, Upload Face, and My Videos are the main user options and these trio are sited at the top middle of the homepage. On the top right are the login and registration tabs. Registration here is free and fast enough, but there are no options to register via your Google or Facebook account, which would have made the whole process more seamless and convenient.
The My Videos option takes you to videos you bought or created and the Upload Face option is for uploading your mug, or any other face in your image gallery. Yeah, that means the faces of your friends, your nosy neighbors, and even your cat. Just don't upload the face of someone who's so anally retentive that he/she comes across the deepfake of them you created and sues your ass into the middle of the next century. Should that happen, you could end up selling licks of your veined lollipop up and down the street and all in a bid to pay your lawyer bills!
Sweet Licks Are Not Free!
So, the way Deepfakeporn.app works, you gotta upload any image and that image will then be pasted on the face of a porn star in a video. Yeah, this place is focused on helping you make deepfake XXX. It is not the kind of place you visit when you are horny and in need of fapping material, because the only gallery here is of the videos you have already created and which is in your collection. There's no public gallery to see all the deep fakes ever created in this place and based on how this site works, there will probably never be anything like that.
And I got some things to say. First, the whole deepfake video-making is not free. At least not on Deepfakeporn.app. Remember that most other sites are all about giving you thousands of deepfake videos to wank to, while Deepfakeporn.app is all about letting you create deepfake videos. Because of that, they are charging money, $24 to be exact, but that might vary depending on the video to be deepfaked.
And talking about videos, Deepfakeporn.app presents you with a small list of XXX videos and you can choose which of these to deepfake. The issue though is that it does not allow you to upload an image of your choice and also upload a porn video of your choice to which the deep fake is to be applied. And that's a bit of a missed opportunity that should be fixed with a future update.
Moreover, the whole deepfake thing, apart from not being free, is not speedy. Wait times vary from 20-plus minutes to hours and not all of us have the patience to wait that long.
Plus it must be said that while it is understandable that making deepfakes on this site or any other site is not free, it should also be understandable that lots of folks do not really understand the whole deepfake thing or have much experience with it. Given that scenario, it would have made more sense for Deepfakeporn.app to have a free mode where folks who register with verified emails can create 3 to 5 free deepfakes before being prompted to pay for more of the same. It just feels a bit off to pay for stuff without first happily trying it out.
What ThePornGuy Thinks of Deepfakeporn.app
If you have both some moolah and time to waste, then this place is gonna look like paradise and that despite its having less than 50 videos that you can deepfake. And if on the other hand, you are into having awesome experiences for free, then Deepfakeporn is not where you should be.
What I like most about Deepfakeporn.app is that it turns you from a consumer to a producer, of porn of course. Sure, you don't have much of a pick as regards the porn videos to be used for your masterpiece, and the range of user options on this site is atrocious, but all that doesn't have to matter unless you let it. And the overwhelming fact remains that here is the place where you can put any face in your PC or mobile gallery onto the face of XXX stars and that makes Deepfakeporn.app a really powerful tool.
While I cannot recommend this place, and it does not feel all that legal or moral, I do believe it is worth a look-see.