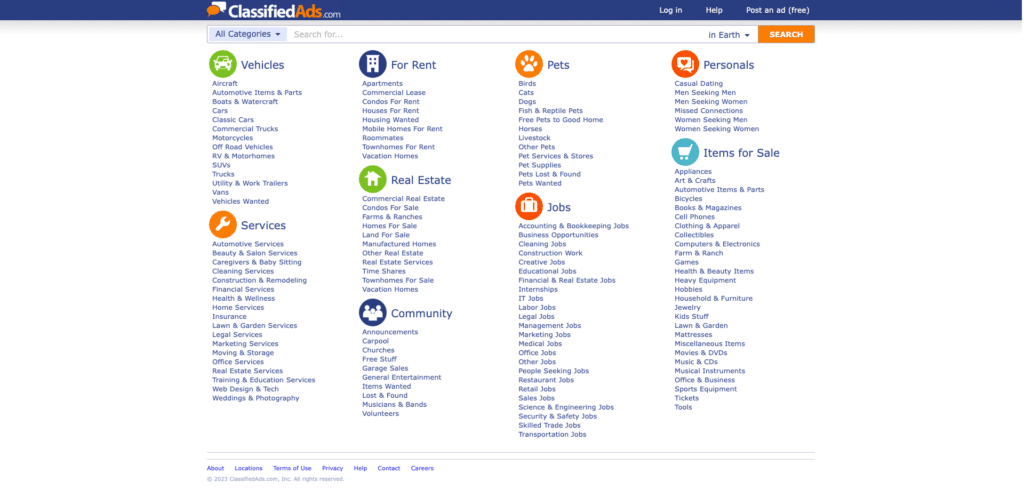 ClassifiedAds Review
~ Pros ~
Sick site design
Lots of adult classifieds
Daily uploads of new fuckers and fuckmeisters
The US and a few other countries supported
~ Cons ~
❌ Ads here aren't the most detailed
ClassifiedAds.com
I am a pretty open guy and the only thing about me that the CIA might want to classify is the brand of Vaseline I use whenever the need to perform routine dragon milking activities! As to why the CIA might be interested in yours truly, let me just say that it might have something to do with my ass-fucking the daughter of a high-ranking director so thoroughly that she went a bit crazy! Yeah, I got a magic dick that works and y'all don't!
Anyway, let's head over to the serious stuff. And that for today has to do with a review of an online marketplace cum adult classified site by the name of Classifiedads. Here's my Classifiedads.com review. Read and weep as is normal, or there will be a drone at your doorstep on the morrow that's gonna fire a missile up your pee hole hard enough for your prostate to ricochet off your nutsack and hit your brains!
To Be Classified is To Be Gelded With An Ice Cream Scoop!
Whoever got tasked with the site design here did a really good job. Classifiedads is therefore a sweet sight for sore eyes, in much the same way that a leak video of any high-profile actress or model who has been acting like a virgin choirgirl would be!
The options arrangement here is excellent and everything is very legible and easy to understand. At the top right are options to log in or post an ad for free and there's a long-ass search bar that lets you filter stuff by category and location.
Featured categories here fill up the homepage and aren't hidden behind a pansy-ass menu or something. Yeah, they are bold as brass and so clearly detailed that if you squint hard enough you could probably read them from space!
And as I said before, Classifiedads is an online marketplace that happens to have an adult classified section. The online marketplace bit means that there's a lot to buy, sell, offer and receive here, from automobiles, pets, jobs, real estate, games, tools, clothes, and tickets to photographic services. Hell, if any of you have been on any online marketplace like Craigslist or OfferUp, then by Jove you should have a solid idea of what I am talking about. And if you don't, then I should put more effort into selling you some sweet barrels of warm and cuddly snake oil!
Hip To The Beat and Hop On The Butt!
The US is where the money is and that has been the case since Eve took a bite out of an apple and told Adam to fuck off and go fist his cousin! And the US being the biggest market for just about everything means that Classifiedads.com, like most other online marketplaces, is heavily focused on the US. Sure, Canada, Mexico, the UK, the Caribbean, India, Australia, and the Pacific are represented here too, but not to the degree and the detail that the US of A is. And that is why every American state is covered on this site.
So, the Personals section here is at the top right of the homepage. It is divided into casual dating and men/women seeking men/women kind of thing, plus there's a missed connections option. The casual dating thing actually seems more like a FWB type of thing and a lot of classifieds from that section mention their interest in varied sexual activities that range from public nudity to BBC swallowing. So, if you are looking for serious or casual dates that involve coffee drinking and a lot of talking, that might not be the place to find it.
The missed connections thing feels a bit like a forum in that some are just interested in expressing their thoughts and getting a reply, while others need a fuck or want you to see them in their birthday suit. One guy there from Florida posted an ad about being crazy about licking hairy pussy and not caring if the owner had poor bladder control, while another fella in LA wanted to get reconnected with a lost acquaintance. It can be a bit sad there.
I went looking for women seeking men ads and tailored my search to Salt Lake City. Adult classifieds in that locale come with titles like First Off I'm New To This, Chivalry Will Make The World A Better Place, Lonely & Cute Fun Lady, H**kup, and Looking For A Guy Who Wants To Come Over and Fuck Me Tonight. The latter ad was published in March this year and updated a month after that. This being September, I can almost bet the person behind the ad has found a guy she likes who's been giving her all the pounding she deserves! Atta girl!
And wouldn't you know it, but an adult classified here titled Serious Dating had a hot chick who says she's 25. And rather than looking for dates, all this babe is after is sex and not of the free variety. Yeah, you gotta pay to get between her legs and there are many like her on adult classified sites like this.
Now, the user profiles of those posting ads in the adult section here can be quite basic. Most do not sport images and there does not seem to be a means of verifying site members. And that means the likelihood of scams is quite high. So, be sure not to send money to anyone you meet on Classifiedads.com. At least not until you get what you want from him or her, whatever that might be.
What ThePornGuy Thinks of Classifiedads
The site name is anything but impressive, but this Craigslist alternative sure does look purty. Classifiedads brings enough goodies to the table to make it worth a careful recommendation. So, cozy up to it and make merry with any willing snatch you can scoop up from this online marketplace cum adult classified site.
More Sites Like ClassifiedAds!