ChatSpin Review
~ Pros ~
Clean and colorful site design
Easy to get a grasp of things
Loads of site features and options
~ Cons ~
❌ Paid membership gets you the best experience
❌ Ads
❌ Not that many people to chat with
ChatSpin.com
Okay, y'all. It's time to get this weekend spinning at full speed and what better way to do that than to fuck a vagina or two hard enough to leave it full of splinters!
But before y'all get to that kind of weekend excitement, there's a review that needs eyeballing. The site is Chatspin and all they do is provide a means for y'all to talk and video call bitches across the globe who might be horny and in the mood to tell you how they need their pussies manhandled. Here's my Chatspin.com review and it is a tight little thot for sure!
Spin That Cunt Up!
The worst thing that an XXX video chat site can be is drab and boring. Chatspin understands that and their website has enough color to it to make a rainbow launch a discrimination lawsuit! I love it!
If it is your first time here, the default homepage has a detailed description of what this site is all about and all the features to be enjoyed, plus download links. Yeah, there are Chatspin apps available on Google Play and App Store and these are downloadable with a few clicks. If you don't want a mobile version of this site, just click the Join Now option at the top right of the page.
To get started on Chatspin, I used the menu options near the top of the homepage. With these, I selected the sex I identify as and to be sure it is not doggy style or 69! I then ticked the box that said I agreed with the varied terms and conditions of this site, even though I have no idea what these might be and couldn't care less if Chatspin periodically requires the blood of virgin cunts from its members as a condition for connecting them to the world of video chat sex.
Clicking the Agree box did nothing good for me, however. I was still expected to register here, and that I did by opting to register and log in via my Google Mail account and this took a couple of seconds. With everything done the way it should, I was taken to a chat page. This like the homepage was quite colorful and welcoming.
Worth noting is that this adult chat site is free. But since there's no free lunch in town, the site makes its money from ads. Now, these ads are never intrusive or plentiful, but they are still there nonetheless.
To turn off these ads you need to become a paying member and that will set you back $19.99 per month or $6.99 per week. Apart from its potent ad-killing powers, paid membership of this adult chat site gives you varied options that aren't available to others who are here for free. For instance, you get a VIP badge that's prestigious enough to persuade a princess or two to open her legs for you and see how easily that snatch she so carefully cares for can accommodate your oversized artillery. Extra filtering options, 24/7 support, and more are also the kind of stuff to look forward to when you fork over the moolah for a paid membership.
Now, you can earn free chat tokens here by referring friends, logging in daily, and chatting very frequently. Incidentally, there's no limit to the number of friends you can refer and that could get you a serious amount of tokens.
Need to adjust your user experience? Well, there is a My Account option at the top right of the chat page where you can upgrade your chat experience, buy chat tokens, tweak your chat settings, contact billings, and more.
Let's Talk, My Sexy One!
Honestly, I am not a big fan of adult chat sites. The biggest reason is that were I to start frequenting them, my right hand would no longer be able to find the time it needs to take my cock out for a walk and that cannot be allowed to happen!
Chatspin is set up to let you talk to people of all sex all over the globe, right? Well, chat options lets you select who you want to talk to and these can be males, females, couples and LGBTQ folks. That said, if you are a male who choose the option to see and talk with females, nearly everyone that you will encounter on the site will be male. That really pisses me off because what good are user options that do not work as they should?
During this review, the male chat partners I came across were mostly creepy fucktards, with more than one fondling himself and mumbling gibberish. I did end up connected to a few women, but they were old and fat MILFs who swapped right after a few seconds of staring at me, apparently not being all that interested in my handsome beauty.
Now, Chatspin supports private chats and sending gifts to the folks you are chatting with. To get the private chat thing working, you gotta send an invite to someone you are interested in and they gotta agree. The private chat takes place in an unmoderated room and that means anything can happen there, including mass murder and the destruction of planets. So, if you do get your ass on Chatspin, better not get into a private chat unless the person you wanna privately chat with does not look like an inbred loon with more than a few screws loose who wants to show you his collection of human skins and intestines!
Anyway, better be prepared for very low-quality videos when your chat partners are in places where the internet connection is less than stable. Apart from that though, there are no issues worth mentioning and you can either talk to your chat partner via the video feed or type stuff in the chat box for them to read.
What I Think Of Chatspin
Chatspin looks and feels better than the majority of adult video chat sites that I know of. However, it seems to have a limited pool of members and it is not uncommon to be connected, disconnected, and reconnected to the same person many times within an hour. It is also ad-filled for non-paying members and has far too many males, with the site pushing you to chat with them rather than the ladies.
I would say that Chatspin is a good enough video chat site, and would be a good fit for those interested in watching wanking strange men. It however doesn't make me feel all gooey inside and I would rather drink penguin pee than recommend it.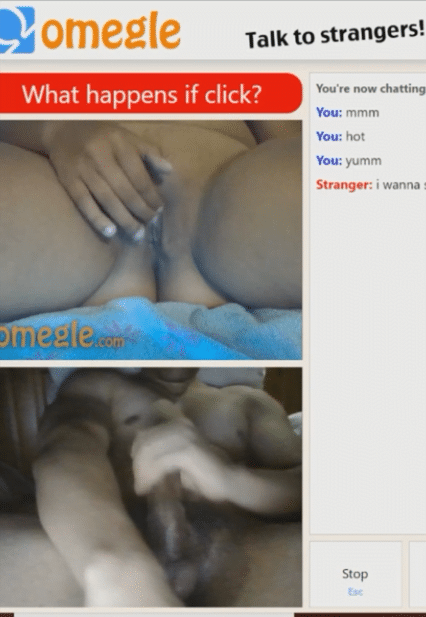 More Sites Like ChatSpin!