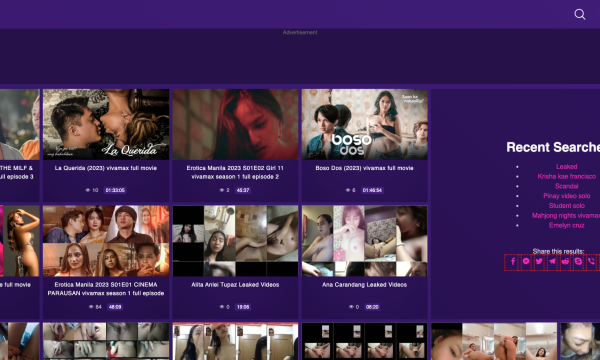 AsianPinay Review
~ Pros ~
2,000+ pages of content
~ Cons ~
❌ Ads
❌ Wack site design
❌ Overcrowded homepage
❌ Very shitty sorting options
❌ No direct downloads
❌ No diverse language support
AsianPinay.com
Asia is a wonderful place and you can get by there much cheaper than would be possible in the states. The ladies in that locale are perhaps the sweetest attractions to be had. They tend to be cuter than an ivory button, prettier than a wallet grown fat from lottery wins, and tighter than a drum head an hour or so before a concert. Even better, they don't go by all that feminist nonsense and will treat you like a king. Impale them on your oak tree woody while being served a continental-style breakfast and no one can convince you that you are not enjoying the kind of pleasures denied angels on high!
Now, Pinay refers to Filipina twats and AsianPinay.com is eager for us all to see these sluts in action. Here's my AsianPinay review. Read it and make an Asian twat weep in my honor this evening!
Gotta Throw A Halloween-Themed Pussy Party!
Well, wanna see double and scratch your head bald in consternation today? Then you should check out the AsianPinay homepage!
This is easily the most confusingly designed site I have checked out within the last few months and lots of things about it don't make sense. Sure the site has a lovely blue background color, but the main tabs and the content thumbnails almost merge and you gotta look again to see which are tabs and which are content thumbnails.
Confusingly, there's a big box at the top right of the homepage filled with the most recent search terms, plus links that lets you share these search terms on varied social media sites. Having a search bar on which the most recent search terms pop up would have been miles better.
One thing that pisses me off big time here is that content thumbnails are tiny and arranged at 6 per row and this makes the homepage and other pages look unnecessarily overcrowded. Yes, this site has a lot of design issues and because of that fails to look engrossing.
Now, the site features take the form of a basic search bar at the top left, and there are a lot of main tabs. These are Latest, Random, Full Movies, Categories, Tags, PornGX, TikTok.pm, ThePornDude, BestSexGames, PinayNay and PinayX and unsurprisingly, only the first 5 tabs are useful, with the rest being direct ad links.
The Tags section has an alphabetical selection of tags that's by no means exhaustive and there are 25 categories in the Categories tab. 12 pages of full movies with titles like Death of a Girlfriend, My Husband My Lover, Sex Guru, Island of Desire, Diary of a Killer, and Secrets of a Nympho are available. These full movies are mostly titled in languages other than English and cannot be sorted alphabetically, by newness, rating, or popularity. Sure, there is a Latest tab, but clicking on that gives you both full-length and short-duration movies and that won't do.
Easy To Have Pinay Snatch On Your Face!
Sure as hell it is really easy to get ahold of fine Pinay snatch and bang that as if the good Lord gave you the commission to tear to the bone every Asian twat that gets closer than a mile to your woody! Them Pinays have a high sex drive and can do it with you for free if you look fine and talk fast and many will let you drill them without protection. Don't fuck them raw though, unless you want your dick to grow gills and start vomiting all sorts of smelly liquid!
There are 2,096 pages of porn on AsianPinay.com and that's a very respectable number. Getting from the first video page to the last is a breeze, but for some reason, nothing here is dated, though videos might mention this or that year in their title. If pressed, I would say that content updates happen regularly on this site, but without dated content, that's hard to prove.
Now, there's some full-length content on the site, but most videos have runtimes of under ten minutes. It's Your Smile, Your Face, and Your Pussy I Miss for example had a 3-minute runtime, with the playback quality pegged at 480p. It opens with a couple of amateurs in bed. The girl couldn't have been more than 20 and had clear skin, pierced nipples, and one of the most charming smiles ever. The guy kissed and fingered his partner for a while, before putting her on her stomach and drilling her patch of paradise through the backdoor!
Another video titled I Spent Over 50,000 PHP For This Hot Damn Pinay had a similar runtime of 3 minutes and provided some hardcore entertainment. This one came in HD and showed a nude and very pretty Pinay bouncing on a cock and looking impossibly sexy. I didn't get to see the cock in her, but judging by her unruffled demeanor, it is not big enough to get her stretched to the rafters. My artillery piece on the other hand sure has the size and heft to make her site up, take notice, cry for her mama and tearfully beg not be wrecked down there!
No playback issues were experienced at the time of this review, but playback options are limited. Direct content downloads are not supported, but videos can be rated and commented on. That said, there don't seem to be many people doing that, and that might be because all the fuckers out there just got raptured!
What I Think Of AsianPinay
There are some amateur stuff on this site that bear watching and that is the only saving grace of AsianPinay. This porn site is an unpalatable mess for the most part and should only be checked out by Pinay XXX addicts.
Those of you who are not all that into Pinay porn can find your wanking pleasures somewhere else, because this is the kind of site whose many inadequacies can put you off porn for the rest of your life!
More Sites Like AsianPinay!