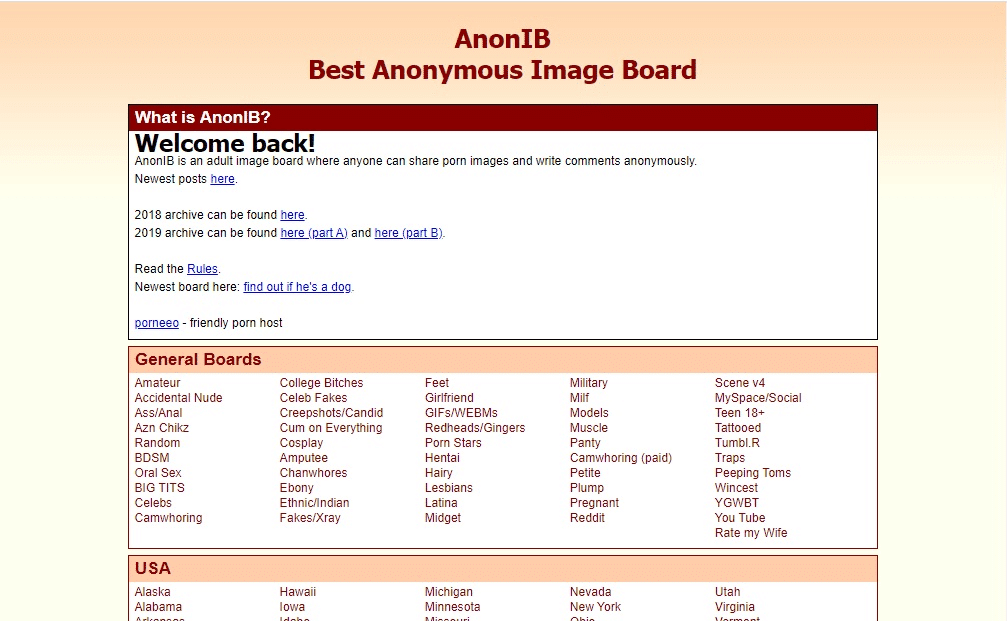 AnonIBs Review
~ Pros ~
Very comprehensive collection
Uploads are very frequent
Easy and uncomplicated to use
No ads
~ Cons ~
❌ Very dated site design
❌ Downloads not supported
Anonibs.com
Some fellas of mine had been telling me all about a site they had been visiting where they got to look at an endless array of porn images and say whatever they wanted about them. I got intrigued, asked for a link, and spent a day or so researching the site and having a little fun of my own viewing celebrity nudes and guessing which of the pointed breasts I kept seeing on the screen would most perfectly fit in my mouth!
If you have heard of 4Chan, then AnonIBs won't present much of a surprise. It is simple and has the dated look of your grandma's wardrobe, but is packed to the rafters with content, nearly all of which are images and GIFs. Here's my AnonIBs review.
Anonymous To The Bone!
Let me set the record straight. Yes, I did compare AnonIBs to 4Chan, but the two are similar only in looks and format. AnonIBs deals in porn only. 4Chan on the other hand deals in stuff that has the most insane shocking value. Thus, folks often go to 4Chan when they need to vomit up their expensive lunch or something like that!
AnonIBs has a site design that would not have been out of place on a school computer around 30-years ago. It is as basic as a Lego brick and can make you all nostalgic. The site touts itself as the best anonymous imageboard on the planet and has this boast displayed at the top of the homepage.
There are like a quartet of boxes on the AnonIBs homepage. The first contains an archive, the newest posts, and an assemblage of the rules. The second is a general board that lists topics like Petite, Midget, Plump, Pregnant, Accidental Nude, and Big Tits. There is even a Rate My Wife board, but thankfully I did not go there, lest my eyes commit adultery and damn me for eternity!
The third box lists nearly every state in the U.S., while the last box lists countries like Canada, Australia, United Kingdom, and Germany. You can click on any of these countries or any of these U.S. states and find nude or titillating images, from babes and guys that reside there, plus boastful or enquiring posts that are all shades of XXX-related.
The only thing else on the homepage is the Home and Contact button and these are at the very bottom of the page.
Awesomely Anonymous
I began my review by checking out the Newest Posts section. There's a long list of these posts, nearly all of which are from the continental U.S. and appear to be of users posting nude images, talking about these and other images, and posting some more images. You can add your own comments here without needing to input your email or such, which makes all posts and replies truly anonymous.
At the very top of all posts is an extensive and exhaustive array of clickable category links like gif, cosp, cam, paycam, and ass. You can click on this and see whatever specific content they relate to. You can also click on any posted image to enlarge it, but downloads are not supported. In case you were wondering, almost 160GB worth of content has been posted on AnonIBs so far by 212,509 unique posters, which is more than respectable.
If fun in large doses is what you crave, I think the General Board has these in abundance. That's where I spent most of my time when I was reviewing this anonymous image porn site. I mostly visited the Models, Pornstars, and Big Tits categories and I can swear I saw some stuff there that still makes my cock think it is a rattlesnake's tail!
The Pornstars category in particular is very interesting. Folks go there to ask the status of this or that pornstar, enquire about hard to find videos, and if a particular pornstar is as good as they shay she/he is. You can really learn a lot in this section and if you have a picture of a pornstar that you want to be identified or need a particular GIF or porn video title that section is where to do it.
What I Think
Well, AnonIBs is not the most premium-looking site out there, but it does have a wide array of quality content. Plus it gives folks an outlet where they can anonymously expand their knowledge of porn, nudity, sex, and the world at large.
This site is worth recommending with all possible vigor and can treat your eyeballs to some sights and sounds that you for sure won't be getting elsewhere!