AnimeIdHentai Review
~ Pros ~
Great site design
Constant updates
No ads
Lots of content
Loads of genres
~ Cons ~
❌ None Really
AnimeIdHentai
Well, I never knew cartoon characters could have mind-blowing sex till I stumbled across a hentai video around a decade ago. And needless to say, I haven't been the same since, nor can I watch animations these days without wondering how the characters would look when nude and how their cumming moans will sound!
Hentai XXX is as you should know more popular than strawberries when they are in season! Practically every self-respecting pornsite has a hentai section where fans of the genre can knock themselves out. But some sites are all about hentai XXX to the fullest extent. One of these is Anime ID Hentai com and boy, is it packed or what!
Here's my AnimeIDHentai.com review, which you better read up and study or else!
Site Design That Blows
I promise to pick the monthly bar tab of whoever put together the Anime ID Hentai homepage! The page has a background of the deepest sort of black you often find in hell and is uncluttered, while also being laden with hentai video thumbnails. For sure this is one of the sweetest homepages I have taken my fat ass to and you can't believe how happy my boner is!
Tabs on the site comprise the Home, Uncensored Hentai, Search, Upcoming, and Hentai Manga. There's also a search bar next to these tabs, plus a login and registration tab, as well as a Light Mode option at the far top right. Clicking the latter changes the default homepage background color to white and makes it look somewhat less cool in my opinion. And yes, you can sign up for free here using just a password and a username/email of your choice.
I mentioned a search bar and a search tab being located at the top of the page, right? Well, the search tab is the more useful fella here. Clicking this lets you search content according to the year of their release, the genre they fall into, their popularity, and how recently they were uploaded. It would have made more sense to integrate functions like that to the search bar by default, but oh well!
And less I forget, the Hentai Manga tab will once clicked load a site called Fakku.net on a new tab. This Fakku has some intense manga to jerk off to. So, dawdling there for a day or two might not be a bad idea.
Cum To Sweet Toon Fuck
The biggest issue with toon fuck flicks is that after watching video upon video of chicks getting their tiny cunts torn apart and their watermelon-sized jugs manhandled, you long to climb into the screen of your laptop or mobile device and give these chicks a piece of your salami that could choke them! A right pity something like that is not possible at present!
Now, as I said before, the homepage of Anime ID Hentai is filled with toon video thumbnails, but these are carefully spaced and you never feel like the page is stuffed with them. But right at the top of the page is a mega-sized thumbnail titled Amanee!: Episode 1 English Subbed Uncensored with a short description. You can click on this to watch it or scroll further down to see other video thumbnails.
The most recent of all videos come first on the homepage and options let you change this to the most viewed or top-rated videos. The next section is the newest releases, followed by uncensored hentai, upcoming hentai, 3D hentai, tentacle hentai, and incest hentai. Near the bottom of the homepage are some hentai genres, and the number of videos each genre has is indicated. Censored for example has 1,460 videos, while Subbed, Uncensored, and Creampie have 1,232, 1,076, and 724 videos respectively.
There's even a Rape hentai genre with titles like Lolita Anime Episode 1, Luv Wave Episode 1, and The Rapeman Episode 2. The 3D hentai section on the other hand was a feast for sore eyes and twitchy dicks! There was a 2019 release titled Moe Love with nearly 50,000 views that has enough eye candy to make god himself jealous! Moe had some of the bounciest tits I have ever seen, but her lady bits as well as those of her partner are blurred/censored. If you want to see all that can be seen, then tap the Uncensored Hentai tab at the top of the screen and go about your noble wanking work!
Now, videos on the site are usually subbed in English and have more than decent playability options. A description is provided, as well as the date videos were uploaded. A button on each video page lets you view all episodes of that particular video, and you can report any video. You can also downvote or upvote videos, comment your impression and select from several emojis to express what you think of the content. Downloads however are not possible and video quality is fixed.
What I Think of AnimeIdHentai
Anime ID Hentai has me impressed enough to consider swearing to only milking my woody to toon porn and toon porn only for a month! The site is great, its content are extremely varied and everything is easy to get to. Would absolutely recommend it.
More Sites Like AnimeIdHentai!
HentaiVideos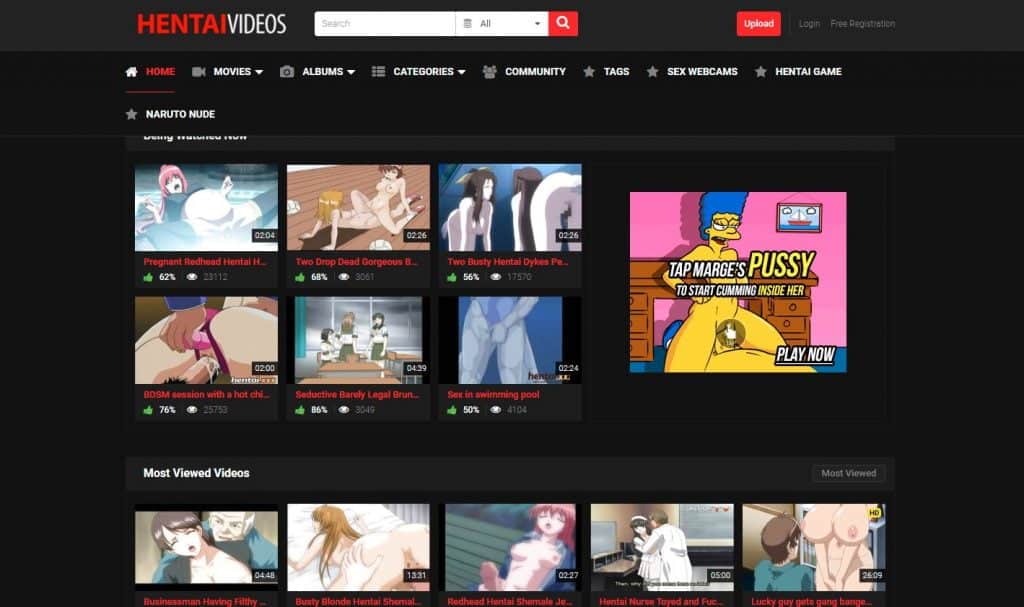 OHentai
E-Hentai