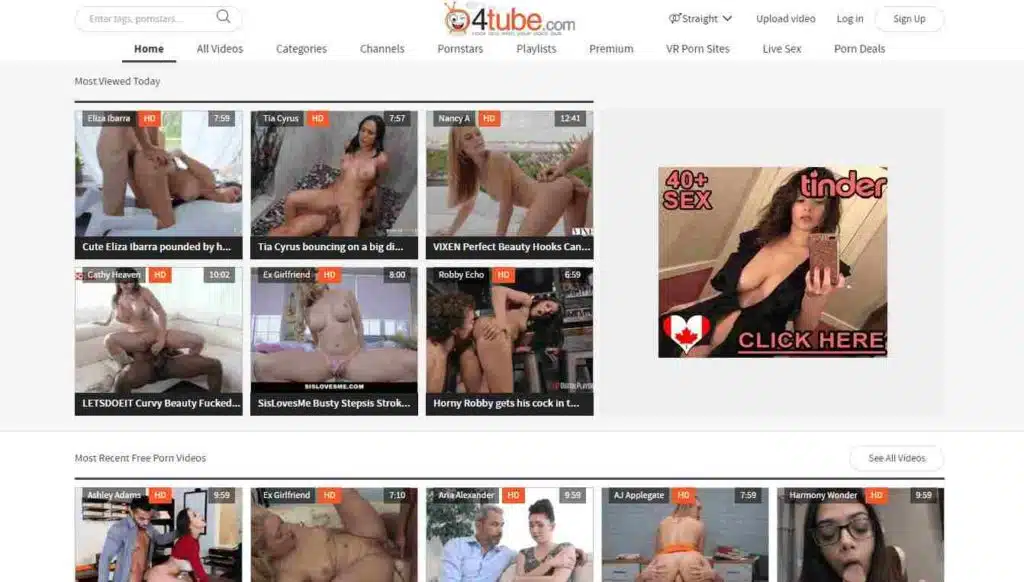 4Tube Review
~ Pros ~
In the top 100 list for best free porn sites
Popular porn networks, under "channels"
Great functionality using site
Millions nd millions of clips
~ Cons ~
❌ Pretty basic looking site
❌ Annoying Gif when playing videos
❌ Homepage has limited functioning
4Tube.com
There's seriously a shit ton of XXX sites out there and I am cursed with the need to visit each of them, cast a critical eye on what they do, and pass judgment. Of course, that means I visit more XXX sites than most and go through more cartons of Vaseline than most, but those are the sacrifices I gotta make!
The site under review today is 4Tube and if you never got alerted to what they actually do, there would be little reason to disbelieve if the village jokester told you they deal in classic movies of the silent era. Anyway, here's my 4Tube.com review and you better read it and see how best it can make your cock weep!
Arch It Higher You Slut!
Having a girl who has her arch game down pat is such an unacknowledged win. If your girl can arch it with the best, better keep her close and forestall her plans to walk away, by feeding her twat with an excess of iron-hard woodies! Do this right and get her addicted to the daily dose of cum infusions you are always shooting her up with and she will swear allegiance to you till death!
Now, time to get serious and I mean as serious as a satyr at Mardi Gras after party! 4Tube comes at you with an extremely average site design. Honestly, with its overly simple construction and white background color it looks so dated that I almost thought I had wandered into a sim game, because what I was seeing was so embarrassingly amateurish.
Like take the fact that the top of the homepage has video image thumbnails at the left part, but not the right. Of course, these thumbnails fill up both sides of the screen when you scroll down, but the fact that there's a gaping and empty space at the top right of the homepage is not something I am getting used to anytime soon. I guess an ad or something is supposed to be in that empty space, but it was so busy it couldn't show up for this review or something!
And while we are on content image thumbnails, the ones on 4Tube are square and small. Normally, XXX content thumbnails are rectangular, but their shape does not affect their functioning in the least. Apart from a square shape, thumbnails here have one strange feature- they list the name of one of the pornstars featured therein. Does this matter? Not really. But I can tell you that the number of times I have seen content image thumbnails that boldly list the name of the performers doing the nasty in them is assuredly small. Anyway, thumbnails on this site also list their quality, title, runtime and can be previewed.
But let's try to forget these thumbnails for a while and talk about other stuff- like the site features and sorting options. The first of these is a basic search bar at the top left, while the far right portion has login and sign-up tabs, plus a pull-down menu where you can switch the XXX orientation from straight to gay or shemale porn. Signing up here is supposedly free, but for some reason every time I tried I got a Page Not Found notification. And yeah, it is quite possible that some admin on this site has a hard-on about me and that's too bad because these days I am very intent on living the baby boy life of softness and full-on enjoyment!
Sweet Tabs Lead To Slutty Teens!
Home, All Videos, Categories, Channels, Pornstars, Playlists, VR Pornsites, Live Sex, and Porn Deals make up the main tabs in this antiquated shebang. The last 3 take you to live cam sites and porn sites and one of these is as sketchy as a kiss from a Judas. Playlists have some videos and are mostly for fuckers who are signed in, while the Pornstars tab has a persuasive listing of nasty beauties. They can be sorted by popularity, alphabetically, their number of Twitter followers, date added, likes, age, hair color, titty size, and height. That's rather comprehensive.
The Channels page reads like a who's who in the porn studio world and you can sort them alphabetically, by the number of likes they have, date added, number of videos, or subscribers. Again, that's impressive.
Amateur, Anal, Asian and Babe happen to be the categories with the most content. Supported categories can be sorted by the number of videos they have, the date they were added to the category page, and alphabetically. Tapping the All Videos tab allows access to more sorting options than what I have detailed so far. Here, you can sort content by rating, popularity, the number of views, duration, date, quality, and time added. With this kind of thing, you can focus on videos added within the last 24 hours, the last week, month, or year. Frankly, 4Tube might have an anorexic homepage, but it's got admins and site designers who are fanatic about content sorting and because of that I am gonna cut them a break!
So, there are 264,723 videos on 4Tube.com and that's a respectable number. Sure, it is less than what other big sites pull in over 30-40 days, but that amount of porn can get you through a year, unless of course you are addicted to fapping hourly. In that case, not even all the smut in the world will be enough for you!
4Tube videos are 8 minutes long on average. They mostly seem to be studio releases, though there is amateur stuff of sluts touching themselves, eating dick, and scrambling for sanity as they get impaled on woodies with strong bases! The site has multiple content updates on the daily. Here are some samples from the ebony category- Stunning Live Stream Sex With Alexis Tae, Two Ebonies Share Big White Dick, Hot Gianna Dior Seduced Into Threesome With Her In-Laws, and Exotic Babe Deepthroats Big Dick. All these videos looked rad, but one of the few I had to manhandle my cock for was titled Hottie Lulu Chu Fucked On The Back Of The Truck.
The Lulu Chu video is from IntimatePOV.com and the site aims at providing peerless POV of the action. It stars JMac and Lulu Chu horsing around in a makeshift pool they created in the bed of a pickup truck. They make out, JMac gets his cock eaten and fucks her from behind and in a variety of positions too, before unloading his money shot in her mouth. Not a bad video at all!
Content quality on the site is user-adjustable. By default, it is set at 360p, but you can either crank this up to HD or full HD or dial it down to 240p. One-click downloads are supported, as are content ratings and comments.
What I Think of 4Tube
Well, you better think of 4Tube as a dorky princess who wears shapeless maternity gowns that conceals the firmest pair of tits in her kingdom, as well as a juicy bubble butt and a virgin cunt! What I am saying is that while 4Tube might look like a neglected orphan, it does have quality content worth getting your cock in a wringer for, and it is worth a prolonged visit as soon as you can set that up!