SpankBang Massage Review
~ Pros ~
Free
Regular updates
Lit up with features and options
Rocks your world with almost 70K videos
~ Cons ~
❌ Ads up the ass
❌ Pages look too crowded
❌ Wack site design and looks
❌ Some less than HD content
SpankBang/Massage
Hell no, Spankbang massage is not a newly invented erotic massage that might involve someone getting spanked silly by miners with iron-hard hands and then being madly banged by what has to be soul-seeking BBCs! It is rather the massage section of the XXX site known as Spankbang whose logo is a booty that's as red as the bottom of a monkey in heat! Been to Spankbang a few times, right? Good for you and I sure am proud of you for being serious about exposing your woody to regular workouts, rather than letting it get backed up with jism!
Here's my Spankbang massage review. Read it and wish for a spank from the working tool of the one and only Johnny Sins!
Spank It And Bang It Like It's Hot
I kinda have a fetish for names. Due to that and other reasons, I keep wondering if Spankbang got its name because the owner or site admins are BDSM devotees. For sure there's nothing wrong with that, but the thought of the site owner spanking and banging his admins keeps entering my mind at the most inconvenient times! Maybe I should borrow a leaf from Spankbang and start doing something to the booties of my site admins. But that's just begging for a lawsuit and booty-driven exhaustion!
Now, let's get serious with life, hard as it might be for jokers and wankers of all stripes who come to me for advice, reviews, and investment decisions regarding which pussy on their street and town brings the best ROI! Ready for some serious stuff? Then let's get on with this review!
Spankbang massage focuses on massage XXX and that only. It is a section of Spankbang.com and getting there is as simple as searching for massage porn. Yeah, there's nothing hard about it. Just go to the site and search for massage XXX in much the same way as you search for teen XXX, Latina XXX, big ass XXX, hairy pussy XXX, and the like.
Talking of hairy pussies, I do want one to plait. So, bring yourself my way if you have cunt hairs I can turn to braids!
There are 1,715 pages of massage porn here, totaling nearly 70K videos. And that assuredly is nothing to be sneezed at. Much of this content features massages as a side dish rather than the main deal and amateur performances aren't that plentiful. The average video runtime here is surprisingly longer than expected, at 30 minutes or so. And there are many full-length content of an hour or two plus.
Content sorting options are okay enough. Perhaps the most important is a tiny flag at the top right that lets you change the country orientation of the massage XXX you are looking at. For instance, you can switch from British to American-oriented massage XXX and there are 25 countries to choose from, ranging from Brazil and Argentina to Spain and Pakistan. This sorting option works well enough but could use some heavy to moderate tweaking.
Other user sorting options include a string of tags like Babe, Yui Hatano, Doggy Style, Big Tits, Anal, and Blowjob. You can also sort content by date, duration, quality, Relevance, Popularity, Newness, and Trending.
Keep It Banging!
Spankbang is cool, but not really my thing. I do visit it from time to time for celeb leaks that give me an urgent need to milk my venomous snake, but it is lacking in some areas. For instance, it has ads and these remain in place even if you are using an ad blocker. On the massage XXX section, the ad at the time of this review is at the top right, and seeing it perched there happy as a clam kept making me want to deck someone!
Another sore point I have about Spankbang is that its pages are usually too crowded with too-small content image thumbnails. Sure these thumbnails are packed with details, but their smallness and the way they are crammed on pages is off-putting. And oh, user options are a bit lacking here and the whole site gives off average-and-not-trying-too-hard-not-to-be-average vibes! Content updates are very regular, however.
Anyway, sample content titles in the massage XXX section include Yu Shinoda Wife Massage, Hot Massage and Rimming With Brunette Amirah Adara, Tropical Massage, Russian BBC Massage, Redhead Fucked On Massage Table, and Lesbian Massage Threesome. For some reason, some thumbnails display their video quality while others do not. Also, titles here are simply too generic and it's possible to find videos with the same or nearly the same titles. It isn't that hard to think up unique content titles for videos, so this kind of rubbish as seen on Spankbang massage is irritating.
Now, this is where I let y'all know that Spankbang massage has 10 pages of 4K massage porn videos. Take a minute to think about that and try not to grin too widely at the potential fun you see unrolling before you!
One 4K video was titled Rose Monroe Creampie and I sure have heard of the slut. The video was a little less than 3 minutes long and consisted of this plump and big booty chick shaking her ass on camera and tearing her fishnet so you could better see her cunt and booty. She has massive tits too, and I wouldn't mind harvesting one fat jug on my farm!
I did my wanking to videos like Exclusive Brenda Boop Massage Double Penetration. Its quality maxes out at 480p, but it is over 45 minutes long and as hardcore as a chisel fuck! The video shows a white slut on a table in her birthday suit. A couple of guys show up and eat her snatch, feed her fresh dick and fuck a hefty chunk of brain matter outta her in varied positions! She for sure is gonna be sore down there for weeks and pissing is gonna be something she might need to pay someone to do on her behalf!
Videos on the site load fast and there are zero playback issues. But better be sure you have a solid internet connection before trying to watch 4K videos. Some videos have descriptions, but most dispense with that.
Still, Spankbang has perhaps the most comprehensive set of playback options of any mainstream XXX site. With these, you can adjust the content quality and speed, send messages to or subscribe to the content of the person that uploaded a video, comment on videos, add content to your list of favorites, watch videos later, and even directly download content. The latter option and a few others are however available for members only.
Tags and category links are also plentiful on each video and all videos have some sort of icons that let you go back and forward to where specific sexual acts are being performed. For example, on the video you are watching, among the icons at the bottom of the video might be one showing what looks like a woman giving a guy a BJ. Click on this and the video will move to the right where that sexual act is being performed. That's a very time-saving feature that lets you get right to the action.
But if icons confuse you, there is an option to do the same thing detailed above by skipping to specific acts. Like if a video is about a chick getting fucked on a table, you can skip to Doggy, Masturbation, Blowjob, and stuff like that. Rad!
What I Think Of Spankbang Massage
I am not a Spankbang fan and the site is past due for an update. But with Spankbang massage so feature and content-crammed, it would be right to take me into the desert and unload a full clip of 9mm ammo into my ass if I didn't recommend it! And so, yeah, Spankbang massage is worth getting into and it delivers in more areas than most.
More Sites Like SpankBang Massage!
TXXXMassage
EpornerMassage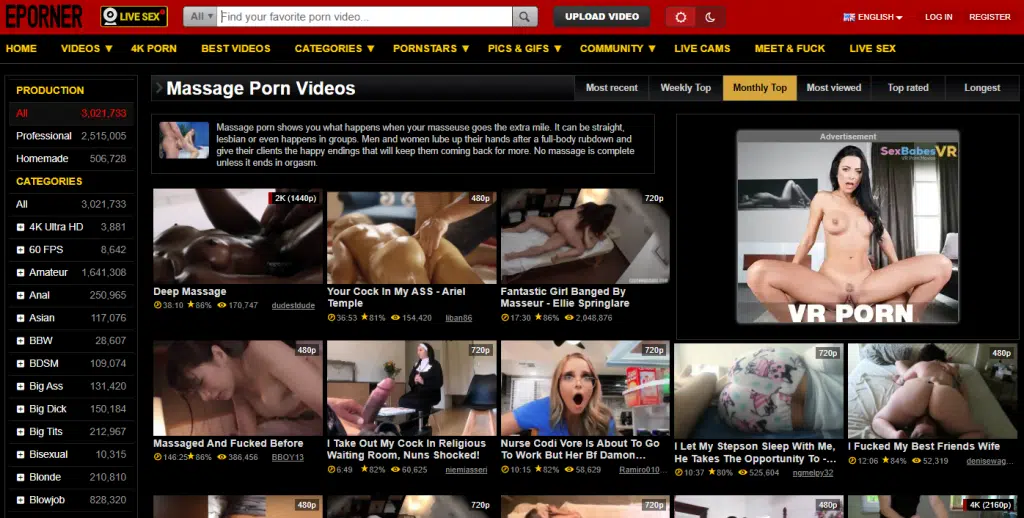 XHamsterMassage