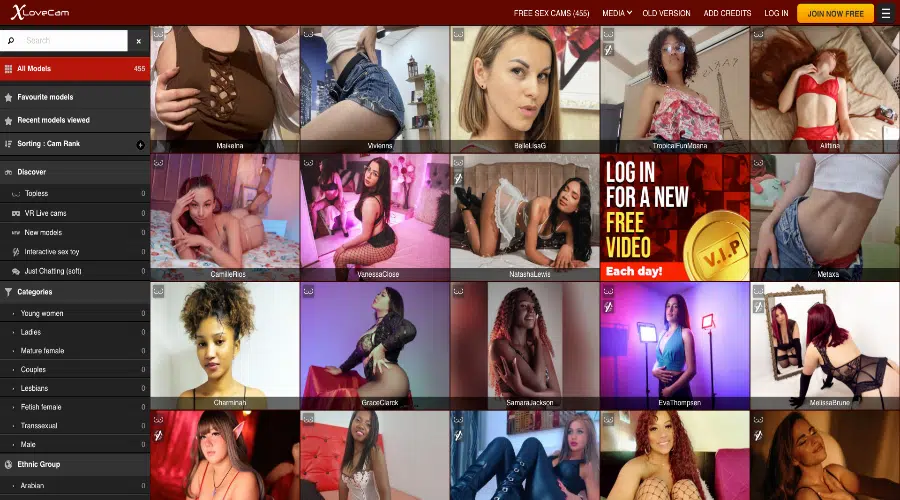 Revisão de XloveCam
~ Prós ~
Página inicial bacana
Fácil de navegar
Não há muitos anúncios
Os vídeos não demoram para carregar
~ Contras ~
❌ Shabbysite design
❌ Many camgirls profiles do not have enough content
XLoveCam.com
I believe what comes to your mind is your ex-girlfriend on a love cam; that sounds weird, right? Do you know what sounds weird? My wand is always ready for a ride and does not mind jerking off at the sight of my ex-girlfriend. If you are like me and have experienced such, say no more and join me on a rollercoaster ride on xlovecam.com, a place where we get to wank and jerk off to the exes of other dudes. How fun would that be? Let us find out.
The Homepage of the Exes
I bet you would want to show these people the size of your boners when asked if you are an adult, but slow down, yeah, and just click on the enter xlovecam button to behold a new world of pleasure.
The site is covered in really nice, subtle colours and looks interesting too. The top left of the page holds the logo of xlovecam.com, and then there is the free sex cams button, which, when clicked, simply reloads the homepage of xlovecam.com. Quite disappointing, I must say, because I was so anxious to watch those who love to fuck.
There is also the media button, which displays pictures, videos, timelines, etc., and next to this is the old version button, which, when clicked, takes you to the old version of the site, which does not seem to be different from the new version. There is the add credit button, the login button, and the join for free button. There is a menu bar next to this, and it simply shows a variety of options to choose from.
Next is an array of options on the left side of the page, such as all models, discover, categories, ethnic groups, bust, body type, hair colour, rates, action panel, etc. It would be hard to choose between a blonde and a brunette because I hear both types of ladies have gifted palms, but imagine a brunette with a large bust and an hourglass body type stroking your dick. Such a feeling is out of this world, dudes. There are also the load more filter buttons, as well as a show cam preview button. Each of these buttons, when clicked, displays the categories under them, and it also makes it easy for you to filter the type of lady you need.
The centre of the homepage simply carries the profile thumbnails of these camgirls, which are arranged in grid form, and just after scrolling to the end of the page, there is a button that says See More. A click on this button reveals more profile thumbnails of these ladies.
The bottom of this page carries a blog post that contains information on xlovecam.com, as well as the terms of use and security, live chat support, models and affiliation, etc. An overview of the homepage of xlovecam is that the site is quite easy to navigate; the words here are written in English, which makes it comprehensible, and above all, the escorts here are of good quality.
The Exes of Xlovecam.com
The juicy stuff on this site makes me remember my ex. I once fondled her boobs while stroking her pussy till she got wet and began to beg for my cock, and guess what, dudes? Well, I only came for a show and told her to spread her legs wide and do the thing with the finger while I sat back and watched with a glass of wine. My boner loves things like this. The exes of xlovecam.com are quite alluring and enticing.
The profile thumbnail of these exes on the homepage of xlovecam.com asserts the above, and I hope that the actual profile of these exes does not disappoint. The profile thumbnails of these escorts on the homepage already tell us the name of the escort, their age, how many likes they have, and an option asking if we want to make them our favourites. Just before we make any of them our favourites, let's check out what they really look like.
A click on the profile thumbnail of any of these ladies actually makes us realize that there is a video attached to the profile of these ladies. If you want to know more about these ladies, you have to click on the menu button on the left side of the page. There, you will see so many options, including the 'about me' button.
When you click on the 'about me' button, you get to see photos and videos of them, several of them, in which they could either be unclad or dressed in teasing lingerie and this is more than enough good news for our boners. There is other information such as age, weight, hair colour, bust, gender, ethnic group, body type, and a lot more pieces of information, as well as a short bio about these ladies, their fantasies, the languages they speak, and their latest logins. I am not disappointed. The personal profiles of these ladies are indeed detailed.
Further scrolling reveals more information about these ladies and also tons of videos and pictures. There is also an online availability schedule, rankings, star ratings, rates, and many others. This is a typical definition of a well-detailed profile.
The Reward of The Exes
Over here at xlovecam, the exes are quite demanding, more like they are seeking compensation. The ladies here charge according to the service you want; for example, there is a private show rate, sneak peek rate, VIP subscription rate, etc. Well, let's find out what they are up to so we can quickly have them keep us company.
There is AmberSkylerr, a 19-year-old large-boob Latino. Amber charges 1.17 euros per minute for a private show, which equates to $1.22, and her monthly VIP subscription rate is 3 euros per month, which equates to $3.14. The rates here are very reasonable.
What Pornguy thinks of xLovecam.com
The site is very easy to navigate, and I love the fact that the words are in English. Also, the homepage looks very interesting. It is a must try..
More Sites Like XloveCam!