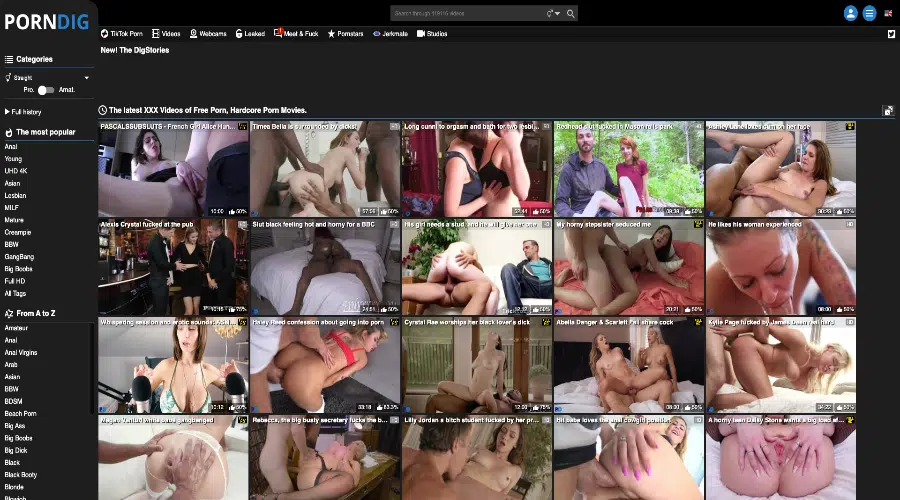 PornDig Review
~ Pros ~
A huge load of videos
Free-to-watch videos
~ Cons ~
❌ Totally shady Ads
❌ Lowest quality "HD" videos
❌ Too many complicated sections
❌ Terrible porn site design
❌ Boring homepage
PornDig.com
Grab your shovel/lotion and join me for an adventure worthy of a perv like yourself. Nah, we aren't digging to find any old gold treasure or some long-lost pirate booty. What we are trying to find here is huge fucking tits and big bouncy booties on the very hottest porn stars out there. We demand quality free porn, and we want it now! So that's why I've made it my noble mission to review this porn site that is called PornDig. Yeah, you better call me Sir The Porn Guy because it is my knightly duty to see if this porn site is worthy of a single tug of your ol' cock or a rub of your clit for my very horny and much treasured female audiences.
PornDig is so old in the game, that we may as well call it a cougar of a porn site. This website has been up since either early 2004 or 2005. Some of us were still wanking with an abacus back then. But, you don't need a summa cum laude in pornography to know that the age of a porn site means jack shit when you're trying to happily wrestle with your junk in that favorite dark corner of your room. What you need is literally good fucking content, drop-dead gorgeous models and creators, smooth porn site features, and a whole bunch of other stuff that fits your unique tastes. So, let's get into this porn site and check if it's old but still gold.
Digging into PornDig at first glance
I'm gonna start by saying I didn't expect such a shitty and basic home page. The layout looks like something from a new bootleg porn site. I do see a whole lot of options on top to choose from though, like; TikTok Porn, Meet and Fuck, Webcams, Videos and leaked content. But just below that, there is a super shady Ad telling me "Wanna Fuck a Local Girl? Click here". Of course I do, but I also know if I click on it, I'm gonna get internet herpes. So yeah, no thanks. There are some more annoying Ads sprinkled about the main page like it's seasoning. So I'm gonna have to take some points off them for that.
If you can ignore the ads, you're gonna immediately notice the brand new "DigStories" section featuring a whole bunch of short-timed videos from different content creators. Snapchat would be sad to see its most famous feature used in this horny way if it wasn't the same as this porn site to me. Maybe it's just my Snapchat? Nah. Anyway, I clicked on a Story and it showed me a video of some random content creator having multiple squirt sessions in a minute. Now I'm hooked and trying to click on her picture to see if she has an account on the porn site with way more of these types of videos but there's no feature like that on that viewing page. My dick just cried a little because of this.
On the main page, above the latest porn videos, there's the TikTok section that takes you to another part of the porn site that is designed to look like TikTok. If you're looking for something more intimate, you can hop on to the webcams section, and if you're feeling more pervy than usual there's a section for leaked content. There's also a section purely for videos and finding the highest rated. The last section I noticed is called "Meet & Fuck". That last one seems a bit shady because what if it's a catfish? Do let me know if you meet your soul mate there though if you're brave enough to try.
Below the stories section, you'll see the 2 options; "Choose the category" and "Choose the DigTag". These guys would probably slap Dig on every name of a feature if they could. But I gotta give it to them for having a lot of videos for you to pick from on both of the sections I mentioned. Also, you can be in any category and combine that with different DigTags to give you the Frankenstein monster of a porn video that you're trying to watch. So without further ado, let's slide right into the juicy, wet details of the types of categories and Digtags you'll see on this porn site.
Categories and "Digtags" on PornDig
I legit tried to count how many categories are listed alphabetically in this huge section of PornDigs porn site and I only made it to M for Midget porn. So, I'll simply summarize; there's a shit ton of categories here. I'm gonna be listing some categories that caught my eye so hang on to your titties. We've got; Amateur, Asian, Beach porn, Bukkake, CNFM, Foot Fetish, Gang Bang, MILF, Uniforms, and Vintage. I checked out the beach porn videos because I got a craving for seeing candid videos of hot naked women splashing fish pee aka seawater on themselves at those pretty beaches. Some of the videos labeled as HD look like they were filmed with a potato in either 2004 or 2005. So be sure to cross your fingers when you're trying to wank to a video on here.
As for the DigTag section, you guessed it, your favorite porn guy tried once again to count them but once again I'd rather spend that time beating my meat to some of the DigTags I've seen listed right here. But since you guys are important to me I'll once again list some of the eye-catching tags I've noticed so far. We've got; Double anal, Clothes Ripped Off, Ballbusting, Fruits and vegetables, and Triple anal. If you're still really good at guessing then you already know I had to first check what goes down in that Fruits and Vegetables DigTag, and after checking it out, man am I glad I'm not a vegetarian.
What ThePornGuy Thinks of PornDig
After lots of hours spent that I can't get back on this free porn site, I definitely wish it was not free just so I wouldn't have had to see most of the low-quality porn videos that are up for watching. As if that is not enough, the poor layout and design of Porndig's website are the stuff of nightmares for classy porn watchers. How am I supposed to enjoy my wine and wank when these Ads here feel like a constant football kick to the nuts? In short, if you are the type to enjoy a good hard kick to your nuts then I think this porn site is for you, ya kinky fuck.