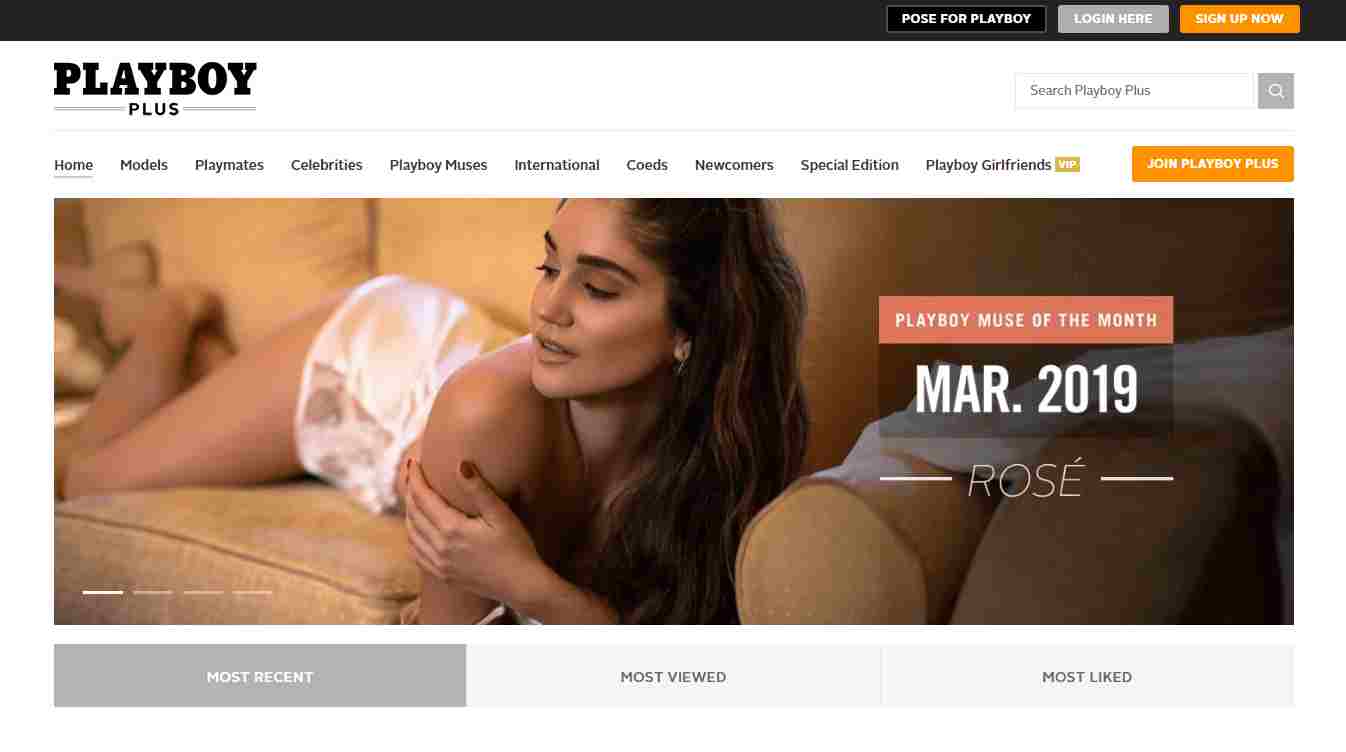 PlayBoyPlus Review
~ Pros ~
Includes 150000 photos, 4500+ models, and 8500+ premium porn videos
With one account, you can have access to all of your devices
Sensual soft core porn with top class models
Playmates, Newcomers, Playboy Muses, Coeds, Playboy Girlfriends, etc.
This company has been around mastering porn since 1953
2 day trial available
~ Cons ~
❌ No actual fucking
PlayboyPlus.com
Playboy has been in the adult industry for so long and has brought us some of the most popular photos of naked women. You're gonna see thousands of videos and sexy pictorials with 100s of recent content available in 4K. Also, you're gonna have access to articles that have won several awards. Updates do come regularly too.
This site boasts of thousands of sexy models that have starred in several movies, and these videos are mostly available in full HD. Now, the site has been rebranded into Playboy Plus and comes with fantastic features. The site keeps improving and the current version offers more content and has a modern design and look.
You're gonna have to keep in mind that none of the content on this site is Hardcore. Even though the site has evolved over the years, they have decided to stick to the conventional Playboy way of fascinating softcore material and the heaviest that you're gonna find is some light petting that happens among the girls.
Enjoy thousands of Softcore Photos and Videos
This site has got a massive collection that seems endless but I think that the videos should be around 15000 with more than 200 available in 4K and more than 100 in 1080p. The cool thing is that downloads of standard movies do not require payment for a VIP content package. Also, you can check out thousands of photosets in automatic slideshows and you can download these contents in Zip files.
There are thousands of beautiful ladies filling semi-nude and nude scenes and this includes famous faces like Jenny McCarthy, Pamela Anderson, Sophie Monk, and Tamara Eccelstone. It is interesting seeing the beautiful curvy ladies that adorn this site.
Streamlined Navigation and Design
The members' area is mobile responsive and has a sleek design and look. A basic search and several categories like Playmates and Celebrities are gonna help facilitate your exploration. You can find Favorites on your profile page coupled with your viewing history. Also, the model index features advanced filtering and sorting options and each babe has a bio and stats and you can use this to save all your faves.
Read interesting articles and unlock more
When you access the main burger menu, you're gonna come across a Read The Articles option that is gonna help you to explore some of the same high-quality and topical writing that is available in the print version. They discuss the reporting on current events, entertainment info, and sex content. If you wish, you can go through their Unlock More page where they offer special packages to Playboy.tv and other porn sites.
Pricing
The cool thing about this site is that they offer a 2-Day trial at $1.00. So, if you don't wanna go for the other options, you can consider this and use it to explore the site to the fullest. Now, let us go over to the monthly price as it is gonna cost you $14.95 to access the site.
If you don't wanna be subscribing regularly, you can go for the 3-month that costs $59.95 or go for the yearly price rate that costs $119.98. If you divide the yearly and 3-month to monthly price rate, you're gonna see that the price is way too low than others.
How to cancel Playboy Plus Membership
You can get in touch with us if you run into issues but the cool thing is that the PB support section has created a good FAQ that you can use to solve these issues. Also, the contact options include toll-free helplines (for Europe and North America) and an online form and they can handle cancelations and general questions. You're gonna have to wait for an average of three business days for the site to process your request.
High-Quality Content With Fundamental Options
Images on the site come in different resolutions that range from 1066×1600 pixels to the most recent content that is available in 800×530 pixel format. I think we're gonna agree to the fact that resolutions do not depict the indication of the media quality and that these shoots were executed with high-end cameras and edited by seasoned artists and professionals.
The resolutions might not look good on paper, but that doesn't account for the mood, angle, lightning, or post-processing that is so important.
Conclusion
The fact is that Playboy is huge in this industry and the majority of porn lovers have checked out this site at one point or the other. With its massive catalog of contents, this site is a must-have for everyone that has visited the site over the years. They have been in the game for half a century and still manage to churn out quality content and impress with their sexy babes.
I'm gonna keep recommending this site due to its consistency and high-quality content.