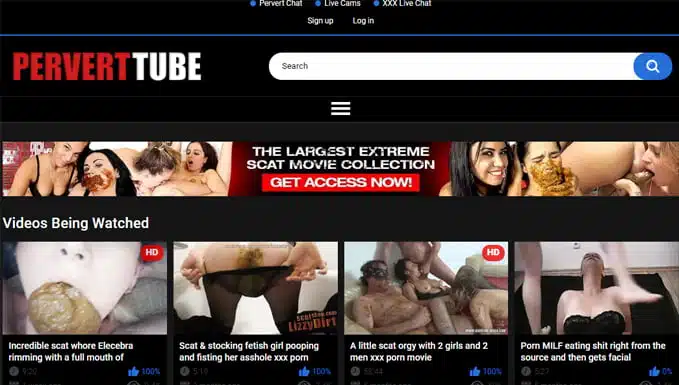 PervertTube Review
~ Pros ~
Punchy site design
Albums and videos available
Regular uploads
Some HD and Full HD content
Plentiful sorting options
~ Cons ~
❌ Ads
❌ No advanced search
❌ One-click downloads not supported
PervertTube.com
Pervs are all over the place these days and you can't even walk around without one wanting to sniff your backside and tongue your peehole. Disgusting, the lot of them!
PervertTube is an XXX site where you can watch these pervs doing their best to show off and act crazy. I have no idea why, but everyone on that site seems to be obsessed with human shit and you won't have any trouble finding videos of people wolfing down poop like it is apple pie that's made the way momma used to make it! Here's my PervertTube.com review and y'all better check it out, or I will have someone branded a perv and burned at the stake!
Welcome To Perv Land!
There are no limits in Perv Land! You could fuck a bank vault door or romance a washing machine and no one will bat an eyelid! Better sell off your assets, get your Perv Land passport and go crazy making your craziest fantasies come alive in 3D!
Now, on to serious business. PervertTube has a conventional and deeply attractive homepage. Black is the background color and everywhere is far too dark for my liking. Light and Dark modes sure would have been useful here, so that fellas can switch between both as necessary. Nevertheless, I would still give PervertTube 7/10 in site design and arrangement.
So, it turns out that PervertTube is part of a network and you can see a small list of its sister sites at the top left of the homepage. The opposite corner has login and signup tabs.
Singing up is free, but ads that keep on activating when you try to input your details make it a kinda frustrating experience. Members get privileges like being able to make friends and are allowed to subscribe to the feeds of these friends and send them messages. Plus you can put together a list of your favorite stuff and even upload content. And before I forget, y'all better note that once you got your membership card, you get more features and options here.
The rest of the site features include a basic search bar that's long enough to practice your most depraved yoga poses on. This motherfucker nearly reaches from one end of the homepage to the other and I sure have no idea what people are using this long-ass search bar to look up their asses for!
Main tabs include the following: Latest, Top Rated, Most Viewed, Albums, Categories, Models, Playlists, Channels, Community, Upload, Meet & Fuck, and ThePornDude. At the bottom of the homepage can be found some ads, plus tags, porn site names/links, and an About Us that seemed to have been written by a fella whose head is well screwed on. Anyway, the Meet&Fuck tab is not worth a good fart at 3 am and neither is the ThePornDude tab.
The Upload tab allows the uploading of both photos and videos, while the Community tab is the place for extroverts and pervs with badges confirming their everlasting perversion! You can make friends there, search for members of a certain age, country, gender, and city, as well as those who made the latest comments. It is also possible to sort the folks there alphabetically, and by activity, newness, number of views, and popularity. The Channels tab is a bust, but the Playlist tab has a nice collection of content that can be sorted according to need.
Sadly, the Models tab is useless and y'all are admonished to ignore it. The Categories tab however has almost 70 XXX and scat-related categories and each of these has an extra large image thumbnail. Latina, Manure Fetish, Scat, Pooping, Gangbang, Hairy Pussy, Farting, Anal, and Creampie are a few of the supported categories, and some of the very image thumbnails that I just spoke about show sluts fingering their snatches with shit-smeared fingers. After seeing stuff like this, I sure will boil every pussy I come across in a pot before fingering or eating it!
The rest of the main tabs do what they say they do and by Jove, you can find plenty of wallpaper material in the galleries of the Albums tab.
Lookit, Some Funky Pervs In A Shitstorm!
PervertTube has daily updates. I don't know if someone told them that I need my ass gaped, but a few of their most recent videos feature trans chicks with monster cocks that would come in handy for building log cabins!
Sample titles from the Most Viewed category include the following: Sister Forced To Eat Shit, Scat Girl Sammy Eats Shit From Black Ass, Sexy Brazilian Scat Lesbians Playing With Shit, and Extreme and Disgusting Brazilian Human Toilet Slave Scat Domination XXX Porn Video. The latter video is from ScatDomination.com and is slightly over an hour long and one of the most disgusting videos I ever watched. It featured a couple of girls who beat up and cruelly dominated a prettier girl. They peed right in her mouth, repeatedly punched her stomach, put her in a makeshift toilet, and directly popped into her mouth, made her eat shit, spat on her, and fucked her cunt with a strap-on dildo. That's some funky shit and I hope the girl slave in the video got paid very handsomely for her trouble.
Now, video quality varies widely here. Some videos appear to be in around 360p quality, while others are in HD and Full HD. Also, some videos do not have options for adjusting the playback quality, while others do. In any case, there are no playback issues and 10 minutes seems to be the average video runtime. Plus while there's a lot of content here, I would be wildly surprised if there are up to 20K videos on PervertTube.com.
What I Think Of PervertTube
Pop-up ads make it hard to enjoy this disgustingly pervy site to the fullest. However, it is still solid and worth recommending.
More Sites Like PervertTube!