Kommons UK Review
~ Pros ~
Over 12K escort profiles
Easy to use
Quality sluts
~ Cons ~
❌ Divisive site design and layout
❌ Spam
❌ Unverified escorts
Kommons UK
Kommons is present in multiple countries and the only reason it exists is to make sure that we all have enough prime cunts to be depositing our varied cum loads into, especially when our balls get tingly and a deadly shade of blue! Better give them a gold medal for being so understanding!
So, with my Kommons Australia review done and dusted and ready to be checked out on ThePornGuy, it's time to roll out a Kommons UK review. Read this Kommons.com.uk review and weep, fellas, as is common with wankers with poor body control who leak with every peek at the nude leaks of their celebrity crushes!
Come On Fellas And Find Them Uncommonly Juicy Snatches!
Kommons is Kommons. What I mean by that is that it looks the same regardless of the country it is catering to. Thus, the only difference between the homepage and site design of Kommons UK and Kommons Australia is the list of cities on the homepage, and the number of supported escorts.
Like I said, the Kommons.com/uk homepage presents no surprises and is like a black-and-white throwback. Despite that though, it looks stylish and composed rather than dated and stupidly minimalist.
The main tabs are Sugar Babies, Local Dating, and Live Sex Cams and each of them is as useless as a shaved twat on a billy goat! There are also Advertise and Top Cities tabs, with the first letting you post escort ads on this site and the latter hosting a list of top UK cities. However, only Kommons.com.uk members can post ads and that is not free.
Most of the site features on this escorts UK site take the form of a small list of top UK cities, plus a more comprehensive list of just about every city in the UK. Each city is accompanied by a number that denotes the number of escorts that can be found in each and in total there are supposedly 12,365 escorts available at Kommons.com.uk.
Yeah, 12K plus escorts. I wonder if there was a way to put all them bitches on a factory floor and get equipment that spreads their legs and makes their coochies all wet and warm. Fellas can then stand in one place and stick their boners in for a few seconds at least as robots slowly roll these thots from one factory area to the other!
Lest I forget, there's an Escorts With Sex Cam tab near the top of the Kommons.com.uk homepage. Tapping this takes you to a page filled with escorts cum sex cam fuckers with names like Roxanne, Sophia, Julie, Antonia, and Princess Nikki.
Last but not least in the list of site features worth remarking upon is an exhaustive About Us that's near the bottom of the site homepage and other pages too. This doesn't read like it was written by a native English speaker, but it is entertaining enough. It lists the services that escorts in the UK offer, from anal, BJ, and GFE to fetishes and bareback fuckathons.
Gone into escort asshole lately and dug up enough disgusting stuff to make us vomit till the end of the week? Then go to confession, say your prayers, and recommit yourself to being eternally loyal to your mighty right hand!
Come Here And Get 12K Dripping Cunts On Your Face!
Like I have been saying all year, Kommons.com.uk has over 12K escorts. If I had the constitution of a bull, plus all the money in the world, I would book each of these bitches till the last of them has seen what motivated oak tree woodies like mine can do to pussies that are too soft and juicy for their own good!
To get a chick here, you just gotta click the name of whichever UK city you like and then choose from any of the escort profiles that look like it hosts a babe who's eager to bounce on your telegraph pole! Easy peasy all ye fuckers!
Now, when you click on any city here, options at the top of the city page lets you pick specific locations and areas within that city, search for escorts of specific nationality who offer certain services and sort them sluts by eye color, hair color, and body type. Also present are options to sort escorts by if they are independent or hooked up with an escort agency, have videos in their profiles, and offer sex cam services. That's not too bad, but methinks escort sites should start offering options to sort their chicks by cunt depth, fatness, and softness. Yeah, that makes sense because no one I know wants to fuck a pussy that feels like a pothole on the interstate!
Anyway, London is the biggest UK city and it is no wonder that it hosts the biggest batch of escorts on this escorts UK site. There are over 4K London escorts to pick from and no, there's no royal in their ranks!
Anna is one of these London escorts and she calls Central London home. Sure she's very pretty, but the most distinguishing thing about this 25-year-old Eastern European chick is her immense butt. It's not flabby either and I never wanted to suck a booty as eagerly as I did when I saw a picture of her bent over! Anna is a party animal who's open to French kisses, OWO, domination, CIM, erotic massages, CIF, anal, 69, face-sitting, and much more. Call on her today and fuck out them tadpoles you have been breeding in your nuts all week!
Adela is yet another prime fuck. What I love about her is how fresh-faced and innocent she looks, plus her long legs and impressive racks go down very well. She's down for strap-on fucks, fetishes, quickies, toy play, erotic massages, anal, role-playing, face-sitting, and the like. This 22-year-old Dutch lass is also quite ready for an FFM orgy and there's nothing I would love more than slapping an oak tree woody into her holes hard enough to transform her from an innocent-looking virgin to a shuddering nympho!
So, escort profiles on Kommons.com.uk are very detailed and escorts are in the main of a high to very high class. I love that you can switch from one profile page to the other without having to return to the main escort or city page. That said, profiles here do not seem to be verified and there's some spam.
What I Think Of Kommons UK
There are aspects of this site that I have a less than favorable view of. But Kommons UK remains an escort site that can compete with most of the best out there and for that and other reasons I am giving it a solid recommendation.
#1 Kommons UK Alternative
More Sites Like Kommons UK!
Check out Porn Guys full list of the 61+ hottest escort sites ranked
Vivastreet
Browse the latest FREE CLASSIFIED ADS in your area including used cars, properties to rent, free personals and much more! FREE, SIMPLE and LOCAL.
PunterNet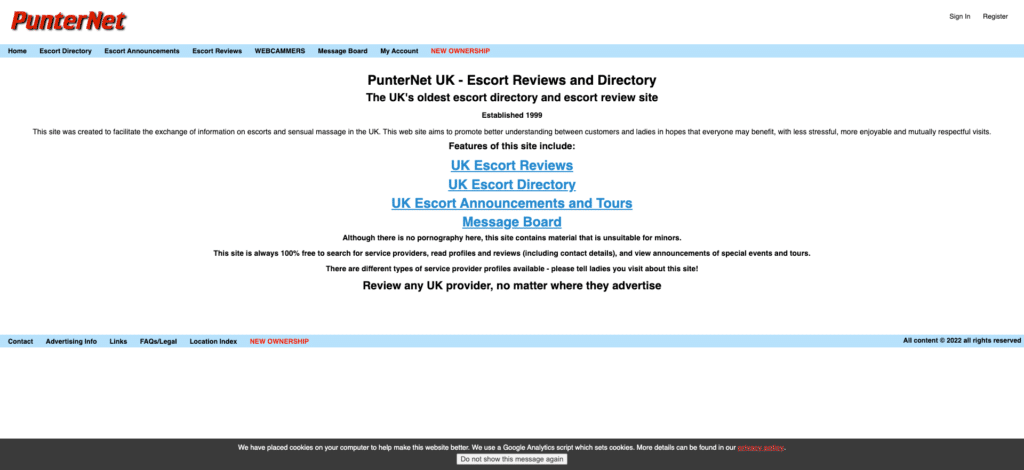 PunterNet UK – Escort Reviews and Directory. The UK's oldest escort directory and escort review site. Established 1999. This site was created to facilitate …
AdultWork
You are of legal adult age as defined by the country or state from where you are accessing this application to view pornographic material.
UkAdultZone
UK escorts and Dominatrix. Quickly see who is available today. Trans and Shemale escorts too. Find a fantasy companion today.
BirchPlace
Beautiful TS/TV Escorts who live in the United Kingdom, We have 2590 TS/TV Escorts in the United Kingdom who are waiting for you on BirchPlace.
EscortRankings
Escort Rankings helps you find and book real escorts avoiding scams and fake profiles. All profiles on Escort Rankings are legit and 100% owned by real escorts …
uEscort
See what Escorts in the UK are online ✓ Real photos of escort girls, male escorts and ts escorts. It has never been so easy to find an escort in England.