Escortify AU Review
~ Pros ~
Jacked and Juicy site design
Male and female escorts that look divine and sinfully edible
Advanced search
No ads or spam
Extremely detailed escort profiles
~ Cons ~
❌ A few unverified escorts
❌ Does not have as many escorts as claimed
Escortify AU
Know the good thing about thots? Well, they never rest and their mouths and cunts are always in many different places, being taught facts of life by the kind of oak tree woodies that look able to dig up iron-hard Idaho potatoes on very chilly mornings!
Similarly, the good thing about Escortify is that they are everywhere, or almost. This escort conglomerate has branches in quite a few countries and has been busy making a name for itself and seeing to it that escort snatch, gullet, and butthole get tough and cumming love on the double from fingers, toys and cocks of all stripes!
I am gonna review the Australian version of Escortify today. So, here is my Escortify.com.au review and y'all better love it, or there will be a spear for y'all to meekly sit on.
Bitches Fine Like Nobody's Business!
By now, all ye wankers should know how Escortify does it and that its escorts can't be beat. As usual, the Australian version of Escortify apparently spent a truckload of money gathering the best collection of escorts to be had in the region and no one needs to tell you that it is quality meat you are buying and fragging in the bedroom! Just take a brief look at the chicks on Escortify.com.au and if your pecker doesn't rise faster than Superman can fuck an ovary out of Luis Lane, then there's surely something wrong with your plumbing!
So, Escortify.com.au has Diamond, VIP, and standard escorts and even the latter are finer than every girl on your street and so sweet in the middle that wanking to their pictures gonna get you pissing sugar cubes on the morrow! Hot chicks all and oh, there are male escorts available too for those whose taste runs to their getting fed hard cocks and having their buttholes divided more violently and orgasmically than Moses divided Pharaoh's tight booty with his spear! Or was it the Red Sea that the bearded chap divided? No matter, folks!
Anyway, here is where we talk about rates, and here's where I let you fuckers know that almost every slick and tender escort profile on this site has its rates listed on the profile thumbnails. Rates vary from 200 AUD to 2,000 AUD and any chick who charges me the latter better know upfront and be comfortable with the fact that she will be in a wheelchair till the end of this month and will have a hole in her cunt big enough to open a Mexican restaurant in!
Olivia Bianchi is the first escort I am covering in this section. She's a 28-year beauty with G-cup tits that are as big as they are artificial and is a self-confessed temptress. This leggy goddess loves to dance and has no limit that I can think of. About the only thing she might say no to is being fucked in the ass with a broken bottle!
Anal play, body worship, PSE, FFM threesomes, rimming, golden showers, strap-on fucks, sex toy play, BDSM, and role play are just a small selection of the services she offers. Olivia only does outcalls and charges 600 AUD for an hour and double that for 2 hours. In USD, that's $409, and $817 and yeah, that's sky-high to a groveling fuck!
Sofia Latin is a little cheaper. She's an arresting blonde beauty whose curves made me a bit dizzy and just seeing her images and the video on her profile will make your right hand beg for a chance to hold your cock and milk it on her behalf till there's a pool of liquid between your legs that a buffalo can bath and piss in!
Marvelous Sofia is 22 years old, loves sex, and will let you put it into her any way you like, so long as there's a condom on your nodding snake and you don't have enough Viagra in your bloodstream to fuck her liver in half! The bubble butt on this babe defies description, as does her very upstanding C-cup tits.
She charges 300 AUD for 30 minutes of incalls, with outcalls costing 400 AUD for an hour. PSE with her is 450 AUD for 30 minutes and 500 AUD for an hour. Those rates in USD are $204, $272, $306, and $340 respectively and those are reasonable prices that I might find myself paying on my birthday or right after a lottery win!
Last but not least is Jana Stone. She bills herself as a cock-worshiping goddess and yes, she is a goddess and from the looks of her, you would need an army to dissuade her from worshiping a cock she likes and is currently grasping in her talons! Jana is a total hottie and is just 27 years old. She's blonde, leggy, and perky all over, with her booty being like a doughnut and what would I give to slap some mustard between her ass cheeks and chomp away!
This babe is bi, of Dutch ancestry, the owner of a very pert pair of D cup titties and a deepthroat legend in her neck of woods! Jana is adventurous enough to engage in MMF threesomes and can cross-dress, piss on you, role play, massage your abused body and give you a pornstar experience that will damage your hearing and get your cock all bent to the left, frantically yelling for a rescue! You gotta pay 350, 650, and 1,200 for 30 minutes, an hour, and two hours of her time respectively and that's $238, $443, and $818 respectively.
Now, 300 AUD to 400 AUD seems to be the average hourly pay rate here. It's high, higher than what most escorts in the states charge. But the chicks on Escortify.com.au are not street thots. They are escorts with class and yeah, their high prices seem to be fully worth it.
Proud Cunts Of Class
Those of you who are still waiting for yours truly to talk about the quality of escorts on Escortify.com.au should know right away that the escorts here are the best that can be gotten. Most of them are a great match for other high-end escorts across the globe and nearly all seem to be sex experts who have been at the game long enough to write a five volume encyclopedia on their experiences!
Now, there are loads of escort profile thumbnails on the site homepage. These are big and lustrous and have the name, rate, location, and status of the escort, plus a small text. At the top of the site homepage is a small list of Australian cities and clicking on these lets you view the escorts that call these cities home. There's also a Male Escorts link.
More, tapping the city links will unlock an advanced search feature at the top left of the city page. With the advanced search locked and loaded, you can search for escorts by name or description, video, verification status, rates, age, height, breast size, body type, hair/eye color, location, type of services offered, and to whom.
As for the escort profiles here, they are extremely detailed and faultless in the main. You will find contact details, plus multiple hi-res images, with a video being often featured.
Love Your Escort And Fuck Her Brainless!
Escortify.com.au is a sight for sore eyes about as much as your right hand is always a sweet sight for your cum-overloaded cock! This escort Australia site has everything all perfect and the only thing I would change in the site design is removing the small About Us atop the page, as it is useless and makes that section of the homepage look crowded. Plus there's a very extensive About Us at the bottom of the homepage, which makes the other one as superfluous as your ballsack in your handbag!
Site features here are average on first look. The main tabs are essentially useless, but beneath them are options to sort the cunts and dudes here by city and sex. And once the city option is clicked, advanced sorting options appear to make sure that you pick the best babe or dude for your sexual and life-changing needs.
Spam and ads are unknown concepts here, but for obvious reasons, I would be very surprised if Escortify.com.au has one-third of the number of escorts it says it does.
What I Think Of Escortify
This Australian version of Escortify, just like the other versions, seems to be fudging its escort numbers. But the sluts and dudes it does have are top-tier. That combined with the peerless site design and advanced search features means not bookmarking this escorts Australia site should be a criminal offense that is punishable with a week of being used as crab bait out in the Atlantic!
#1 Escortify AU Alternative
More Sites Like Escortify AU!
Find your nearest private escort, agency or brothel in Australia with Escorts and Babes.
NaughtyAds
Find your nearest private escort, agency or brothel in Australia with Escorts and Babes.
RealBabes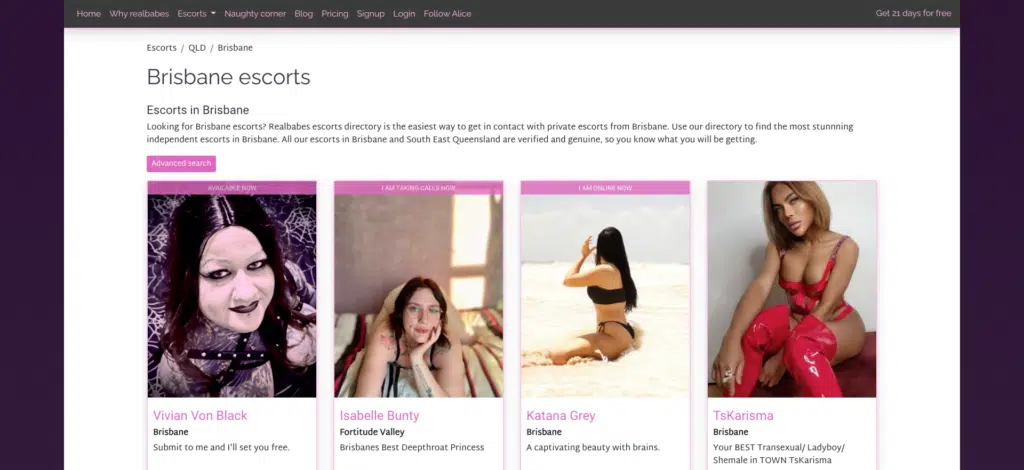 Find escorts and babes in your area, no fake profiles all our escorts and babes are real. Realbabes Australia's newest escort directory!
EscortsNearby
Hire hot sexy babes and escorts near You from escortsnearby.com.au Adult service directory & get erotic fun with male/female independent private escorts in …
ScarletBlue
Private escorts and intimate companions. Beautiful independent escorts to fulfil your erotic fantasies. A seductive adult services and escort directory.
Kommons
You will find the best escorts AU in. KOMMONS. It's time to live your life fully. The best portal to meet girls from all over the world. Easy to use.
AustraliaCracker
Australia's favourite adult classifieds website. We have the largest selection of escorts in the country. Search our massive database and find your fantasy …
LocantoAustralia
Locanto offers free user-to-user classified ads in all major cities in Australia. You can post an ad at no cost and browse through the huge selection of free …