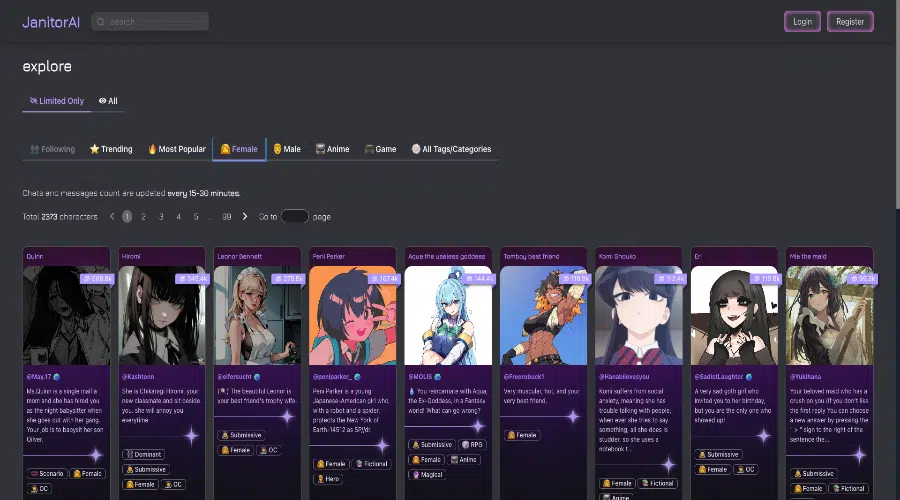 JanitorAI Review
~ Pros ~
Πολλές επιλογές χρήστη
Bots galore
Δωρεάν
Endless entertainment and business possibilities
~ Μειονεκτήματα ~
❌ Too complex for most
JanitorAI.com
And before y'all ask, yes, there's an actual site called JanitorAI. Sure, it sounds unreal, but the internet is a hella unreal place and there's stuff you can see or hear there that will permanently burn the thatch off your ass crack!
So, JanitorAI is not as some of you might think in the business of rendering smart janitorial services. This place is all about leveraging the cumming and ass-clapping power of AI to deliver smart chatbots that can hold their own in almost any kind of conversation.
Here is my JanitorAI.com review. Read and be blessed with a cervix-penetrating cum flood!
Doing The Humpty, Janitor Style!
So, JanitorAI looks like it was directly inspired by anime sites. The background color is the same gray you get when you hear the husband of the MILF hottie you happen to be on, coming home unexpectedly after work and with a shotgun in hand no less! The gray here is mixed with purple accents and the whole thing is actually cool.
Over on the top left is a basic search bar and on the top right are Login and Register buttons. You can register for free at any time and via your Google or Discord handle. And once you do, you would be better off checking the FAQ and getting into the rules and regs in operation here. Child porn is unsurprisingly banned, as is gore, bestiality, and sexual violence and I guess that means ThePornDude is not welcome here!
Anyway, this being chatbot central, you and everyone else are allowed to create chatbots and these can be human or non-human, have magical abilities, have been previously featured in video games, be a celeb, and that kind of stuff. You can say the sky's the limit here, and as long as you respect the rules, you can create chatbots of virtually any attribute. Plus you can make it so that only you can chat with your chatbot, or be a dear and let the public access your creation and talk the ears off of it. And there's a setting here that makes it so that your character can or cannot talk naughty and that's awesome for those of you who just wanna interact with chatbots and don't plan on letting the fuckers give you a hard-on you could out-poke a rhino with.
There are over 61K chatbots on JanitorAI.com and there are sorting options on the homepage to let you wade through this flood. You can filter by trending, sex, and popularity, or simply tap the all tags and categories link and get a more detailed selection of options.
And yeah, the whole thing sure does seem a bit overwhelming. That is why I keep saying y'all should take your horny selves to the bottom of the site homepage and let the FAQ guide you to wherever in the cumming kingdom you need to go!
By the way, JanitorAI is more than a chatbot palace. You can integrate this motherfucker into your projects as an API, train, test, and customize the holy cumming fuck out of it, and that kind of thing. A proper jack of all trades JanitorAI seems to be and the only thing it might not prove suitable for is wiping your booty after going to the loo and explosively releasing most of the cheesecake and lamb chops your lactose intolerant ass ate this afternoon!
Chatterbox Chatbots Chattering Over A Cunt!
So, there are two types of chatbots here- those usable by everyone and limited fuckers. The latter can only be used by those who created them and with that being the case, they logically should not be showing up on the homepage. But that's just me.
Now, you can rate the chatbots on JanitorAI and your review will be published for others to see. You can also follow, report, or block any chatbot and check out the detailed overview of its personality that should be on its profile.
But JanitorAI is not as easy to use as similar sites and some basic tech knowledge is required to get the most from it. See, when you click on a chatbot thumbnail and then tap the option to chat with the bot, the trio of horizontal bars on the top right of the chat window contains a shit ton of options that most probably will sound like gibberish to those who are not tech-savvy. These options let you adjust the API settings, and generation settings, plus switch on the immersive mode debug mode, and other stuff and there's bound to be a lot of folks who simply can't get their head around what that means and what it can do for their experience on this site.
Plus you can't just talk to any bot here, even if you created it. You need to first get an API key and they are handing out free ones at OpenAI. Then copy and paste your key in the right box in the API settings menu, choose your preferred OpenAI model – I opted for the 3.5 turbo version- and enter your preferred bot behavior and characteristic in the custom prompt box.
You can also kick-start your chatbot chatting journey by using a Kubold API AI key to unlock the closed mouths of the chatbots. But that will cost you like $0.2 an hour and you will need to have a PC with some specific features. For reals, the entire process to start chatting with the bots here is unwieldy and not good if you are looking to dive in and just have fun. But should you happen to be tinkerer and tech enthusiast, then this site and all its features and options must look like the very next best thing since sliced bread that's been spread with Kim K's fermented coochie juices!
Anyway, chatting with the bots here is okay enough. Most sound human, but they don't have that much of an imagination. But given that there are a lot of bots that are designed to meet a wide array of needs, you can be sure of finding one that's tailor-made for whatever you might have in mind, be it X-rated or not.
What ThePornGuy Thinks of JanitorAI
JanitorAI is like a sledgehammer and with sledgehammers, not everyone has the strength, skill, and experience to use them properly. This site packs a lot of goodies, but most of these are inaccessible to all but the most tech-savvy of fellows.
I give JanitorAI two thumbs up and can't help but wish there was a way they could slightly dumb down some of the more complicated shit on their sweet fuck of a site.