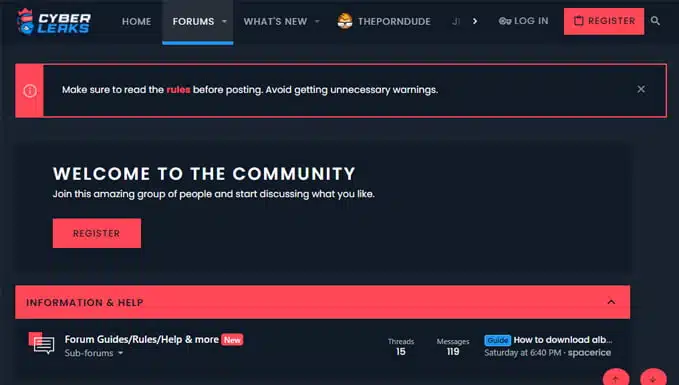 Cyberleaks Review
~ Pros ~
No ads
Free
A very active forum
Lots of threads and posts
Colorful site design
Free downloads
~ Cons ~
❌ Not the biggest forum out there
❌ Meh site features and user options
❌ Some threads have wack user engagement
Cyberleaks.to
While it does sound highfalutin, all that Cyberleaks is into is the widespread dissemination of the XXX leaks of enough sweet social media sluts to make your head spin and your woody to go all stiff! So if you mistook this site for a Wikileaks competitor, you only got yourself to blame!
This place is a forum where members can talk about their interests and share stuff. Such forums tend to be pretty intense places and there's always stuff you can read or see there that will halve your life expectancy in a heartbeat or less and corrupt the last innocent atom in your body!
Anyway, here's my Cyberleaks.to review. Read it and weep my dear lads, so that your dicks can leak as delightedly as possible when doing its duty!
Maximum Leaks Into Fresh Snatch!
Well, Cyberleaks looks exactly like what it is supposed to and that means it is not the most attractive place for those in love with eye candy site graphics and design. It does look better and appears more modern than most forums and sure has loads more color- red mainly.
There's a site logo at the top left of the homepage and it kinda looks like a shark being forced to pass a particularly large turd! Perhaps the turd in question is made up of the bony parts of a particularly obese surfer or something and I can't blame no shark for wanting a bit of that juicy meat!
The far top right has a basic search bar, plus login and register buttons. Registration takes less than 20 seconds and is free. Membership lets you message other members, bookmark stuff, and loads more. The far right of the homepage also has a vertical slew of content that shows the names of members who are currently online, and lets you see the latest posts made here, plus the latest user profile posts.
At the time of this review, 22 members and 741 guests were supposedly online, but I have no way of verifying that. Plus there's no indication as to how many members this forum has. What I do know is that it doesn't make much sense for there to be almost 800 guests online, while there are just 22 members online. Something must be done to convince fellas to stop being wanking guests and register and that something is what the site admins need to discover for themselves and implement.
Anyway, the main tabs here consist of Home, Forums, What's New, Members, ThePornDude, and Jerkdolls and I will go into them later. Near the top of the homepage is a red header and below this are forum guide posts, plus links to CamVids and LeakedBabes. After this, there's a blue header and below it is the main section and their threads and these are worth sitting up for. There are Celebrities, Instagram, ManyVids, OnlyFans, Patreon, TikTok, Twitch, YouTube, Other, and Cam Girl sections on this site and of these, OnlyFans with its 9.6K threads is the biggest by far.
Near the bottom of the page are the Regular Porn and General Discussion sections, with topics in the latter covering the dirty panties of relatives, suggestions on the best funny erotic games, and requests for the OnlyFans link of Stormy Daniels. The majority of the threads in the General Discussion section have zero replies though and that means asking questions there is unlikely to get you an answer.
All Life Must Leak!
Ever shot a racy or nude video or image of yourself or others? Well, chances are good that sooner or later it will cross the eyeballs of the general public. Don't like that? Then keep cameras out of your privates and private business!
Now, the Jerkdolls and ThePornDude tabs do what they say, with the former enabling access to a sweet slew of XXX games, while the latter has porn reviews in spades. These XXX reviews are written by a fella with so much porn on his mind that it's said he cums in his food on the regular!
With the Members tab, you can check out members who have sent the most messages, and who have the highest reaction score, plus the newest members, those celebrating their birthday today, and more. As for the What's New tab, it permits access to the latest, and newest posts, new profile posts, latest activity on the site, and your news feed if you are signed in and are following other members.
Anyway, let's talk about the varied forum sections. The Celebrities section for example runs to 23 pages, and there are threads devoted to celeb nipple slips and celeb upskirts. I would suggest paying these a visit if you were ever curious about the panties-wearing habits of some of the most famous female celebs alive!
As the biggest section, OnlyFans has 479 pages of threads. The images there and elsewhere are often zoomable. But sometimes clicking on them will result in your being taken to a new site where these media can be viewed in better detail. Also, some of the media on this XXX forum have direct download links and you are theoretically allowed to download an unlimited array of stuff. Plus while image galleries predominate, videos are not that uncommon, but they can be rather short.
What I Think Of Cyberleaks
Cyberleaks looks like a good proposition for everyone in love with social media thots and the cum-provoking content they just love releasing. It is a nice place to connect with folks that share the same interest and ideas and talking to these fellas might give you insight into how your your right hand can be a more loving and considerate friend to the woody you are often slapping into it!
Now, I wouldn't say this is the best XXX forum out there, but it does well in its social media XXX niche and is worth checking out at the least.
More Sites Like Cyberleaks!