BirchPlace Review
~ Pros ~
No Ads
Lit and simple site
Quality escorts of all sex and cumming ability
Nicely detailed escort profiles
~ Cons ~
❌ No advanced search
❌ Limited user options
BirchPlace
Bitch please, sit your ass down before I put my foot in it and then whack you in the ass with my frigging artillery piece! And I better make it clear that there's no way you are gonna walk home all by yourself after I give you that kind of shellacking! Got it? Swell!
So, how are you all doing today? Pretty good I hope, or are there some among us who are horny enough to go stick their heads up an elephant's butt at the local zoo?
Those of you who wanna fuck a bitch of whatever sex or biological classification should chill awhile and come get an eyeful of this BirchPlace review I just sculpted into shape. Read and weep fellas, for the cumming kingdom is nigh and there's no more Vaseline in stock!
A Chill Place For This Fine Bitch
Whoever gave this escort UK site its name has brain cells that do their job better than most. The wordplay here is amazing, but not as amazing as seeing Kim K gaping it and taking Ray J's mighty dick!
Okay, let's get to it, folks! BirchPlace.com is a classy, cheerful, and sweet-looking escort site, with white being the main color in use. Everything looks quality and well-thought-out too. Actually, this has to be one of the most stress-free escort sites I have been on this year and that's on Peter Pan tea bagged Huckleberry Finn and came back for seconds!
Now, there are 6 rows of escort profiles on the homepage of this escorts UK site. Going from the top to the bottom of the page is super-smooth and easy too, while taking zero time. Over at the left of the homepage is a list of UK places like London, Paddington, Leeds, North Ireland, and Westminster and all you gotta do to see escorts in those places is click on the city or region name. Plus there's a Nearby option that will bring up a list of escorts who are nearest to wherever you and your erect boner might be residing at the moment.
The top right of the site homepage hosts a login and search option, with user search by location being supported. Over on the top left are Escorts, What You Get, and Shop options, with the latter taking you to BirchPlace's eshop and the What You Get serving as a FAQ of sorts that explains all the benefits of going with BirchPlace. The Escorts option has a pull-down menu and this can be used to access escorts of all sex and abilities. Male, Female, Trans, and Domination escorts are available, but there's no way to sort these chicks, sluts, and dudes by body type, hair/eye color, skills, age and that kind of thing. That sucks and not better than your sister, either!
Crazy Bitches Get Birches, Boners, and BBQ!
BirchPlace.com has something for everyone, but trans escorts seem to predominate here. These chicks are all over the place with their big and fake tits, and you can't help but wonder where exactly their clients make them stick that ballistic missile they always carry between their legs! I got no grouse against trans escorts. But for sure none of them is ever gonna make me bend over, because if I do so that's sure to be the last time my asshole stays puckered all tight and sweet!
Now, escort profile thumbnails here are quality pieces. They are square and when you hover your cursor over them, the image in these profiles gets slightly zoomed. You can click on the name on a profile thumbnail to open that profile in a new tab. But just clicking anywhere else will open a sizable window in which everything within the profile can be accessed.
Okay. I am gonna address something. See, escorts on BirchPlace can be sorted by sex and service. You can seek out male, female and trans escorts, as well as those who offer domination services. The issue though is that when you click on the Male and Female escorts options, not all results will be male or female. Like you are bound to find a few trans escorts in the male and female section and that's so annoying.
Anyway, I figure it's time to check out a few escort profiles. Liah Ferreira is first and she's a Brazilian-Italian trans fucker who's monkeypox vaccinated. She's 26 years old, has an OnlyFans page, is very open and communicative, and happens to be a stunning blonde goddess with an uncut dick that looks remarkably like a lollipop! Liah offers full services in London and yeah, that means she's fully prepared to fuck a rabbit out of your hat if that's what you want!
Up next is Amanda and she lives in Morden. She too is blonde and pretty, but the state of her face and massive booty tells me that she has had a lot of work done on her body. Amanda has 34DD titties she's dying to plop into your mouth and has a great sense of humor, plus a cunt I will bet is warm and accommodating enough to nicely boil your pecker! Let's hope it is also as grabby as the hands of a miser who's down to his last dollar!
Last but not least is Othello, a slightly built and ebony-skinned fella from Northampton. He's bi, passionate and there's a 12 seconds video of him wanking that y'all might wanna eyeball soonest. This fucker also seems to have nearly 300 5-star reviews and the good Lord knows what gymnastics he's been doing in bed to get that kind of positive feedback!
Now, escort profiles on BirchPlace are of the detailed kind and there does not seem to be any evidence of spam or fake ads. Profiles usually have reviews, but I was unable to read these, perhaps because I was not logged in. Also, for some reason, no matter how much I tried, I simply was unable to register here and get a membership card.
Anyway, BirchPlace only has quality escorts, though the verification statutes of these are unclear. Also unclear is the number of escorts, with browsing from the first to the last escort page being made harder than it needs to be.
What I Think Of BirchPlace
Bitch, this is the site to beat and your ass is toast if you disagree! Just kidding, fellas!
See, while there are niggles here and there, BirchPlace has solid underpinnings, and bookmarking it makes as much sense as refreshing your Vaseline stock at a discount on Black Friday!
#1 BirchPlace Alternative
More Sites Like BirchPlace!
Check out Porn Guys full list of the 70+ hottest escort sites ranked
Vivastreet
Browse the latest FREE CLASSIFIED ADS in your area including used cars, properties to rent, free personals and much more! FREE, SIMPLE and LOCAL.
UkPunting
UKPunting – Escort and Massage Reviews and Forum. … UK Punting. General discussion of UK Escorts and Massage. Moderators: Ali Katt, CoolTiger, daviemac, …
AdultWork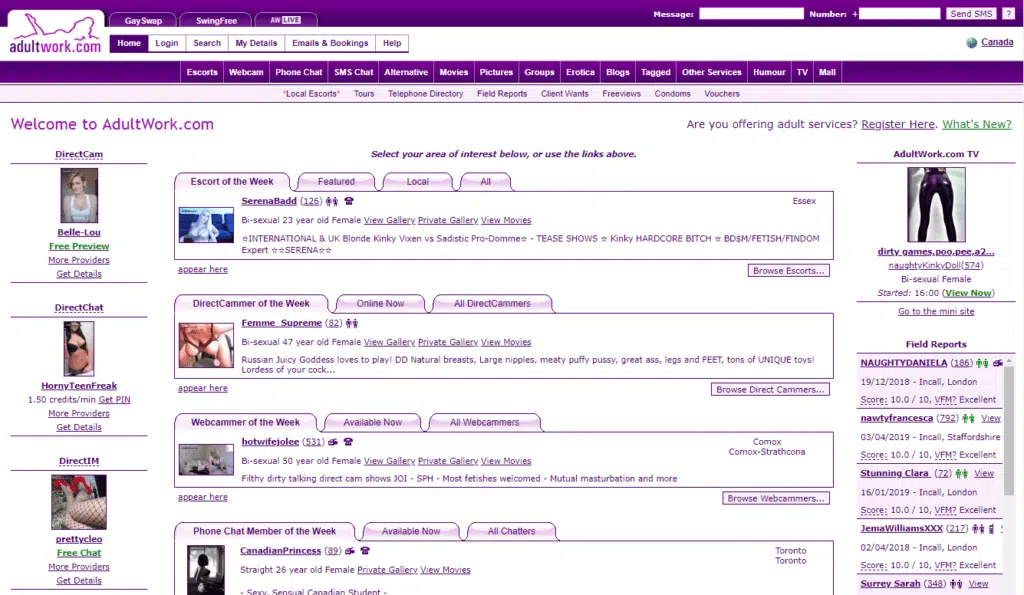 You are of legal adult age as defined by the country or state from where you are accessing this application to view pornographic material.
PunterNet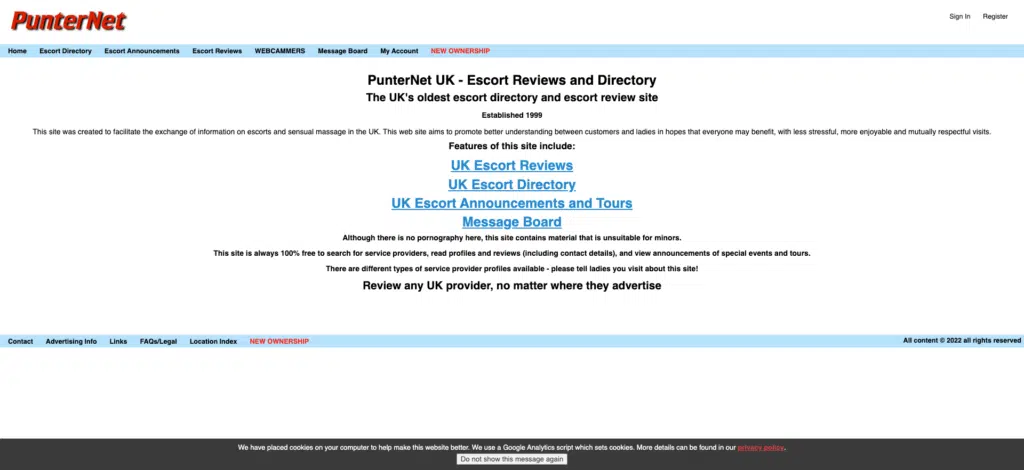 PunterNet UK – Escort Reviews and Directory. The UK's oldest escort directory and escort review site. Established 1999. This site was created to facilitate …
UkAdultZone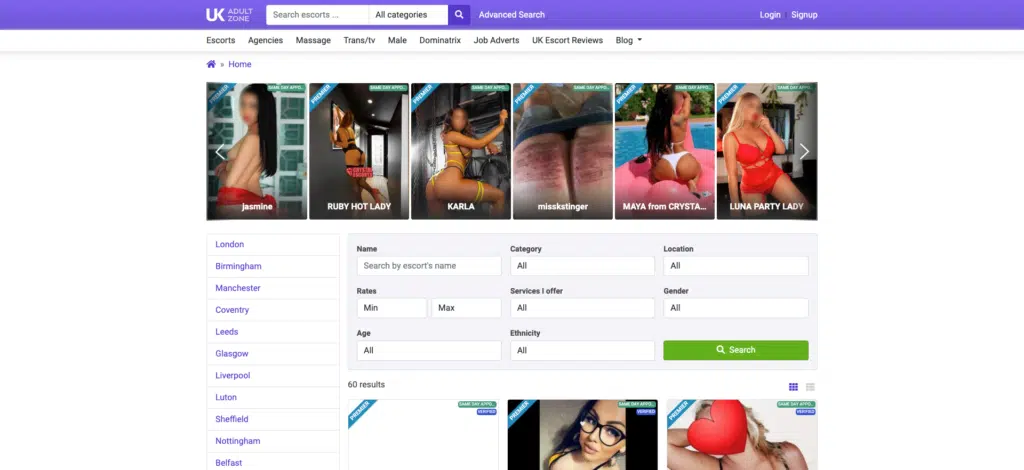 UK escorts and Dominatrix. Quickly see who is available today. Trans and Shemale escorts too. Find a fantasy companion today.
EscortRankings
Escort Rankings helps you find and book real escorts avoiding scams and fake profiles. All profiles on Escort Rankings are legit and 100% owned by real escorts …
uEscort
See what Escorts in the UK are online ✓ Real photos of escort girls, male escorts and ts escorts. It has never been so easy to find an escort in England.