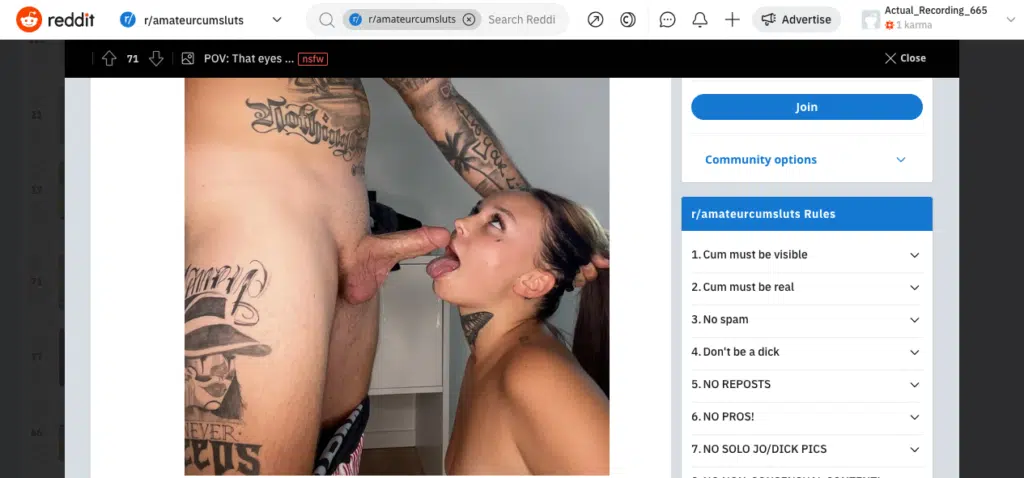 r/AmateurCumSluts Review
~ Pros ~
Large community
Free membership
Lots of content uploaded frequently
Active community
~ Cons ~
❌ None
r/AmateurCumSluts
Sometimes I get bored from watching my favorite pornstars fuck. Everything just seems so professional and organized, you begin to wonder if they aren't just faking it. Fucking should flow naturally, and my trained eyes can tell when they are just putting on a show for the cameras. Obviously you haven't seen as much porn as I have, but you will agree with me that it doesn't hurt to spice things up a little. But what better way to spice up your porn watching schedule than to add amateur porn videos.
In amateur porn, most times you don't know who is fucking or who is being fucked but you can tell that this isn't choreographed. For a Subreddit like Amateurcumsluts, you are sure that the cum shots are real. Missile like cum shots busting from ready to fire phalluses to cum hungry sluts on their knees ready for worship. Looking at the way these sluts kneel down, you would think they are the religious type. If they are, cum is the true language they speak. Well, let's talk a little about this subreddit. This is my Amateurcumsluts Reddit review.
Reddit Amateurcumsluts Is A Cumpool
After an intense round of hard fucking, a good slut kneels down and asks the priest to bless her. This time around he isn't blessing her with holy water, he is baptizing her with precious cum. I'm sure you are already getting around as you ready your cock for the adventure. The adventure where you get to fap as beautiful girls get their faces stained with cum. This subreddit is focused solely on amateur cum content. I'm certain you will like it. I'm also certain you will enjoy using the Reddit app. It's so easy to understand and navigate and doesn't require you to be a tech guru. I understand you are just trying to jerk off and not training to become a tech guru, fortunately Reddit makes it pretty easy.
There are not too many navigating icons on this page. Two important icons you need to take note of are the "Post" and "About" icons. By default, the Subreddit page displays the videos available in the catalog. To surf through your options, simply scroll down till you find anything interesting. Videos don't load automatically so you will have to use the captions as your guide. Unless you need a guide to where your cock is, from here everything is set for you to jerk off.
No Fake Cum Shots On r/Amateurcumsluts
In the early days of porn, both the penises and the cum shots were fake. At some point, I thought we had grown past that stage, but when I saw it as a rule in this Subreddit, I realized that people still faked cum shots. That's another reason I love amateur porn, they usually don't have the equipment to fake anything. Pussy gets drilled, cum is poured and life is good. There is no director behind the camera holding a hose to pour out white slimy fake cum.
Ultimately, the rules of this Subreddit are easy to follow. I wouldn't expect you to have any problems complying with them. Talk to members of your community politely like you have at least half a brain in your skull. You definitely do not have a skull filled with cum. The cum that drains out from your cock doesn't originate from your brain, meaning you can actually think straight.
By joining the Amateurcumsluts subreddit, you become a part of this over 1.1 million perverts community with a good number of regulars. To join, simply click on the "join" icon at the top right of the community page. I'm already convinced that you have decided to join this Subreddit. Pervert that you are, you can't afford to miss out on any opportunity to watch new content. To maintain your lifestyle of regular masturbation, you need a regular supply, and from my experience, the more options you have, the better for your wood.
What I Think Of Amateurcumsluts
When it comes to porn, I like to have a mix of everything like a food salad. A little bit of this, a little bit of that, that way the excitement doesn't wear off. Watching amateur porn is a great way to mix things up. In the same vein, feeding off the cum shot content on this Subreddit is a cool way to relax. My ever ready to pounce cock was really impressed by the videos in this community. It definitely isn't full porn scenes, since most of the clips are short, but watching cum being dumped on beautiful faces is an interesting watch. The kind of scene that makes you want to dump your own cum. This subreddit is definitely worth your attention.