AdultSeek Review
~ Pros ~
Some advanced search options
Packed with escorts UK profiles
Escort reviews available
~ Cons ~
❌ Lame site design
❌ Most escort profiles here aren't verified
❌ Not all media on the site is free
AdultSeek.com
A site for adults adulting and seeking adult stuff so that adult cum can come out of their genitalia can ask for no better name than AdultSeek. Yeah, this site name is golden and you better believe that horny seekers of adult stuff flock there by the ton!
Heard of AdultSeek.com before? Then I guess it's time to pick it up by the balls and examine it for our collective pleasure! Yeah, here is my AdultSeek.com.gb review. Read it and weep fellas and then go seek some spicy fame and fortune from your favorite brand of adult twat!
Seek And Ye Shall Find and Fuck!
Given the imagination that went into the AdultSeek name, I was expecting the site homepage to look like an extreme version of the Xanadu Hotel, you know with more lights than you can see in most African countries and enough razzmatazz and glitz to make the Queen of England's coronation look like a schoolyard play. That was not the case at all.
The site is very minimalist, with the pictures in the many escort profile thumbnails providing the only color to be seen. That sucks and for real it makes AdultSeek look as outdated and pitiable as a Ford Pinto trying to race a Pagani Huayra around the Nurburgring!
Now, let's talk about the site features on offer here. The top right section of the homepage has a toggle that lets you choose between UK and Netherlands, with AdultSeek being available in both countries. There's a Login and Create an Account option too and I was able to create a free account in less than 15 seconds, with one of the benefits of membership being able to add escort profiles to your list of favorites.
That said, while free membership is available, you will be prompted to upgrade your account and can pay for that via Bitcoin or credit/debit card. Account upgrade costs 20 pounds for a month and means you are the first to know when new escort profiles are uploaded, plus you have your messages sent faster, and see when the escorts you sent them to have read them. Upgrades also mean you can receive notifications by SMS and get extra information on escorts that the rest of us freeloaders do not have.
The rest of the user options take the form of Home, Articles, Forum, Create Reverse Booking, and Help tabs, plus there are Escorts and Search options. Surprisingly, the latter has some advanced options that can be used to search for escorts by age, location, gender, username, ethnicity, nationality, services offered, hourly rate, and more. The Escorts option on the other hand allows escort sorting by location, plus it has categories like black, pornstar, Asian, independent, and trans.
A total of 8 articles await in the Articles tab. These articles are well-written, but undated and seemingly years old. Sample titles include Where To Take High-Class London Escorts, How To Become An Escort, and What Is The Girlfriend Experience.
As for the rest of the tabs, the Forum tab takes you to the forum and this is a small and not overly busy place. The Create Reverse Booking tab is perfect for when you want something specific, like a toothless Asian BBW who can suck your cock for an hour past midnight on a so-and-so day. You just click the tab and articulate those needs, with any escort that meets the requirements getting in touch with you.
Last but not least is the Help tab. It contains some FAQs and you can ask questions there and hope to get a reasonable answer.
Seek Ye The Cumming Kingdom Now And Forever More!
It just so happens that right above the escort profile thumbnails on the homepage are options to sort these profiles by region and category. These options should come in useful for those who don't want to dive into the main tabs and just need to see at once which escorts have the kind of pussies that need hitting and splitting!
Profile thumbnails are quite detailed. Included is an image, plus the location, age, sex, and a small explanatory and oft cock-raisng text. Some of these thumbnails have a blue tick mark and yeah, that means the slut concerned has verified images and is who she says she is.
AshleyGray is one of them verified sluts and her profile has enough stuff in it to write a bestselling biography you could cut a hole in and fuck! She is heavily tattooed, not into kissing and playing lovey-dovey and would rather you fuck your way through her and leg it for home. This lass is bi, willing to fist ya and fuck you with a strap-on, and can give you a pornstar experience that will surely make your balls ache for months!
Simona is another verified escort. She has a few tats and a sweet bubble butt and looks good for a 38-year-old slut whose slit has seen more dicks than should be healthy! This Romanian chick does everything and that includes anal play, BDSM, prostate massages, oral with and without protection, strap-on fucks, and the like.
But sweet-looking as they are, I am very willing to bet that neither Simona nor AshleyGray can hold a candle to Arasia. She's a pornstar escort, and that's a mistake because she has all that it takes to be classified as a goddess of the man-eating and cock-gobbling kind! This Indian beauty has a set of big, sweet, and juicy knockers and says that sucking dick is one of her favorite things in the world. Arasia is here for business, speedily block time wasters and boasts of having the tightest, wettest, and juiciest cunt on all the planets in the solar system! This bootylicious and exotic beauty is available for outcalls too and is willing to do virtually anything you want in bed, from anal play, foot worship, French kissing, and rimming to toy play and penetration.
Now, escort profiles on AdultSeek.com.gb are expertly composed and arranged. The level of detail in these profiles is typically excellent. Profiles have multiple images and some escorts have feedback left by their previous clientele that you can check out. However, there are some escorts with videos and images that are not accessible for free. You gotta pay for that and the price varies.
Escort quality varies as well and I would say that most of the girls on this escorts UK site are slightly above average.
What I Think Of AdultSeek
Well, there are a lot of escort profiles on AdultSeek, with the quantity and variety being mostly praiseworthy. That said, the site does not take much trouble with its appearance and the majority of escort profiles are unverified.
If asked, I would say that AdultSeek has a lot of promise and shows some solidity too. It is thus worth bookmarking, but could be a more competitive escort fuck fest than it is at the moment.
#1 AdultSeek Alternative
More Sites Like AdultSeek!
Check out Porn Guys full list of the 61+ hottest escort sites ranked
Vivastreet
Browse the latest FREE CLASSIFIED ADS in your area including used cars, properties to rent, free personals and much more! FREE, SIMPLE and LOCAL.
PunterNet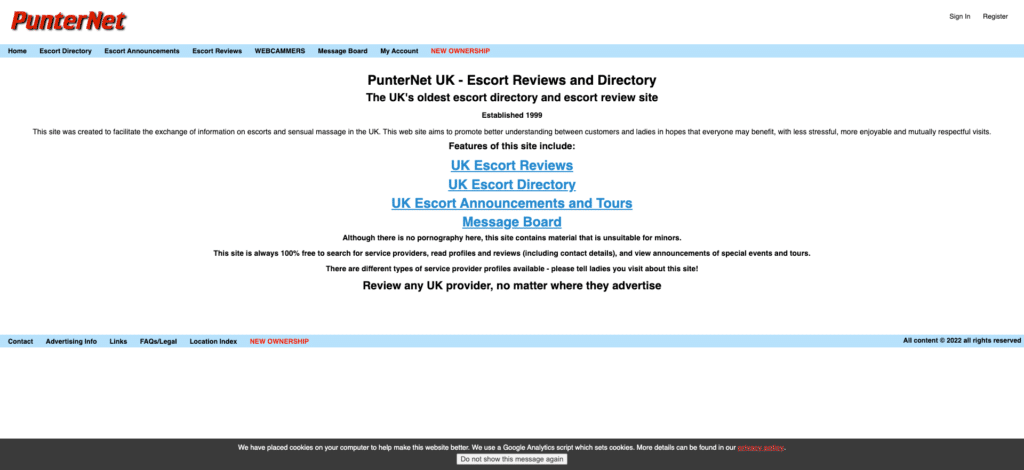 PunterNet UK – Escort Reviews and Directory. The UK's oldest escort directory and escort review site. Established 1999. This site was created to facilitate …
AdultWork
You are of legal adult age as defined by the country or state from where you are accessing this application to view pornographic material.
UkAdultZone
UK escorts and Dominatrix. Quickly see who is available today. Trans and Shemale escorts too. Find a fantasy companion today.
BirchPlace
Beautiful TS/TV Escorts who live in the United Kingdom, We have 2590 TS/TV Escorts in the United Kingdom who are waiting for you on BirchPlace.
EscortRankings
Escort Rankings helps you find and book real escorts avoiding scams and fake profiles. All profiles on Escort Rankings are legit and 100% owned by real escorts …
uEscort
See what Escorts in the UK are online ✓ Real photos of escort girls, male escorts and ts escorts. It has never been so easy to find an escort in England.